LB Sam Williams presents a check to the Oakland Dynamites football team. Photo by Tony Gonzales.
Raiders LB Sam Williams invited teammates to visit the Oakland Dynamites youth football team from East Oakland, Calif., on November 2, 2010, as part of the Tackle the Violence – Score 4 Life Campaign to inspire the kids as they finished their season. During the visit, the Raiders learned of the Dynamites outstanding season and the possibility of going to the National Championship in Orlando, Fla. Williams received updates from the team as the season drew to a close and found out that the Cadets, ages 8-10 years old, had finished with a perfect record (only giving up three touchdowns) and were invited to the Championship. When Williams learned that the Dynamites would not be able to make the trip because of the expense, he stepped in to help.
Williams' foundation, Tackling The Odds (TTO), focuses on enhancing youth education, leadership, mentoring and sports empowerment. The Dynamites perfectly fit the goals of TTO. "These kids here are product of East Oakland, not the best area in Oakland, and for them to be a part of this Oakland Dynamites football program means a lot because not only are these coaches teaching them football, but they're giving them skills to prepare them for life," said Williams.
With the assistance of his teammates and coaches, Williams was able help raise the funds the Dynamites needed to travel to Orlando. The veteran linebacker presented the check to the coaches, parents, and team just days before their flights. "It's once in a lifetime for these kids to have this dream come true to make it to Florida," said Bill Waters, Vice-President of Oakland Dynamites Youth Football and Cheer. "We appreciate the Raiders for their efforts to help these babies get there and I can rest now because I know they're about to board that plane and head to Orlando."

"It means everything to these kids to go to Florida," said Head Coach Russell Winston, Jr. "This year we went undefeated and we won and we thought we weren't going to make it, but with the help of the Raiders they made it possible. If you see the looks on these kids faces right now you can tell that their dreams have come true. It's so good because there's a lot of negative things going down in Oakland and this shows some positive things that are going down."
When Williams arrived at Curt Flood Field in Oakland, the location of the Dynamites daily practice, the team welcomed him with loud, vibrant cheers. Williams was particularly impressed that the Cadets had added the cheer his teammate, LB Quentin Groves, had taught them during their first visit. After listening to the cheers, Williams was able to join in on the fun and excitement.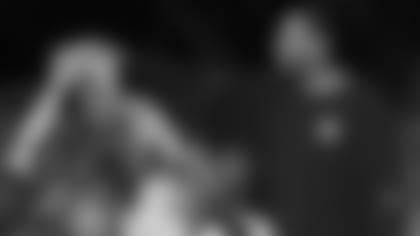 LB Sam Williams participates in the Dynamites' cheer. Photo by Tony Gonzales.
The Dynamites organization has positively impacted the kids' lives. "Football has done a lot for these kids," explained Winston. "Football is just a sport. They have to do good in school. They have to bring me progress reports. I don't let them talk back to their moms. Not only is this football, football's just a sport that they're out here playing, the life skills is what's most important."
"We are a family," Winston continued. "We're together. A lot of these boys have been playing together since they were six years old. I was the assistant coach for two years, I took over last year as the head coach. So it's about love and it's all about togetherness."
Williams and the Raiders were happy to help the Dynamites fulfill their dream of going to Nationals and reward the dedication they have exhibited throughout the year. "They've worked so hard and just because they don't have the money to go there doesn't mean they shouldn't be able to go," said Williams. "They can't control their situation and with our help they're going to be able to go and that means a lot."
The Oakland Dynamites Cadet team will play their first game in Orlando on Monday. If they win, they will play again on Wednesday and if they win again, they will play for the Championship on Friday.