Sandra Douglass Morgan still remembers playing underneath tables at the College of Southern Nevada while her mother was repeating words and conjugating verbs above her.
Douglass Morgan's mother, Kil Cha, was taking classes to become fluent in English as a first-generation Korean American. After immigrating to the United States from South Korea, she earned U.S. citizenship in 1974 and began working in Las Vegas' booming gaming industry.
Kil Cha met her husband Gilbert, a U.S. Air Force sergeant stationed at Nellis Air Force Base, while working at Binion's Horseshoe (currently named Binion's Gambling Hall & Hotel) in Downtown Las Vegas. Hard work and the importance of education was engrained in Douglass Morgan at an early age from watching her mother work nights and swing shifts at casinos while her father worked day shifts.
Though working full-time, Kil Cha was always ready to pick up Douglass Morgan and her sister Sonya from school and help them with their schoolwork, while also taking classes and doing her own schoolwork to continue sharpening her grasp on English.
"I knew that was something that she wanted to continue doing to grow and build on her education, her English language skills and those writing skills," said Douglass Morgan. "And she was mother, so I thought this was something everyone did. But now that I'm a little bit older, I'm able to reflect on the challenges she pushed upon herself.
"Anytime I have a challenging or struggling day, I often have to think back about her and what she did to make sure we had good, secure, stable home so that we could continue to thrive."
Along with getting acclimated to the landscape of the United States, Kil Cha also dealt with some ugly forms of prejudice that came as a Korean woman married to a Black man. Interracial marriage had recently become legalized in 1967 through the Supreme Court decision Loving v. Virginia.
Growing up, Douglass Morgan on numerous occasions encountered people at school or in the grocery store questioning if that was her real mother and people stereotypically assuming Kil Cha couldn't understand English because of her accent. Both daughters would often hear stories of their parents overhearing racist dialogue from coworkers – not knowing the interracial dynamic of their family.
While Douglass Morgan had been exposed to discrimination throughout her childhood, she sees now as she has grown with age that Kil Cha "dealt with more than she probably shared with us."
She's inspired by her mother's tenacity and ability to ignore outside distractors from dictating her life or how she raised her daughters.
"I always told myself that if I was ever in that position – not just in a managerial or supervisor role, but in just how I conduct myself in life interacting with people – to make sure you see people for who they are and not just because they speak or sound a certain way, or because of the color of their skin or where you think they're from," Douglass Morgan said.
"Everyone is human. They have feelings and they deserve to be respected and treated with respect, in and out of the workplace."
Douglass Morgan and her sister became first generation college graduates with bachelor's degrees, with both women going on to pursue higher education. While Douglass Morgan was in law school, her mother was there to provide words of encouragement and a home cooked meal when needed. Kil Cha often reminded her daughters to "do things with integrity, being true to your word, treating people right and always doing the right thing."
Adhering to her mother's advice helped Douglass Morgan on her way to breaking barriers, becoming the first African American to serve as chair for the Nevada Gaming Control Board and now the first African American female team president in the NFL.
She's preached since arriving to the Raiders that it's not all about being the first in these positions but making sure she's not the last to serve in them. That includes making sure there's more Asian American and Pacific Islander representation in the world of sports.
"The Asian American and Pacific Islander community has been such a significant contributor to our economy, our workforce and some of the more creative advancements in technology, the arts and business in general," Douglass Morgan said. "I think they've been traditionally overlooked, and I'm really encouraged to see more growth and awareness in the contributions the AAPI community has had in the city of Las Vegas.
"I think it's really important also to have more visibility for Asian Americans in sports. We're seeing that not just with athletes, but with management, leadership and ownership as well."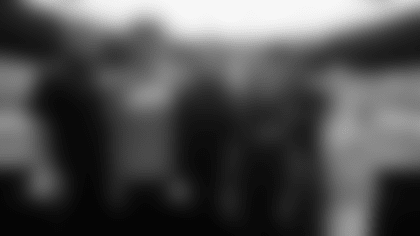 In the process of making NFL history, she's also been able to convert her 80-year-old Korean American mother into a diehard Raider fan. She described her mother as a casual football fan, watching Douglass Morgan's husband Don in support when he played for the Minnesota Vikings and Arizona Cardinals. But since stepping into this new role, her mother is a bit more intense about football, sporting the Silver and Black and yelling spiritedly at the television during games.
The last time Kil Cha visited South Korea was over 30 years ago in 1988. Douglass Morgan remembers how excited she was when her mother returned home with some "Olympic swag" from the Summer Olympics in Seoul, and while she herself has never visited, the family is in the process of planning a trip to her mother's home soil.
"I'm proud of her for giving me the opportunity to be able to strive for my dreams," Douglass Morgan said with a smile. "I'm always wanting to make her proud because of what she went through via her journey to the U.S. Working in jobs that are not glorious, working holidays in the gaming industry whether it be Thanksgiving, Christmas, birthdays – that was something we were used to because there's no Monday through Friday in that industry.
"Knowing that she did that just to have a comfortable life and the opportunities we have now is something I'm incredibly grateful for."