DT Richard Seymour meets Lurlean Jackson who started the food pantry about 35 years ago. Photo by Allan Yuan

DT Richard Seymour donated 150 meals to Columbian Gardens Food Pantry in Oakland with the help of the Alameda County Community Food Bank (ACCFB) for the Thanksgiving holiday. Seymour, with his mom, wife, and kids, then visited the pantry to help distribute the meals to those in need.
Lurlean Jackson started the pantry out of her garage down the street. As demand grew, she moved to the current location on Koford Road in Oakland. Now, she is able to serve families Monday through Friday, as well as special distributions around the holidays. "[I've been distributing food] for roughly 35 years," said Ms. Jackson.
Having Seymour show his support, donate and then personally help hand out the meals, meant a lot to Ms. Jackson. "I love it. I love it," she said.
Seymour wanted to give back to the local community for the holidays and was connected up with Ms. Jackson and Columbian Gardens through the ACCFB. "Obviously it's Thanksgiving. Thanksgiving to me is very special," said Seymour. "It's one of my favorite holidays of the year. Just wanted to show my connection to the city of Oakland because Oakland has supported not only myself, but also the Oakland Raiders. We definitely wanted to show the tie. It's just a great time of year. You don't want anyone to be hungry. I'm blessed to be a blessing; I don't take that lightly at all. I just wanted to show my appreciation to the less fortunate. Any way that we could help, it's just a small token of my appreciation."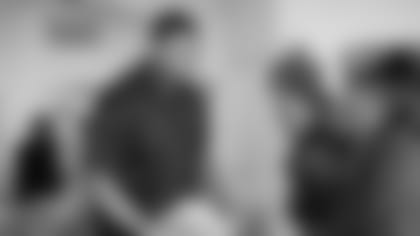 Seymour hands out boxes of food for Thanksgiving. Photo by Allan Yuan
The generous donation helped local families celebrate Thanksgiving with a full meal. "It was great," said Michael Altfest, Communications Manager for ACCFB. "He made a really nice donation. It was equivalent basically to the food that was being distributed to one of our agencies this year. It was a special added Thanksgiving distribution that they were doing for 150 families that need help. It was chicken, corn, cranberry sauce, stuffing, the works. He went and helped the agency get that food and then went and distributed it straight to the clients. It was so much fun. It looked like he had a lot of fun, but really it was meaningful for the clients. A real morale booster too this time of year."
Seymour brought his family with him to distribute the meals. "I think it's important that you show your kids what it means to be blessed and also be a blessing to others," explained Seymour. "It's not just to stow your treasures on Earth, it's also to give back and let them know paying it forward, passing it along. So when we say our Thanksgiving prayers tomorrow, we'll also know that we showed a helping hand."
The veteran defensive tackle was happy to have a part in making someone's holiday a little bit more full and joyous. "It's easy to give your money, but I think it's even more important to give your time," said Seymour. "I think on my day off, it's something I wanted to come out and do. My mom is here, my wife is here, my kids, so it's important to my family."