LB Sio Moore with the Green Valley Middle School students. Photo by Tony Gonzales
LB Sio Moore spent time with a group of students at Green Valley Middle School in Fairfield, Calif., Friday afternoon. The second-year linebacker motivated the students to better themselves in the classroom, on the field, and in their personal lives.
"I think it can change lives, actually," said Green Valley principal Greg Hubbs.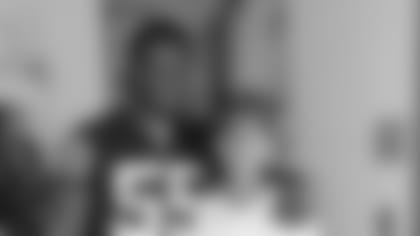 Moore spent some extra time working with Eduardo.
Photo by Tony Gonzales
Students seem to be more inclined to listen to and embrace a professional athlete's messages. "Principals and teachers all want the best for kids, but having somebody in positions that the Raiders have, they have an avenue and I am so thankful they are taking it and coming to our schools," said Hubbs. "I think it can make huge differences. These kids are kids that are failing and don't need to fail. You don't know how many you can affect in a positive way, but I'll bet we're going to affect some kids."
And Moore's words resonated with the students, many of whom stayed after the session to seek further advice from the Raiders player. "When they can see somebody that may be from a similar circumstance and that they can be successful…hope is so huge in these kids' lives, in anybody's life," said Hubbs. "Hope is such a huge ingredient and you can do so many things if you have that hope and that's what I think he brings to this. That's what you get because you see he's like us and he did it."
The UCONN-graduate had a number of messages for the kids, but the most important had to do with earning respect. "The biggest thing I was telling them was really leave people with no choice but to respect what you do and really take advantage of opportunities," said Moore. "They're young right now and if you can understand your opportunities and your blessings now, when the obstacles come about, you'll be able to conquer them without any hassle because you'll be so focused."
Moore spoke about ignoring doubters and focusing on being a better person on a daily basis. "If somebody has something to say to you to bring you down, they're spending more time watching you than doing what they need to be doing for themselves," explained Moore. "There are going to be haters everywhere. If somebody is watching you, hey look, appreciate it. Go ahead, I'm going to keep doing what I do and as they watch, let them watch because where you're going, you're going up there and they're down here watching you."
The 23-year-old asked the seventh and eighth graders to evaluate why they aren't reaching their full potential. "Why would you want to hold yourself back? Why would you allow yourself to hold yourself back?" asked Moore. "If you're going to dream, you need to dream big. If you're going to wish, wish big. Holding yourself back, you're not allowing yourself to do so."
Moore sees it as his duty to give back to the kids and to provide optimism and hope.  "Kids need somebody that can relate to them. Sometimes they lose it when it goes from kids all the way to adults and there's nobody in between," said Moore. "I really feel like it's my generation that I'm in, it's really our job to connect these kids with what older people are trying to do or what they're trying to create and teach these kids."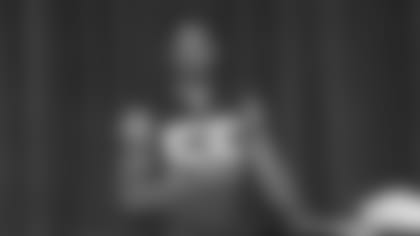 He urged the students to be themselves and be a person of whom they can be proud. "Trust yourself. When you're able to trust yourself, you're able to be different," said Moore. "Being different doesn't' mean you're corny. It doesn't mean that you're a sucker. It doesn't mean you're a loser. It doesn't mean that you're anything but different. Let me tell you something about being different – different is what creates leaders. Different is what creates difference makers."
It was obvious that Moore's words impacted the group. He inspired some of the kids to bring their grades up, to reject peer pressure, and to become better students and people.
Moore changed lives on Friday afternoon and he was proud to do so as a Raider. "It means everything because it's about the environment. It's about the people. It's about taking pride in whatever you do," said Moore. "Being a Raider is not just about the game. It's about a culture. It's about a lifestyle. It's about family. And regardless if somebody is your family by blood or not, the Raider family is so big, you understand that everybody is going to be loyal to each other and going to have each other's back. I'm seeing that [loyalty and family bond] every time I have any interaction with kids because I want to be a part of their lives."