RB Jeremy Stewart poses for a photo with kids at Camp Parks.Photo by Tony Gonzales

Oakland Raiders RB Jeremy Stewart recently visited Parks Reserve Forces Training Area in Dublin, Calif., for a "Month of the Military Child" event. Stewart spent time with the kids and their families at Camp Parks, signing autographs, posing for photos and interacting with all those in attendance. The second-year running back also had the opportunity to meet with base leaders, Command Sergeant Major Patrick McKie and Lieutenant Colonel David James.
"Parks Reserve Forces Training Area is a base where we train about 40,000 soldiers a year through here," explained CSM McKie. "We are the only spot of Army green left in the Bay."
Both men were on hand to recognize "Month of the Military Child." "It's a Department of Defense-wide celebration that shows and tries to demonstrate our appreciation for our military kids," said CSM McKie. "We have a job, but for them it's their life. Moving every so often, the deployments and parents being gone, it's just a way to show some resiliency to them and to appreciate what they do and go through."
The celebration was an opportunity for the families to show their gratitude to the kids. "This is a great event as we recognize the next generation," said LT Colonel James. "For children, they become very resilient, moving around a lot, always having to make new friends, so typically if you find somebody that's very outgoing, willing to dive in, take charge, get involved, I'll bet you it's a former military child because that's the key to success."
Dee Dee Lana, the Chief of Child, Youth, and School Services for Fort Hunter Liggett, Camp Parks and Moffett Field, was one of many on hand to bring joy to the kids on base. She brought stuffed animals for the Camp Parks' kids, which were put together by teens at her Teen Center at Fort Hunter Liggett. "The kids couldn't get over it. They were like, 'this is the bear you would buy at the big store in the mall and we get it for free,'" said Lana. "That's what we're trying to make the military child understand is that there are great people out there that take care of us. My husband is retired. I moved nine times, raised three kids in the military, and it's hard. So for those kids to see these, just to see them excited and know they didn't have to pay for it, was completely worth it."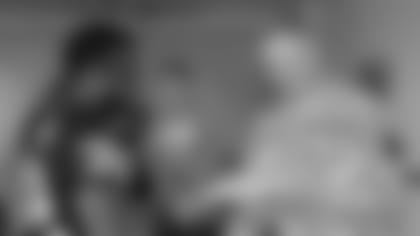 RB Jeremy Stewart accepts a certificate from Lieutenant Colonel David James. Photo by Tony Gonzales
Stewart joined in the celebration, adding some extra excitement to the day's events.  "So we came out today for this event for the kids of the military families," said Stewart. "It was a great event, a lot of people doing some great stuff for the community. It was just a great event. Everyone had a good time."
Stewart, who went to college locally at Stanford University, wanted to give back to the military. "Our military, they do such an amazing time protecting us and I felt like it was the least I could do to come out and support the troops," said Stewart.
Camp Parks was excited to have the running back and the Raiders involved on base. "[The excitement] has been elevated the whole event," said CSM McKie. "Kids are excited. Everybody wants his autograph. He's been really gracious so the excitement level and the energy is just ramped up that much more."
CSM McKie also drew parallels between the Army and the Raiders and appreciated the two entities coming together. "It's awesome," said CSM McKie. "The work ethic the Raiders have and the work ethic the Army has is very similar. We're hard-nosed, work hard, blue-collar organizations, so it's just a great fit. It's great to have Jeremy out here today."
Coreen Boyce, administrative assistant for Child, Youth, & School Services, helped put together the "Month of the Military Child" event and was thrilled Stewart spent time with the families. "I think it was awesome," said Boyce. "I think the children really loved the fact that he was here. They were all over him. It was a great experience and I hope to do more collaboration with him."
Boyce felt having the Raiders involved on base would have a lasting impact. "The importance is to not only have the professional aspect of it, but also to show that [the Raiders] can be as one with the military side," said Boyce. "The soldiers, they give up a lot for this country, and to show that the Raiders actually appreciate it, it's great knowing that we can work together as one."
Stewart believes in the importance of representing the Raiders in the community. "Without the community, we wouldn't exist so we definitely have to make sure we keep everything in perspective and support the community because they definitely show a lot of support for us," said Stewart.