WR Rod Streater launched his foundation – The Rod Streater Foundation – by taking a Mission to Mars at Chabot Space & Science Center in Oakland, Calif.
Streater has been active in the community since he joined the Raiders as an undrafted free agent in 2012, but heading into his third season, the receiver wanted to take control of some of his community work.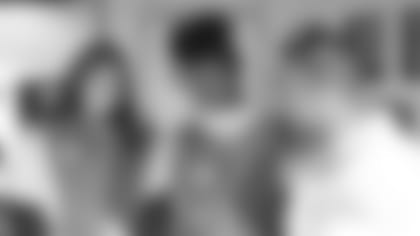 Photo by Allan Yuan
The premise of the foundation is, as Streater explained, to "promote healthy lifestyles, technology, culture and the arts" through youth activities. He teamed up with the Silicon Valley Foundation and established the *Where's Streater? * program. "There's a lot of local schools in District I in Oakland that don't have the opportunity to go on fieldtrips because of the transportation costs, so when I heard about that I wanted to take kids on an adventure, like go to the zoo, aquarium, the Chabot Space Center and have fun," said Streater. "Just take a group of kids out and go on adventures together."
Streater believes this program allows him to bring his foundation nationwide and even worldwide. "It's  a program that I can take anywhere since I can go out in Oakland, where I work and live, and I'm also from Jersey so I plan to take kids out in Jersey somewhere," said Streater. "And then when we go to London, maybe an event there."
The veteran wide receiver set up his foundation and the Where's Streater? program with the intention of being present and available for all of the students he reaches. "The idea is for me to be there," said Streater. "A lot of foundations write checks and just let it go. I want to be actually there on hand and see the effect my foundation is having on people. I'm really hands on and I get to see and take the kids wherever I want to go and be hands on."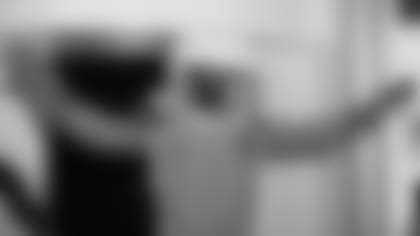 Setting up the foundation was a lot of work for Streater, but he's happy to have it off the ground. It feels good. "The beginning part was stressful; it was a lot of work, a lot of hours I had to put into it," said Streater. "I knew in the end, helping kids was the long term goal and I had to just get through the foundation part. Now that it's up and running, it feels great."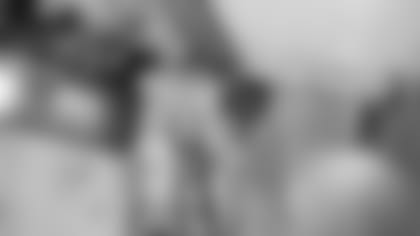 Photo by Allan Yuan
Now that the foundation is official, Streater wanted to start the program by bringing local Oakland students to Chabot Space & Science Center to participate in Mission to Mars. "We went on a Mission to Mars. I was the commander and helped the kids out," said Streater. "We had fun trying to experience something they never went through. I never went to a space center before and I always loved space so I thought it would be pretty cool to take them there and have the kickoff event."
"I thought it would be pretty cool," continued Streater. "A couple weeks before I heard about meteor showers and things like that. I was watching TV and thought it would be cool just to go look into a telescope or take a Mission to Mars. And I was googling a bunch of things and thought why not take kids to the Chabot Space Center. They have the biggest telescope in the Western Hemisphere so I thought it would be pretty cool to go there."
Mission to Mars was the first of many student field trips Streater plans to take with local youth through his program and foundation, and saw the launch as a success. "They enjoyed it. They were into it," he said. "It was pretty fun to see them out on a school day and some of them came up to me and thanked me. They were excited to get out of school and take a field trip. Also the teacher thanked me too because they never experienced anything like this. It was good just to give back and see the smiles on their faces."
Streater is excited for The Rod Streater Foundation to make a difference in many communities and looks forward to keeping Raider Nation up to date on the progress. "I hope to make an impact wherever I go and hopefully get it on a national base."
WR Rod Streater launched his foundation with an event at Chabot Space & Science Center.