WR Rod Streater spent time with the kids at Easter Seals Kaleidoscope in Dublin, Calif. Photo by Tony Gonzales

WR Rod Streater spent time with the students of Easter Seals Kaleidoscope in Dublin, Calif., answering questions, signing autographs, posing for photos and tossing the football around outside. "Easter Seals Kaleidoscope is an after-school program for children with disabilities, all different types of disabilities, and we serve children age 5 to 22 years old," explained Sarah Willshon, Lead Teacher, Kaleidoscope After-School program. "So they have somewhere to go when they're done with their day program or their regular day program like public school."
According to their website, Easter Seals Bay Area's mission is to, "lead the way to ensure children and families affected by disabilities can live, learn, work, and play to their full potential." The Kaleidoscope after-school program in particular is "a home-away-from-home for its participants, offering a nurturing, structured environment that prepares them for independence through age-appropriate activities and positive peer interaction. Kaleidoscope currently provides more than 37,000 hours of service to 50 children annually."
Kaleidoscope offers a variety of activities for the children when they arrive at the Dublin facility. "The youth group does a lot of just basic socialization like sitting together in a group, learning how to get along, how to make friends, a lot of basic skills," said Willshon. "Sarah [Collard]'s group does a lot of socialization, a lot of games, a lot of interaction in the community and then my group is the adult group and we do a lot of vocational skills and also a lot of fun interaction, outings in the community, getting you ready to transition into the real world."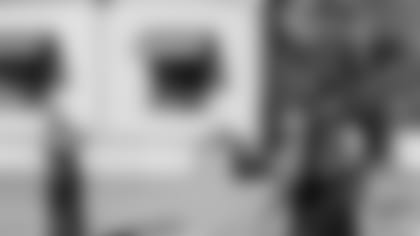 Streater passes the football around with the kids.Photo by Tony Gonzales
Streater visited with the students, starting with the students sitting in a group in one of the classrooms. The kids had the chance to ask Streater questions and obtain autographs. "It made my day," said Streater. "What these people do for these kids is amazing and it was a great experience to see them smile and so happy just to see me."
One of the students gave Streater a tour of the classrooms before they all threw the football around outside. "[My favorite part] I think was just throwing the ball with them, seeing them smile, it really touched me and just to see what these guys do for the kids it's pretty amazing."
The teachers at Easter Seals Kaleidoscope know Streater's visit meant a lot to the kids. "For a Raiders player to come out, it just puts a smile on the kids' faces," said Collard. "It just makes them feel special for a couple hours. They think he's absolutely famous and they just love it and it just puts a huge smile on their faces and that's a big deal for them. It means a lot to them."
Collard believes Streater's time at Kaleidoscope will have a lasting effect on the students." A lot of kids definitely understand it and they go home and they tell their parents about how a professional football player came and visited them," said Collard. "They're just so excited and their parents will come back and say that the kid had a great day here and how it just really affected their life."
Streater enjoyed his time making a difference in the community Tuesday. "It was my day off and I saw that it was a special event and just to be a part of it is something special." After a fun day with the kids, Streater looks forward to getting out in the community again soon.