LB Kamerion Wimbley speaks to the students of Helms Middle School. Photo by Tony Gonzales

Recently, Oakland Raiders LB Kamerion Wimbley spoke to the 7th and 8th grade students of Helms Middle School in San Pablo, Calif., on the importance of education. The students will be moving on to high school, an important part of life that can present many difficult challenges. The school organized a rally in the gym to welcome Wimbley and listen to his positive message.
Before entering the gym to speak to close to 900 students, Wimbley visited classrooms to see what the students were learning. The middle schoolers were interested to see if Wimbley remembered topics like history, which they were currently studying.
Wimbley reminded the students to take advantage of the many resources available to them in order to do better on their assignments. "There's a lot of resources now that weren't available when I was in school," Wimbley said to the students. "So use the resources that you have, whether it is the library, Internet, a teacher, or even peers that can help you out."
After visiting the classrooms, Wimbley made his way to the gym to speak about his own personal journey through school and provided some key lessons to succeed. Wimbley grew up in Wichita, Kan., and chose to attend Florida State over other schools such as Notre Dame and Oklahoma.  He explained to the students that he always knew that he wanted to play football and knew that in order to obtain his goal he would have to do well in school. Wimbley highlighted his speech with a favorite acronym from inspirational speaker Anthony Robbins - CANDI - Constant And Never Ending Improvement.
Principal Jose De Leon was impressed with Wimbley's motivational speech to his students. "I think the most important thing he said out there was whatever you do, you have to try hard at it and never give up," said De Leon. "I think that is the message that we want to give to our students. "There are a lot of challenges that they are going to have just getting through high school and part of that is the environment they're in."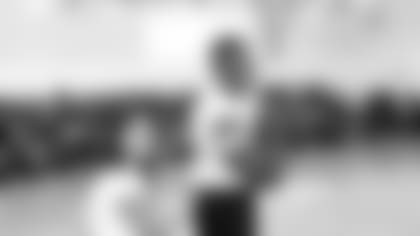 LB Kamerion Wimbley shares the spotlight with one of the students. Photo by Tony Gonzales
Wimbley added that although there are many challenges that lie ahead growing up that the most important thing is to push through adversity. He reassured the students that although resorting to video games, passing up homework assignments and not being involved in school seems like the easy route, in actuality shirking responsibility will only hinder their future.
"I wanted to come out here and express how important it is to continue your education and how important education is," said Wimbley. "There were a lot of enthusiastic children out here and I think they took the message well. It was just great to be out here and see so many young faces excited to be in school and excited to learn."
Amar Nalic, Helms Middle School Counselor, noted how important it was for Wimbley to come to Helms and talk to the students. "A lot of our students are coming from poverty stricken homes with a good deal of struggling that's occurring in the home," said Nalic. "So for Kamerion to come out, it represents a vision that our children can have of a brighter future. It represents a broadening of a horizons because a lot of children feel that being in Richmond area is where they are going to be forever."
Nalic appreciated the visit from Wimbley and the Oakland Raiders. "For them, I think today was a great day, "said Nalic. "Hearing from Kamerion today and a little bit about his background and how his dreams came true can really instill an idea into minds of our children that more is possible and that there is more to the world and they can succeed and live a successful life."
WImbley was happy to spend time at Helms Middle School and believes it is important that the Oakland Raiders to come out to support the youth of the Bay Area.  "I think the kids are the future," said Wimbley. "So there's nothing more important than making sure that they understand how important they are to us and what they will contribute to society in the future."