For a total of 100 days, we'll take a look at the men who have played for the Raiders jersey number by jersey number. This series will highlight some of the greatest players in NFL history. In some cases, the player and jersey number are synonymous. In other cases, the jersey number represents sustained greatness at a particular position. Some players are superstitious about their jersey number. Whatever the case may be, jersey numbers are an important part of the fabric of professional football.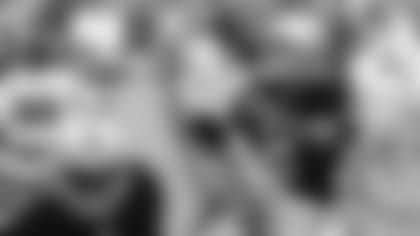 Only four players have worn jersey No. 2 in regular season games for the Raiders, one punter and three quarterbacks. The punter and one of the QBs hold NFL records.
Leo Araguz  – Punter – 1996-99
Araguz is the 5th-leading punter in Raiders history, punting 280 times for 12,023 yards and averaging 42.9 yards per punt. He set an NFL record for most punts in a game with 16 in a Raiders 7-6 win over the San Diego Chargers Oct. 11, 1998.
Aaron Brooks – Quarterback - 2006
Brooks spent one season with the Raiders, 2006, and played in 8 games with 8 starts. He completed 110 of 192 pass attempts for 1,105 yards 3 TDs and 8 INTs.
JaMarcus Russell – Quarterback – 2007-09
Russell was the #1 overall selection in the 2007 NFL Draft out of LSU. He played in 31 games with 25 starts from 2007-09. He completed 354 of 680 pass attempts (52.1%) for 4,083 yards, 18 TDs and 23 INTs.
Terrelle Pryor – Quarterback – 2011-2013
Pryor was acquired in the third round of the NFL's 2011 Supplemental Draft out of Ohio State. Initially assigned jersey #6, Pryor switched to #2 during the 2013 preseason. He set a Raiders all-time record for longest run and an NFL record for longest TD run by a quarterback with a 93-yard dash in a 21-18 win over the Pittsburgh Steelers Oct. 27, 2013. In jersey #2, Pryor completed 156 of 272 pass attempts for 1,798 yards, 7 TDs and 11 INTs in 11 games (9 starts) in 2013. He made 4 appearances in jersey #6 from 2011-12. Pryor recently signed a reserve/future contract with the Kansas City Chiefs. He spent training camp with the Seattle Seahawks in 2014.