For a total of 100 days, we'll take a look at the men who have played for the Raiders jersey number by jersey number. This series will highlight some of the greatest players in NFL history. In some cases, the player and jersey number are synonymous. In other cases, the jersey number represents sustained greatness at a particular position. Some players are superstitious about their jersey number. Whatever the case may be, jersey numbers are an important part of the fabric of professional football.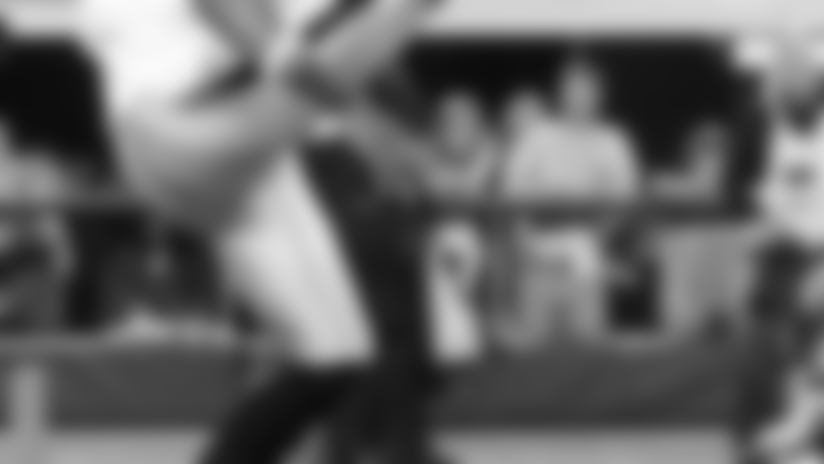 Jersey No. 7 is fairly popular across many sports, especially with quarterbacks, and the Raiders are no exception. Ten players have worn this number, seven of them quarterbacks.
Dan Pastorini – QB – 1980
Surprisingly enough, Pastorini was the first player to wear No. 7 in a regular season game for the Raiders. Acquired in a trade with the Houston Oilers in exchange for Kenny Stabler, Pastorini started the first five games of the 1980 season before he broke his leg in the Week 5 game against the Kansas City Chiefs. Pastorini completed 66 of 130 pass attempts for 932 yards, 5 TDs and 8 INTS as a Raider. Jim Plunkett took over and led the team to a Super Bowl title. Pastorini played for the Rams in 1981 and the Eagles in 1983.
Steve Beuerlein – QB – 1988-90
Beuerlein played the first two years of a 14-year career with the Raiders after the Silver and Black selected him in the 4th round of the 1987 NFL Draft. He missed his rookie season after suffering a season-ending injury during the preseason. He played in 20 games with 15 starts and completed 213 of 455 pass attempts for 3,320 yards (15th in team history), 21 TDs and 16 INTs. He was replaced as the starter in 1990 by Jay Schroeder.
Jeff Gossett – P – 1991-96
Gossett was the Raiders punter from 1988-96 and wore No. 6 from 1988-90 before switching to No. 7. He punted 642 times for 26,747 yards (3rd in Raiders history) and averaged 41.7 yards per punt. The best season of his career was 1991 when he averaged 44.2 yards per punt and was named to the Pro Bowl and First Team All-Pro.
David Klingler – QB – 1997
Klingler wore jersey No. 7 in 1997 after wearing No. 11 in 1996. He wore No. 7 in only one game and went 4-of-7 for 27 yards and an interception. It was his last NFL appearance of his career. He went 10 of 24 for 87 yards in his one appearance in jersey No. 11 in 1996.
Davis joined the Raiders in 1998 after 10 full seasons in the NFL with five teams. He played in all 16 games in 1998 and made 17 of 27 field goal attempts and 31 of 31 extra point attempts for a total of 82 points. He was replaced by Michael Husted the next year.
The one-time starting quarterback of the Buffalo Bills, Johnson joined the Raiders in 2003 as the Silver and Black experienced a rash of injuries at the quarterback position. Johnson appeared in what would be the last two games of his career and completed 6 of 13 pass attempts for 54 yards and 1 INT (all in a Week 16 loss to Green Bay).
After five seasons in Buffalo, Losman appeared in one game for the Raiders in 2009 after Charlie Frye was injured, and was injured during his one and only pass attempt.  JaMarcus Russell came off the bench and led a come-from-behind victory over the Broncos in Denver. Losman finished his career with one season in Miami.
Boller joined the Raiders in 2010 after five seasons in Baltimore and one in St. Louis. He appeared in seven games with one start for the Raiders, and completed 17 of 32 pass attempts for 186 yards, 0 TDs and 4 INTs.
Leinart served as the primary back up to Carson Palmer in 2012 after four years with Arizona and one with Houston. He went 16 of 33 for 115 yards and 1 INT in 2 appearances.
Marquette King – P – 2013-present
King (pictured), signed by the Raiders as an undrafted free agent in 2012, led the NFL in gross punting average in his first full season as the Raiders punter after sitting out his rookie season on injured reserve. In two years, he has punted 193 times for 9,037 yards (6th in Raiders history), and is averaging 46.8 yards per punt since taking over for Shane Lechler who left for Houston as a free agent.