Oakland Raiders rookie QB Connor Cook autographed a football for a firefighter who shares his name.
"When I saw the phone ring, I saw California and I thought, 'Hold on, I know this number.' So I just started smiling instantly because I was like, 'Maybe this is my opportunity here.' Once I got that call, I just couldn't stop smiling. I was so happy. My family was happy. My little brother was yelling in the background. I'm like, 'Calm down! I can't even hear them!' But it was definitely a special moment for me and my family and we look forward to making more great moments with the Raiders organization.
When defensive end Shilique Calhoun was drafted by the Silver and Black nearly two weeks ago, he was ecstatic. With one phone call, all of his training, practice, and hard work over the years was rewarded with the opportunity to live out one of his life-long dreams with one of the league's most iconic franchises. Fast forward less than 24 hours, and one young man in Idaho was even more shocked, beyond his wildest dreams.
On April 30, Connor Cook received a tweet from the NFL that he was selected by the Oakland Raiders with the 100th overall pick in the Draft. Except this Connor Cook was not a quarterback and he never played football at Michigan State. No, the Connor Cook that the league alerted is in fact a paramedic and a firefighter living in Idaho. It was a simple social media mix-up – the Twitter handle @ConnorCook8 (the firefighter's) was inadvertently tagged in a number of posts by the league instead of the quarterback's actual handle – and it was quite a surprise for the young man.  (Note: the original tweet by the league has been deleted since)
"I was sitting here at work and all the sudden my phone just starting vibrating off the hook," Cook told EastIdahoNews.com. "It was fun for a while, but I figured I had better tweet them back and let them know they had the wrong guy."
Cook, who has a great sense of humor, let the league know of its mistake, but also decided to have some fun on social media:
Just over 10 days later, when quarterback Connor Cook signed his deal with the team in California, the NFL decided to poke a little fun at its own mistake, and the QB himself wanted to let his *fellow *Connor Cook know that he was amused by how well the firefighter had taken the whole process. After all, getting bombarded a quarterback's Twitter mentions can be quite jarring, and quite frankly, overwhelming. In addition to sending a video message, a signed ball and a gift bag full of Raiders gear was shipped off to Idaho: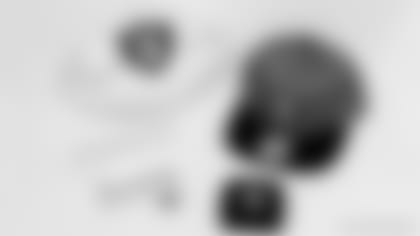 It's great to see that everyone was able to see the humor in the situation and have fun with it -- Cook's mother in Idaho also enjoyed the whole mix-up:
In the end, everyone involved has a great story to tell forever and enjoyed a few laughs. And the best part is this: Raider Nation just got a little bit bigger.