Raiders P Shane Lechler holds for Miami K Dan Carpenter. AP Photo.

The AFC squad defeated the NFC team 41-34 in the 2010 Pro Bowl at Sun Life Stadium in Miami. Raiders P Shane Lechler, CB Nnamdi Asomugha and LS/LB Jon Condo saw plenty of action for the AFC All-Stars. Raiderette of the Year Cole was also on hand performing throughout the game.
Asomugha logged three tackles, Lechler crushed a 54-yard punt and Condo chalked up a special teams stop.
Condo and Lechler were the snapper and holder, respectively, for eight K Dan Carpenter placekicks - three field goal attempts (2/3) and five extra points (5/5).
Cole was named captain of the AFC1 line during Pro Bowl Week festivities.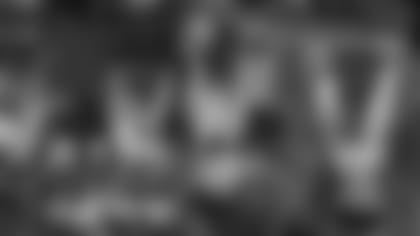 Raiderette of the Year Cole (right) performs with the Pro Bowl Cheerleaders AFC1 line. AP Photo.
This was the third Pro Bowl selection and second appearance for Asomugha, fifth selection for Lechler and first for Condo.