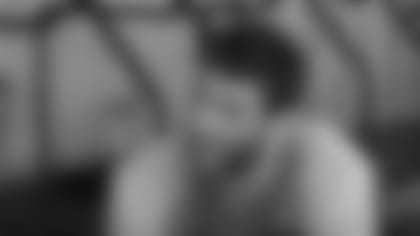 da ich der letzte aus unserer Tiroler Runde bin, der einen Blog für Raiders.com schreibt, werde ich euch nicht noch einmal mit der Geschichte unseres langen Flugs langweilen. Auch vom Spiel der Raiders gegen Arizona werden euch Shuan Fatah und Lee Rowland schon ausgiebig erzählt haben. Das war natürlich auch eine großartige Erfahrung.
Und für mich war es bereits das zweite Mal, dass ich bei den Oakland Raiders an der Seitenlinie stehen durfte. Denn schon 2008, als die SWARCO Raiders das erste Mal ins Trainingslager eingeladen wurden, war ich mit dabei. Seither hat sich aber einiges getan. Ich habe vor wenigen Wochen meine aktive Karriere beendet und widme mich jetzt  voll und ganz meinen Aufgaben als Strength and Conditioning Coach.
Daher bin ich sehr froh, noch einmal eingeladen worden zu sein. Denn von wem könnte ich mehr darüber lernen, wie man Spieler in Form bekommt, als von Coach Brad Roll. Er ist schon seit über 30 Jahren im Geschäft und gehört zu den besten und angesehensten Strength and Conditioning Coaches in der NFL.
Bevor ich ihm aber von meinem Trainingskonzept erzählen konnte, scheuchte mich Coach Roll durch ein brutales Workout. 22 Minuten lang musste ich denselben Drill durchziehen, den auch alle Spieler der Oakland Raiders regelmäßig machen müssen. Dieser Drill war wirklich kein Zuckerschlecken. Doch ich habe mich durchgekämpft und konnte anschließend in Ruhe mit Coach Roll reden.
Wir sind die Trainingspläne, die ich für die SWARCO Raiders im vergangenen Winter zusammengestellt habe, durchgegangen und haben die Ergebnisse gemeinsam analysiert. Ich bin sehr stolz, dass Coach Roll meine Arbeit gelobt hat. Er wünscht sich aber, dass ich meine Spieler noch härter drannehme.
Er gibt mir täglich Tipps und ich schaue mir die einzelnen Übungen hier genau an. Ich bin immer mit meinem Notizblock unterwegs und habe heute auch die Videokamera dabeigehabt, um die Drills zu filmen. Denn ich will, dass unsere Mannschaft noch stärker, noch schneller und noch ausdauernder wird.
Ich freue mich bereits auf die kommenden Tage. Danke, dass Ihr meinen Blog lest.