Markus Krause and Robert Balazinec just won the Eurobowl with The Oakland Raiders' marketing teammate SWARCO Raiders of the Austrian Football League. Both are participating in The Oakland Raiders' 2009 Training Camp as part of the International Guest Coach Program. Krause and Balazinec also serve as assistant coaches for the SWARCO Raiders youth programs. You can read about their experiences right here on Raiders.com in English and German.
**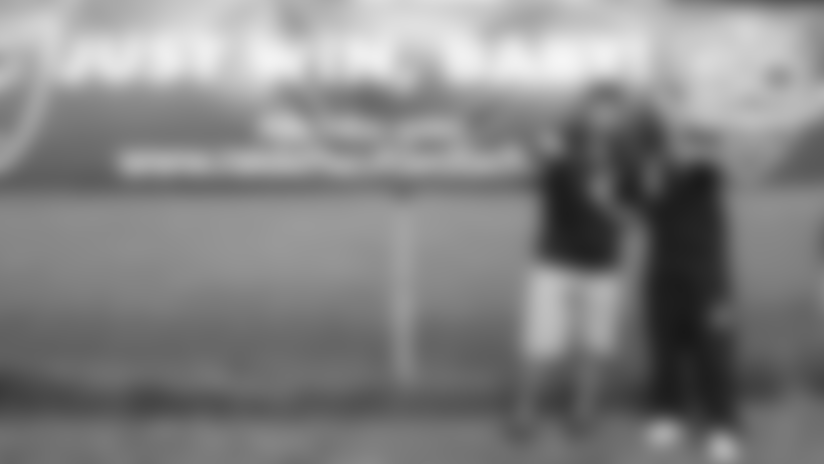 Markus Krause (left) and Robert Balazinec pose for a photo.* - *Schellhorn
What a journey! After 29 hours on the road (and in the air) we arrived in Oakland on Wednesday night. And to finally be in the hotel The Oakland Raiders players stay before their home games made us forget about a stressful ride across the big pond. OK, almost. But let's cut it short. We had some trouble finding our flight back in Frankfurt, Germany. Then we almost missed out connection flight in Philadelphia and on arrival in San Francisco our luggage was missing. And have we mentioned the one-hour wait for our midnight pizza?
Anyway, after a short night we were anxious to meet with the other international guest coaches at the Raiders office in Alameda, CA. Later we were brought up to Napa Valley in style.
Markus: I thought we were going to Hollywood. I mean they arranged for a huge limousine to bring us out to camp. What a way to ride!
Later we were able to check out the whole area and even got our big bag full of official Raiders gear. You wear it and immediately feel like you made it to the NFL. In the afternoon a very passionate Oakland Raiders squad showed up for our first practice. We watched from the sidelines and were blown away by the pure speed and intensity. The difference between pros and amateurs was easy to see.
Friday was kind of a day of meetings. But we met many interesting people. First we finally got to know special teams coordinator John Fassel. Coach Fassel is the best friend of our SWARCO Raiders head coach Santos Carrillo. Their friendship dates back to college and it's funny that both coaches now work for the biggest family in football: the Raiders family!
During afternoon practice Raiders Owner Al Davis watched his team train. It was exciting to see one of football's pioneers just a few feet away. But the meet and greet was not over, yet. We met a few Air Force airmen, who watched practice and when the intense full contact practice was over, head coach Tom Cable took the time to introduce himself to all six international coaches. We chatted a bit and after listening to all the pros and cons of our home countries he quickly decided on where he should travel to in the near future: Austria.
**
Markus Krause (left) and Robert Balazinec pose for a photo with a trio of Air Force airmen.* - *Sebastian Stolz
Blitzy: Now isn't that a coincidence?!
On Saturday the "Who are you"-session went on as we were lucky enough to get introduced to Sebastian Janikowski. He is bigger than most of our linemen. A very polite and humble guy.
Blitzy: We kind of have the same background as we both grew up with soccer. I have to admit though that his leg is much stronger than mine…
Later that day the next big highlight of our trip was waiting for us: Raider Nation Celebration. Escorted by the California Highway Patrol we rode to the Oakland-Alameda County Coliseum in five buses. When there's a traffic jam and you still just keep on rolling thanks to the police, you can't help but feel important.
At the stadium we followed the team into the locker room and later went together with the Silver and Black and all the coaches onto the field. The fans welcomed us with a vigorous reception. Standing on the sidelines just a few feet next to the action and just little farther away from the crowd gave us goose bumps. It was another exciting day. Hard to imagine that there's still so much more to come.
Servus,
Yours Markus and Blitzy