The last name Branch is sacred to Raider Nation. It holds weight to a fanbase that saw a wide receiver with that last name bring three Super Bowl championships to the Silver and Black.
Cliff Branch's legacy has grown immensely since he last touched on the field for the Raiders in 1987. The seed that he planted in the game of football has now been passed down to his two great-nephews, that seems to resemble the greatness of their late uncle.
Bishop Gorman High School – located in Las Vegas, Nevada – won the 5A NIAA State Championship in football Thursday afternoon inside of Allegiant Stadium. The Gaels picked up a very commanding victory over the McQueen Lancers 56-7 for their first state championship win since the 2018 season. The Gaels had a 42-0 lead at halftime, with a running clock enforced in the second half.
The biggest playmaker the Gaels had to their disposal was their junior receiver. His name is Zachariah Branch, and his No. 1 jersey adequately represents his ranking in the state of Nevada for the Class of 2023 by 247Sports. He racked up six catches, 132 yards and a touchdown in the state championship game – and that doesn't include the two touchdowns he scored that were called back due to penalties.
On the other side of the ball, the defense was lead by his brother, senior safety Zion Branch. The safety has made a reputation of becoming a lockdown defender since becoming a starter for the Bishop Gorman his freshman year. He's the No. 1 player in the state of Nevada for the Class of 2022, by 247Sports and Rivals.com, and the No. 2 player in the state by ESPN. The two brothers have received scholarship offers from multiple schools including Ohio State, Southern California, Alabama, Clemson, Oklahoma and – not to leave off their uncle's alma mater – Colorado. The two brothers' performances shined throughout their state championship season, ending their last high school game together with a championship.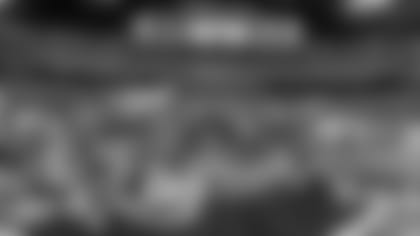 "Our goal from the beginning of the season was to bring back this state championship so I'm just so blessed for my teammates to help me achieve this opportunity and win this state championship," said Zachariah. "This is my last game playing with my brother, so I'm just cherishing these moments throughout this whole process and I'm blessed for it."
"Our dream was to get to this state championship and bring back this state [championship] that Gorman owns," added Zion. "It was great to come out here and accomplish that. These two years have been a long, long road. A long journey but I'm really glad."
Head Coach Brent Browner is appreciative of the contributions the two Branch brothers were able to make in the program. Zion is the only player on the Gaels' 2021 championship team that was also on their 2018 team that last took home the honor. He expects the two to do big things on the next level, when the time comes for each of them.
"Their impact has been humongous for our football team," said Browner. "Since the moment Zion walked in the building – Zion walked in as a freshman and came into the office and said 'I want to play on varsity,' which is not normal for this place. And we gave him a chance. We gave him the chance and he earned a spot as freshman on this football team and he's been there ever since. Same thing with his brother. That's a character thing that goes beyond what their parents have done, what their family has instilled in them for years."
"They've been amazing to this team more off the field," continued Browner. "More how we are in the locker, how we practice, how hard we practice. The competitive nature, those two in practice go at it every day. You can't get them away from each other – and one is a DB, one is a receiver. Those two guys are grinding and when other kids see how hard those two go against each other every single day – and they are two great players – it makes everyone else step their game up.
The fire in them to be great on the football field could be argued is a genetic trait as a relative of Cliff Branch, who caught 67 touchdowns and 8,685 receiving yards in his NFL career. Cliff Branch's trademark ability to get deep down the field and make plays as a receiver is visible within Zachariah. Ironically enough, the two never really had many conversations about football, despite playing the same position.
"He really didn't talk to me about much football or my game, he just talked to me about always putting God first and that's going to take you a long way," said Zachariah. "He always said just talking to me during the short conversations that we had just to be grateful for the opportunities that you get. Because like they say, 'Before you know it, it's over.'"
Zion also chimed in with the wisdom his legendary great uncle imparted on him, emphasizing that he should "cherish football and cherish every moment with his brothers." Cliff Branch passed away on August 3, 2019.
In great confusion and controversy to many, Cliff Branch has yet to be inducted into the Pro Football Hall of Fame. The three-time All-Pro receiver has been a finalist numerous occasions, yet hasn't received the final vote. Branch was once again named a senior finalist candidate in August of 2021.
His two nephews – like the rest of Raider Nation – are highly anticipating the induction finally coming to pass. They went as far to make the bold proclamations that if Canton doesn't find a place for their uncle, they'll have a find a spot for themselves to let the Branch name stand tall in the Hall.
"I feel like his numbers proved everything. He was a great person as well," Zachariah said. "So I feel like there's no reason why he shouldn't be in the Hall of Fame. I wish it could've been done sooner before he passed, that would've been great. But when he gets in the Hall of Fame, I'll be super proud. And also, I'm going to get another Branch in the Hall of Fame, too."
"He really earned it, said Zion. "And if he doesn't get in, my brother and I will for sure fulfill that legacy and both get those gold jackets."