Welcome to my third and final blog. Oh wait do you know who that is? Some say that's the most powerful woman in sports (Chief Executive Amy Trask).
Amy Trask: What do the others say?
The prettiest woman in sports.
Amy:  This is the best blog ever!
[For those who asked] I am a big egg, tomato, spinach, green pepper, and red pepper guy…the whole omelet deal.
My day was pretty good. It was a short, nice practice. I was a bit winded for some reason; I think it was something that had to do with the air. I think they watered the grapes today or something.
All great things must come to an end; unfortunately it has to be the blog. I appreciate you guys for hanging out with me and tuning in. Make sure you keep tuning in for this very very special season, Super Bowl season.
One thing I can say is: Raider Nation, We're back!
---
I wake up at 6:30 in the morning. After I wake up I have breakfast, meetings, walkthroughs, practice, lunch…things like that.
The thing I do is, I have a lot to prove, so every snap that I go out there I say "prove something on this play," or "get better at something on this play," and that's what I try to do.
The fans showed that Raider Nation is alive in full effect. To have that many fans showing they are behind us is special and we thank them for coming out and hope they continue to come out.
Skype is my best friend right now. To see my son grow up right now, and to see my wife while she's pregnant right now, and to see them talk to me, see my baby moving, and have my son give me a kiss through the screen, it's amazing. He's the best, and we always have fun so Skype is my best friend right now.
I would like to specially thank everybody that reads my blog and everyone who follows me on twitter (@Quen_Groves52). I really appreciate you guys and I thank you guys for everything you do. Keep the Nation alive and help us build this bully!
---
Saturday, August 13, 2011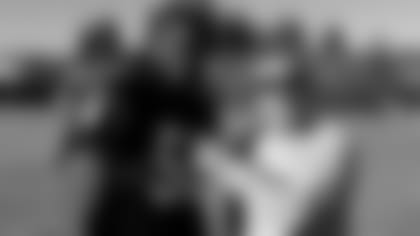 LB Quentin Groves chats with the Austrian Football League's SWARCO Raiders offensive coordinator Lee Rowland. Photo by Sebastian Stolz.

Hola Raider Nation! Hello Raider Nation! Buenas Dias, Buenas tardes, buenas noches! The offseason for me was long, but I got a lot of great things done. I have a baby girl coming, so that was a big thing that I got in the offseason. I did a lot of different types of training, as well as watch a lot of film on myself; I broke myself down a lot and was very hard on myself. I took a two-month long vacation to Trinidad, which is where my wife is from, and that was pretty much all I did.
The off-season was pretty tough; conditioning-wise it was pretty hard because nothing gets you into football shape. You can run as many miles as you want and do as many conditioning drills as you want to, but nothing gets you ready for football but football.
People don't realize is that I have a track background as well as my wife, who was an All-American track star, so she gave me a few pointers before Marcel Reece and I actually ran that race. It came about because Marcel always used to say he was faster than me and everyone on the team thought he was faster than me, so I said okay guys…since we have a long offseason why not race and what better time to race than when we were all together in Atlanta. We got together, the race came about, and the rest is history. Everyone knows who won, and if you don't know who won, go to NFL.com and search "Quentin Groves vs. Marcel Reece" and you can see who won, but he was a good sport about it and he still wants to race again but I can't do it.
All requests for a rematch have been declined. There is no Groves vs. Reece rematch, the only way there will be a rematch is after we win the Super Bowl and me and Marcel are in Hawaii, then we can compete.
You never really knock the rust off because you play a limited time in the preseason opener. I played a lot more because I needed the work. Coach Jackson told me going into the game that he was going to get me a lot more work because this is only my second full year playing linebacker; I was a defensive end in college and at Jacksonville; so this is my second year playing linebacker, reading keys and things of that nature. So they wanted me to play a lot more and it was fine by me because I need the work. So I got the work in and had a great time, the fans were into it, we were into it, and it just so happened we couldn't put it away at the end but things like that happen in the preseason. The good thing is that it was preseason and not regular season and now we can build on that game.
It's been tough for me this camp because we are learning a whole new defense and it's only my second year playing linebacker, and I'm glad Coach Jackson got to see me play and I hope he liked what he saw. He got to see me cover in the new defense, which I think I did pretty well, got to see me make some tackles and make some plays, so it was fun.
I would like to say "Thank You" Raider Nation for reading my blog. You can always follow my on Twitter - @Quen_groves52. You can drop me a line sometime, I'm always here and I like reaching back to fans, so I appreciate it guys.