Local beat writers who cover the team were afforded the opportunity to speak with recently hired special teams coordinator Bobby April.
Q: You were special teams Coach of the Year a few times. What's it going to take? How far away are the players that you have here from adding another award like that?
April: I'm not really sure because I haven't watched the players enough, or talked to Reggie McKenzie about what we're going to do. You always need good players. Obviously, any time you succeed it's because the players are really good. Coaching has a lot to do with it, but you can never do it without the talent. I think the players here are very good. They have to improve; I have to improve. In terms of moving personnel, or changing personnel, at this point I'm way behind on that. Just trying to get organized and even familiarize myself with the players. Kind of tough to comment on that right now.
Q: So, you're not at the point where you can go to Coach and Reggie and say, 'I think we need to add someone here.'
April: Not at that point. My first week here, I took the job the Saturday before the Senior Bowl and went from driving in and getting there late Saturday night to coaching on the field Monday. Then I had a week to work my stuff out. I worked last week on personnel. I tried to grade the players. But just not at that true evaluation level. You used so many players last year, it's hard to get a bead on who that punt-returner is. You used a bunch of kick-returners, so it was really hard to get a bead on, who is the guy? Or do you have six guys that can do it, but no one really surfaces to be the best? That's what I'd like to see. I think Phillip Adams showed a lot of promise. I know (Denarius) Moore, the year before, had done some tremendous things. Haven't looked at any 2011 film; just statistically I know he did some great things. I think we just have to wait and see on that. Not ready to make a statement.
Q: Jacoby Ford had done a lot of really good things, especially as kickoff-returner before being out last year. Have you seen him?
April: I've seen him before, just in general watching film. I have not looked at any 2011 film, but he's certainly one of the guys who, boy, I'd like to give him the first opportunity to be the guy. He's a special talent. I remember evaluating him at Clemson and thought he was special. Then he came here and proved that he is. So, to get him back would be a tremendous plus for our football team.
Q: Being a special-teams coach involves doing things on the fly. You usually don't know your guys until the very last cut. There's so much adjustment. What typifies a good special-teams unit in your opinion?
April: There's always a lot of movement in that area, a lot of change, a lot of adjustment, a lot of improvisation. That's for sure. The only thing you control as a coach, you'd like to create a culture where the guys are playing to their highest level, whatever that is. If they're a pint, we want them to fill it to the pint. If they're a quart, we want them to fill it to a quart. That type of mentality. Creating a culture to do that is Job No. 1 of the special-teams coach because a lot of these guys, to do anything and do it consistently and do it well, you have to be rewarded. Whatever it is, there's some type of reward involved. So, there's an obstacle there. Most of these guys did not get their scholarship based on how they played on special teams. Then, they didn't get drafted for how they played on special teams. They don't know any reward for that area; it's foreign to them. Even when they come here, they're not necessarily rewarded for playing special teams. If they're a standout, maybe, because they might have a long career doing it. They may have some security because of how they do it. So, initially, you've got that barrier to overcome. It's kind of like The Bronx Tale. The kid, he sees where the reward's at, it's with the wise guys, and his dad's driving the bus, he doesn't see any reward, even though that's the right thing to do. They'll go to where that reward is. So, the reward is playing and being a pro, winning games, helping your offense and defense achieve the greatest probability of success, and cultivating that is I think Job No. 1 of the special-teams coach.
Q: Some teams use starters on special teams. Do you have a philosophy?
April: I want to take the philosophy of always looking through the eyes of the head coach, in everything that we do, to win the game. If we return three kicks (for touchdowns), I could leave the stadium feeling pretty good even though we lost. That's just fact. The quarterback can feel pretty good if he throws for 500 yards and we still lose. He can still feel pretty good. But the head coach, if you lose, that's the bottom line. So, the more myself and the rest of the team can look through the eyes of the head coach and figure out how can we win the game, the better organizationally we'll be. And, I take that into, how do you use the talent. If a guy playing on special teams will hinder our overall deal because he's got to run 20 go routes to defend a guy, is playing him on the punt team the best thing to do? Is playing him on the kickoff-coverage team the best thing to do? Because the very next play after coming out of that sprint, he's going to have to cover Tim Brown on a go route. I've got to look at it that way. The head coach will always look at it that way. I owe it to the organization and to him, the head coach, to look at it that way, too. So, even though I believe in putting the best players on the field, I think there's a point in there where it's best for your football team that he takes all of his pool of talent and uses it. Darren McFadden, that's a tough position to play. There are a lot of hits that guy takes. There's a lot of exertion he's got to give. Do I think he's the best guy to hold up on a punt return? He probably is. Talented like that, you've got strength, you've got toughness, you've got awareness, you've got judgment, you've got everything. But for him to do that, and then the next play have to run a play? Everybody doesn't fit those examples I'm saying. The best guys you can get on the field, the better your probability of winning that play, because that play carries much more significance than the offensive and defensive plays. You're talking about totally flipping the field. You're talking about making the transition from not having the ball just to catching the ball. You can't ever drop one of those. I mean the receiver can drop one, even on third down. You don't want to drop the game-winning pass, but how many times does that happen? But a punt return, you just can't drop them. So, it takes a tremendous amount of work. People say, well the guy made a fair catch; that's nothing. You better catch that ball. You better catch that ball. So to get to the point, where, that play's nothing? That's a big play and it takes a lot of training to get to that. I'm off the subject now, but to have your best players on the field certainly is going to improve your ability to win a game. To say, 'We're going to forfeit that play because we're going to take that energy into another play,' in general, I think is wrong. Specifically, on certain people, I think it's right. I have to get to who those guys are.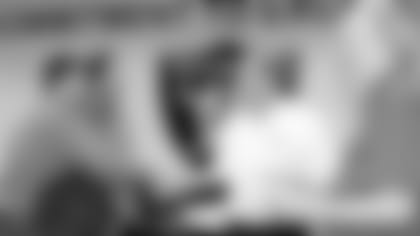 Q: As of now, you could have a punter that might be the best ever (Shane Lechler), or you could have a guy that's never punted in the NFL. How much of a role are you going to have in that decision? Will you go to Reggie and say, 'I can appreciate it if it's going to hurt us against the cap, but I need that guy; he's that critical.' Or, do you just show up one day and see that Marquette King is your guy?
April: I haven't had those discussions with Reggie McKenzie at this point. I think we will when I thoroughly evaluate everything and look at those factors. In general, I have never been involved, and won't be involved here, either, in trying to sway what we should do contractually with a guy. They'll know what my evaluation of him is, and they'll know how I feel about the guy, what he means. But beyond that, I don't delve into what they need to do.
Q: Would you be tempted to, with Shane?
April: Well, Shane's a great player. I will emphatically let them know, but it will be my opinion, and it'll be on a one-time basis. I don't put myself in the role; that's too strong of a statement. I'll write him up how I think he is. And he's been great. You don't even have to write him up. You already know he's a critical factor in this organization, and has been, for what, 12 years? Thirteen? That's huge.
Q: Have you ever had an asset as strong as Sebastian Janikowski?
April: I've been fortunate to have had a lot of really good kickers I've been able to coach. Janikowski's longevity, his accuracy over that period of time, his ability to kick off, he's a rare guy. He's a rare guy. I've been fortunate that the kickers I've had have all been very, very accurate. Always at 80 percent, sometimes up close to 90. I don't think I've ever had a plus-50 guy like him; no one has. So he's a rare guy. He'll be remembered as one of the all-time greats for sure. Yeah, he's a critical, critical ingredient of this football team.
Q: Have you had a chance to look at any Marquette King film?
April: I have not. From what I understand, he's really talented. I understand he's a real quality, quality player. I've met him; I've talked to him. But I have not evaluated his camp tapes, but I look forward to it. He sounds, everything that I've heard, like he's really got a lot of talent.