Group photo with the students, LB Kevin Burnett and representatives from the Microsoft store in San Francisco. Photo by Tony Gonzales
LB Kevin Burnett and the Oakland Raiders teamed up with Microsoft, a new NFL and Raiders sponsor this year, to donate 21 Microsoft Surface tablets to deserving students from McClymonds High School and Oakland Community Day School. Students were selected by their principals and teachers to visit the Raiders facility, meet Burnett and receive the Surface tablets.
| | |
| --- | --- |
| | |
| Photo by Tony Gonzales | |
| | |
"We've been chosen by the district because of our low suspension so it gives me great honor for the kids to come here," said Oakland Community Day School principal Mekael Johnson. "They were chosen because of academic excellence, but also it just shows what our kids are doing in Oakland and so I respect and honor that. I have respect for the Raiders for extending their arm out to the community."
Burnett took the opportunity to give back to the local community and provide a little something to help further the students' educations. "Just the fact that there's so much negativity around the world and so much emphasis placed on negative and the things that are not right," said Burnett. "We wanted to give something to the kids to inspire them to continue to do the right thing, to excel in the classroom, continue to be a good citizen and continue to make the city of Oakland a better place."
His inspiration for the donation came from his experiences as a high school student. "I don't want kids to fall into the same trap I fell into. I thought I was stupid. I thought I was not smart. I thought I was all those things because I couldn't pass the SAT," explained Burnett. "Now looking back on it, I don't think it was the fact that I was stupid, dumb or any of those other negative connotations; it was the fact that I just didn't know how to take the test. Now giving today's high school students something to look forward to, something to say, 'you know what, now I have a tool.'"
Receiving the Surface tablets meant a lot to the students. "This is not a chance you get often and for them to select us personally, it means a lot to me," said Rasheed Adesokan, a junior at Community Day School. "I feel like I really worked hard for this and I achieved a lot to get to where I am today."
The room lit up as each student received a Surface. "It was like a kid in the candy store," said Burnett. "You could see their eyes light up and say, 'wow, I'm king for a day, queen for a day.' Really that's all I'm after."
In addition to receiving the gift, the students also had the chance to ask Burnett a variety of questions and interact with a veteran NFL defender. "It's huge. It's big. I know a lot of students idolize players, look at them as role models," said Johnson. "The bigger picture is that we have an organization that's reaching back to our community and showing love and showing respect. Hopefully for the kids, they'll take that back and they'll have success and they extend their arm back to the community."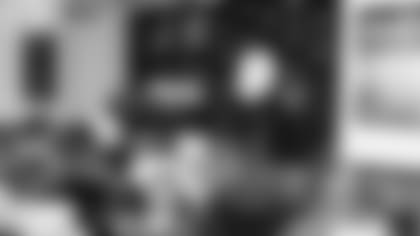 LB Kevin Burnett spoke with the students at Raiders headquarters. Photo by Tony Gonzales
Johnson appreciated the opportunity for his students to get to know a professional athlete, almost more so than receiving the gift, because of the bigger meaning. "I think it's huge for them to meet a professional athlete, or a professional whomever. I think it's huge for them to see and have the opportunity to see someone that looks like them and they can say, 'Hey, they made it. They're not too big. They're not too tall, so maybe I can do the same thing in my life.'
Burnett passed on a number of messages to the students. "On behalf of myself, the Raiders and Microsoft, we want to give you a tool to simply do better in life," Burnett told the students. "Use it to become a better student. Use it to become a better professional because eventually that's what you're going to be. You guys are only going to go as far as you want to go. Don't let anybody tell you that you can't do anything in this life because whatever it is you want to do, you can do it."
The linebacker shared many pieces of advice with the students, but there was one that resonated the most with some of the students. "He said, 'dare to be different,'" said Adesokan. "I see a lot of people try to do the same as others and follow the lead, but why not be the leader and set the example and set the bar higher? Dare to be different, I encourage that."