QB Jason Campbell hosted a Christmas Toy Give-Away at Bridge Point Church in Alameda, Calif. Photo by Tony Gonzales
 
Recently, Oakland Raiders QB Jason Campbell and his fiancée Jenny Montes hosted a Christmas Toy Give-Away for 10 single-parent families at Bridge Point Church in Alameda, Calif. Campbell, Montes, and teammates WRs Jacoby Ford, Darrius Heyward-Bey, Louis Murphy and Chaz Schilens, RB Taiwan Jones, TE Kevin Boss, LB Kamerion Wimbley, DT Richard Seymour and P Shane Lechler served food, spent some one-on-one time with the families, and passed out gifts.

Campbell and Montes were initially inspired to put together the toy give-away by Raiders team chaplain Adam Ybarra. "Ninety weeks ago, we planted a church right in this community and it's a community of need, and so I felt that having a chance to connect with Jason and Jenny, it was kind of like a natural fit," said Ybarra. "They have a heart for single parents and we know there are a lot of that type of need, that type of person here. So we felt what a collaboration this would be. It was just a blessing to be able to see how we were able to connect their need to this need. Look at this – as you look outside, there are so many families, there's 10 families there with children that really didn't know how they were going to celebrate Christmas, but once again, being a Raider, this is what we do."
Montes was particularly moved by Ybarra's suggestion for the event because she had been a single mom until she met Campbell.  "I've been a single mom for years," said Montes. "I have an eight-year-old and until I got with Jason I've been a single mom and I know how hard it is to struggle. When Pastor Adam brought this up to me and Jason at our bible study, I felt very encouraged just to help moms because I understand the struggle that single moms go through. So I kind of just said, 'Jason, let's do something for the community.'"
Campbell jumped at Montes' suggestion particularly because of his understanding of what his fiancée had gone through raising her child on her own for so many years. "Well here today, I have my lovely fiancée," said Campbell. "She was a single mom, until I came along, but just seeing her, how hard it is to raise a child on her own and the things you have to do to try to be in all the places at one time, it's almost impossible. I've seen her work extremely hard to raise Yazmyne in a big way. It moves me and it's something she wanted to do to be part of the community so it gave me the drive to want to help her and give back and that's what it's all about. Hopefully we can touch a lot of kids lives today and something that they'll always remember."
With the help of Ybarra, Campbell and Montes invited 10 single-parent families to join them at Bridge Point Church for the evening. The families knew they were attending a Christmas meal, but what they didn't know was that Campbell and nine of his teammates would be spending the evening with them. "I am here, along with my teammates and we are here to surprise the kids," explained Campbell. "We will feed them, we will give them toys and most importantly just show them a great Christmas. We are blessed and we are fortunate to be in the position that we're in and sometimes you can take things for granted. But in life, it's all about giving back."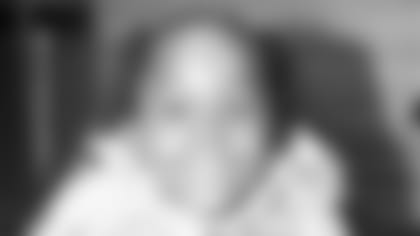 One of young guests smiles after receiving one of her gifts.
Photo by Tony Gonzales
The kids were excited to see the Raiders walk through the door. "Just being outside I was talking to all these kids and they were also saying, 'I love the Raiders,'" said Ybarra. "So again, it's just another way of just helping and blessing them in this Christmas time."
Campbell was able to get many of his teammates to come out and give back to the community. Montes and Ybarra believe Campbell's leadership qualities are part of what drove many of the players to participate. "These guys, they have a demand on their life, so somebody like Jason who is a leader and somebody who is a genuine man, I think this is what brought the team to come because they recognize that Jason is somebody who is not just a leader on the field, but even off the field," said Ybarra. "And I think role modeling for some of the younger players the fact that, look, they're blessed, so let's go share our blessing and that's why I believe we're seeing many of the players here today when they just got off practice."
Montes believes that many of Campbell's teammates look up to him. "I think that Jason is a role model for a lot of them," said Montes. "The fact that he takes them into his house, into his family, and they're all like brothers to him, it doesn't matter the situation, it doesn't matter what's going on, it's about winning. To him, it's like a family. He took these guys in as a family and he's going to be with them good, bad, thick and thin. I love him for that."
Boss echoed Ybarra and Montes' sentiments. "I think it just speaks about the type of guy he is when you get this many guys to show up for his event after the long day we've had and an early morning tomorrow," said Boss. "It shows a lot about the guy he is and the well-liked guy he is in this locker room."
Schilens wanted to give back to the community that has shown the Raiders so much support. "I know a lot of these families are from Oakland so I feel like it's good for us to reach out to the community and help people that are in need and families that are in need," said Schilens.
The players felt particularly compelled to give back during the holiday season." I've been extremely blessed," said Boss. "My wife and I have been very blessed so it just gives us an opportunity to come help out some folks that have been less fortunate. The holiday season is a time to give back and we have that opportunity to give back so taking full advantage of it."
The Raiders wanted to bring some holiday spirit to the families in attendance.  "Hopefully it'll just be a blessing for them," said Schilens prior to meeting the families. "Hopefully it'll be a good Christmas surprise and we can spread a little holiday cheer and just make some of their lives a little better."
"I'm excited," Boss explained right before surprising the group. "I think I'll be just as excited as they are. It's always fun to surprise some kids and put a smile on their face so it's something I think we're all looking forward to."
The 10 players served the families Southern cooking and ate dinner with them before handing out gifts to the kids. Campbell addressed the group as they handed out gifts. "First of all, I want to thank God for giving us an opportunity to be here," said Campbell. "We are in a blessed position to do the things we do in life, so sometimes it's not just about us, but it's about touching each other and reaching out to the community. We're trying to do something positive in life and that's what it's all about. It's Christmas, I got my teammates to come out here and help us. They didn't have to do it but they did because their hearts are in the right place and they want to be part of the community. We want to wish everyone a Merry Christmas."
Everyone left the Church with smiles on their faces - the kids with their gifts, the parents with a burden lifted, and the players knowing they were able to positively impact the community.