Q: How do you flip things around going into this week with the short week?
Carson Palmer: It's a little bit of a funny schedule but it is good because you have that Thursday night game during the season. You have some Monday night games and short weeks. It is good practice for us to have to turn around right after a game and have a hard practice Tuesday after a Monday night game and then be ready to play in a couple days and get your body right. It's good preparation for the season.
Q: Jacoby [Ford]…you talked before about how you guys had been having a good training camp and have been getting on the same page. Then, preseason opener, he has a couple of drops and there was the pass that went deep for an interception. Did you guys talk much about that afterwards? Or did you just write it off as this has been great and let's not worry about this? Do you make the corrections? How did you guys approach it?
Carson Palmer: We talked a lot about it. The interception was my fault. That was not his fault at all. It was completely my fault. The drops, those are part of the game. I have thrown Jacoby a lot of balls and those are the only two balls I remember being dropped from last year, this offseason, OTAs, mini-camps, this training camp. D-mo [Denarius Moore] has been hurt so he has gotten a lot of reps. I've thrown him 100 something balls probably, and completed most of them. Incompletes were either because of good coverage or bad throws. It is not something that needs to be talked about. Jacoby understands. There is nothing that needs to be talked about. I have complete faith in him and that he will catch the next one. I told him right after I will come right back at you and give you another chance. I know if the next ball I throw to him if it's a bad one, he is going to go make a play on it and make a play for me.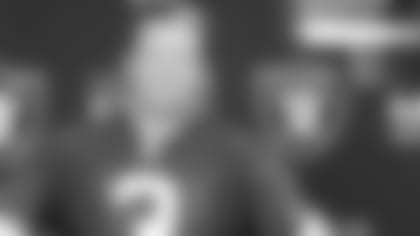 Q: You talked after the game about how that interception is what the preseason is for. What do you mean by that?
Carson Palmer: We try different plays, different shots, certain protection, certain shot. You try to put guys in positions to see where they can really succeed at and we tried to double move big play action seven step drop deep down the field shot. Looking back at the film, I learned a lot from the play holding the safety with my eyes. Being better with my head where my eyes are before the play. So you need to take those shots in the preseason before the bullets start firing and see how guys run on double moves. Are they better off running the deep post or just a straight go route? How defenses adjust to our speed on the outside. Just little things you can pick up off the film and get in from game experience.
Q: You are a guy that has played a lot of games in your career; when do you know that you're ready? How much action do you need in these games? Is there a point or is there something that you are looking for…a feel? Certain amount of reps?
Carson Palmer: That's a good question. You just feel ready. I don't know if there is a certain amount of reps. There is definitely a certain amount of reps in practice that you need, but once you have played the game for a while, you really need the reps in practice to see yourself on film, watching yourself making mistakes, right reads, good throws, bad throws whatever it is. When it comes to game time most of our guys are pretty experienced guys that have been playing long enough that they don't need to get hit to get ready for the regular season. There are some rookies that we are counting on that need, guys like Juron [Criner], Rod [Streater], they really need to get knocked around to have to face press coverage and good coverage. It just gives them a confidence that you need to know when you are a rookie. There is a point where you say I don't know if I can play in this league and you need to find that out for yourself and compete. For the most part it is more reps. You need the reps in practice, you need to feel comfortable with the offense and with what you are asked to do and just go out and play.
Q: Your observation of Coach Allen, lots of times rookie coaches will really dive into their field of expertise. If you are an offensive coordinator and you become head coach, it is your offense. If you are a defensive coordinator it is your defense. Coach Allen seems to be embracing the overall part of it. Do you see that he has got his stamp on pretty much every area of this team?
Carson Palmer: I think one of the most impressive things he has done is hired a great staff. I think head coaches get involved, probably more than they want to, if they don't completely trust their other hirings. But he trusts who he has hired. He did all the research he could have done, he hired [Offensive Coordinator Greg] Knapp, to me it's phenomenal. Coach Tarver, just having to play against his defense and talk football with him and talk what hurts this coverage, what hurts this coverage, very, very intelligent, very, very bright, very young, but very, very bright. So I think more than anything he trusts the guys he has hired. He doesn't feel the need to have to go over and interrupt or cut in. He believes in those guys. He believes that their system will work and he does a great job not completely coming in and taking over, then a position group is hearing a thing from a head coach, a defensive coordinator and a position coach. He does a good job of letting his coaches coach.
Q: Last year you were in a unique situation, you came in late, this year you have the opportunity to have all this. How much more confidence does it give you coming into the season having this day in and day out?
Carson Palmer: A ton of more confidence. There is no comparison to where I will be at Week 7 or 8 this year as opposed to last year. Just getting the experience and the reps I need now will pay off come Week 1.