Three young college coaches recently participated in the Bill Walsh Minority Coaching Fellowship program with the Oakland Raiders. Junior Adams, Carlton Buckels, and Jamar Cain interacted with and learned from the Raiders coaching staff to improve their skills. The three participants spent eight days with the Silver and Black during Training Camp 2010 in Napa, Calif., taking note of each coach's methods in preparing the team for the upcoming season.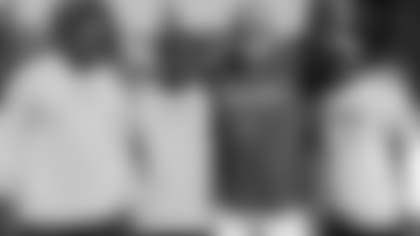 Carlton Buckels, Junior Adams and Jamar Cain pose for a photo with Raiders Head Coach Tom Cable. Photo by Tony Gonzales.
Buckels, cornerbacks coach at North Texas University, hopes to one day coach in the NFL as a defensive coordinator. Adams, wide receivers coach at Eastern Washington University, has his eyes set on coaching in the NFL. Cain, defensive line coach at Cal Poly – San Luis Obispo, wants to be a defensive line coach and ultimately a head coach. The opportunity to work with the Raiders brought this trio a small step closer to their ultimate goals.  
The experience gained by following the Raiders every move helped the coaches better themselves in their profession. "It was a great opportunity. I mean it was an eye opener," said Adams. "It was a great experience. I learned so much just being there, being around the coaching staff. I learned not just about the schematic part of the game but coaching, individually coaching. I learned something new every day sitting in meetings with Hue Jackson and the offensive staff. They were great. It was just a great opportunity. I wish I didn't have to leave."
Cain, born and raised in Sacramento, was ecstatic to work with and learn from the team he has followed his whole life. "I grew up a Raider fan in Sacramento so this was an opportunity to live out a childhood dream, hanging out with the Raiders, working with [defensive line] Coach [Mike] Waufle," said Cain. "I mean he is the best D-line coach in the nation. It made me a better coach. Understanding his system and how he teaches his guys all made me a better coach. I'm happy that [Head] Coach [Tom] Cable let me come out and learn from them." Echoing Adams' and Cain's sentiments, Buckels raved about the experience. "I just thank the Raiders organization for giving me the opportunity to come in and work as a minority coach. It was a great experience with a first class organization and there was so much that I learned in short period of time," said Buckels.
While each young coach had the opportunity to work with the entire Raiders coaching staff, they were also able to spend time with the offensive and defensive coaches based on their concentration as a college coach. Cain spent significant time shadowing Coach Waufle and consuming as much information as possible. "Obviously Coach Waufle is so organized so he made me way more organized. Detail-wise seeing the game in a different picture, understanding formations, understand pass protections just made me so much better. Understanding his drills and how he teaches his systems just made me such a better coach," explained Cain.
Adams could not pinpoint just one thing he learned as part of the Minority Coaching Fellowship. "It was all important. I learned so much," Adams said. "I remember someone asking when I first got done with it, how was your trip, what'd you learn? I couldn't even tell one thing I learned because it was numerous things."
Coaching in the NFL is considerably different than in college football and this experience helped the college coaches prepare for what they hope is a position in their future. Buckels believed the most important thing he took away from his time with the Raiders was "the experience of coaching on that level and seeing the way the professionals do things. That was very beneficial to me," said Buckels. "I thought that it helped me in a way to open my eyes to a lot of new ideas and ways of coaching my players."
Adams, Buckels, and Cain returned to their football programs across the United States invigorated and ready to coach with new ideas, knowledge and experience. The three participants walked away with enthusiasm after learning and growing from the talented Raiders staff. They left with excitement for their coaching careers and belief in their ability to coach college football players to winning seasons.