Hall of Fame center and Raiders Legend Jim Otto was on hand at the Commitment to Excellence Award Dinner to honor LS Jon Condo. Photo by Tony Gonzales

Recently, the Steering Committee for the Booster Clubs of the Oakland Raiders (SCBCOR) held the 11th Annual Commitment to Excellence Award Dinner honoring LS Jon Condo at the Hilton - Oakland Airport. Members of Raider Nation, current and former players, Head Coach Dennis Allen, General Manager Reggie McKenzie and the guest of honor, Condo, came together to celebrate the achievements of the veteran long snapper heading into his seventh season with the Raiders.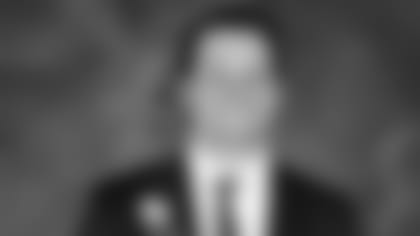 LS Jon Condo accepts his Commitment to Excellence Award.
Photo by Tony Gonzales
The dinner is to "recognize the player that the Raider players chose as their Commitment to Excellence Award winner who exemplifies the pride, poise and spirit of the Oakland Raiders," explained SCBCOR Chairperson Dave Laughlin. The Commitment to Excellence Award Dinner is also an opportunity to raise money for the charity of the recipient's choice. Condo chose to donate to Garth Brooks' Teammates for Kids. "It's a wonderful charity and it's geared towards helping kids across the country and internationally whether they have sicknesses or other disabilities, it just helps kids," said Condo. "And the great thing about it is every dollar we donate, Garth will triple the amount. So the amount we raise, he'll end up tripling it. You can't really beat that. It's a great charity and I'm glad I can represent it."
The award, formerly known as the Gorman Award, is voted by the players each year and has been awarded to Raiders Legends such as Marcus Allen, Tim Brown, Fred Biletnikoff, and Jim Otto. Often, the award lands in the hands of players in high-profile positions like wide receiver, running back and defensive back. This year, however, the team recognized the long snapper, an unsung position on the field. Otto, the Raiders center for 15 seasons, had a unique appreciation for Condo earning the award, as he was also the long snapper during his time with the Silver and Black.  "The center who played the offense all the time, also snapped the ball for every long snap," said Otto. "For over 15 years, I snapped every ball the Raiders ever snapped – the long snaps, short snaps, the quarterback snaps. That was my job."
The Hall of Fame center has consistently been impressed with Condo's play and teamwork. "First of all, his long snapping is impeccable. You have to have accuracy along with the speed as well and Jon does it all," said Otto. "He's valuable to the team, whether he's a snapper, no matter what position he is, because you see him on the sideline, he's hustling back and forth, he's talking to his teammates, he's cheering them on. He's always been, as far as I can remember, as long as he's been a Raider, a very excitable player and that helps the team."
Condo was honored to have the respect of Otto. "With Jim being here it definitely means a lot," said Condo. "I remember the first time I met him, he told me, 'I used to snap too.' He's one of the greatest of all time; he's definitely a legend. He's what being a Raider is all about and I look up to those guys, just seeing how they used to play and the dedication that they had."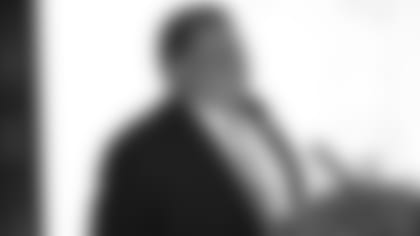 GM Reggie McKenzie addresses the guests at the Commitment to Excellence Award Dinner. Photo by Tony Gonzales
The long snapper was shocked and overwhelmed to learn his teammates had voted him for the award. "Being a long snapper and winning the award, it definitely means a lot," said Condo. "I only know one way to go about business and that's by working hard and being dedicated on and off the field and to give my best in whatever I do. Winning this award by my teammates, with my teammates voting, it means a lot that they're recognizing me and they're seeing the work that I've put in and it's very gratifying."
The Raiders general manager was on hand to show his support and appreciation for Condo. "Let me tell you something – did you see the first game of the year?" said McKenzie. "That's why [the long snapper] is kind of like the unsung hero. That's a vital job for any team. You have to have a great snapper and we have one. He's a tireless worker. It's all about the team for him and everybody knows that."
| | |
| --- | --- |
| | |
| | LS Jon Condo poses for a photo with Raider Ron, who has attended 215 straight Raiders games. Photo by Tony Gonzales |
Coach Allen also wanted to show his appreciation for the veteran Raider. "This is all about the guys that show the Commitment to Excellence both on the field and off the field and Jon absolutely does that," said Coach Allen. "He's been an outstanding player for us, been great in the community so it's a well-deserved award for him. A hard worker, a guy who is going to do everything he has to do to try to get the job done. There's no task too big, no task too small and he's a true pro."
Condo exemplifies what the Raiders are looking for in their players. "We're looking for guys that love football. We're looking for guys that are willing to work and we're looking for guys who will put the team first and that's what this guy does," said Coach Allen. "He does it every single day. He plays a position that really is an unsung position. He's a guy that really epitomizes the selflessness it takes to play and be a championship team in the National Football League."
Bobby April, the new special teams coordinator, saw the event as an opportunity to be immersed in Raider Nation for the first time and to support his special teams star.  "First of all, being the special teams coach and he's a special teams player, that's primarily the biggest reason," said Coach April. "But also I knew there would be a lot of ex-players, a lot of fans, people with a great Raiders background. With me being new, it was a great opportunity to meet those people."
The rarity of a long snapper winning an award like the Commitment to Excellence Award did not go unnoticed by the coaches and the event attendees. "A lot of times Jon's position is sort of taken for granted because it's such a short period of time and you really don't see him in action, you see the ball in action," explained Coach April. "But again, it's a real statement of his qualities as a person, as a teammate, as a competitor."
Also on hand was senior offensive assistant Al Saunders who has been impressed with Condo since he joined the Raiders staff in 2011. "If you had to pick a consummate professional – I've been in the National Football League for over 30 years – and I don't know anybody that works any harder at his craft and is more of a dedicated man to his family and his organization as Jon Condo," said Coach Saunders. This award is really fitting for him."
Coach Saunders wanted to make sure he had the opportunity to congratulate Condo on earning the award.  "It's important because Jon Condo is a special guy and when you receive an award like this from your peers, I think it should be supported by those who appreciate what he does," said Coach Saunders. "We as coaches appreciate what he's done for this organization over the years."
Condo has earned two trips to the Pro Bowl, but being voted by his teammates for the Commitment to Excellence Award was a little more special. "It's confirmation that all my hard work, dedication towards winning football games, does not go unnoticed by my peers," said Condo. "This is a great feeling because there's nothing better than having respect and support of your own teammates."
Condo's parents flew in from Pennsylvania to be with their son as he accepted his award.  "It is surprising to see a long snapper get such an award, but if you know how Jon works and his attitude toward football and work ethic and so forth, it's not surprising in that sense," said Richard Condo, Jon's father. "He has been a hard worker and an overachiever in a lot of minds of people for his whole life. In that sense, it's not surprising."
Both Richard and Vicki, Condo's mother, were incredibly proud of their son. "It's overwhelming, you think, 'Aww, that's my baby,' said Vicki. "He's so humble and I think the whole family, we are in that sense, but we're very proud of him, super proud."
Upon receiving his award, Condo thanked many people, including his parents, teammates, coaches, and general manager. He also took a moment to remember Al Davis. "I'd also like to thank Mr. Al Davis," said Condo. "He gave me the opportunity to play for the Silver and Black and I'll never forget the day I got the call for a tryout with the Oakland Raiders back in 2006. I'll never forget that day; it changed my life. Since that day, I've strived to be the best person I can be and dedicate myself on and off the field to better my football career. When it's all said and done, I want to look back and have no regrets."
Condo showed his gratitude to Mr. Davis and the Raiders organization. "I want to say it is an honor and a privilege to play in the National Football League, and more importantly, to wear that Raiders shield on the side of my helmet every Sunday," said Condo.
He also made sure to thank Raider Nation. "I would like to thank the fans," said Condo. "You guys are truly an inspiration. I'll be honest, your loyalty and dedication does not go unnoticed by myself, my teammates and the rest of the organization. You guys are the best fans in all of pro football."