Raider Mecca participants pose for a photo outside of the Raiders Alameda facility.
Raiders fans from all over the United States and the world congregated in Alameda, Calif., to take part in Raider Mecca, a weekend full of events and parties to kick off the season. On Friday night, participants enjoyed an event with Raider Legends and had the opportunity to meet Tom Flores, Ted Hendricks, and Ray Guy. The following day, Raider Mecca took the participants to a shopping trip and an autograph session at The Raider Image and to the Raiders facility for a tour, , a chat with Raider Legend Jim Plunkett, and a photo opportunity with the Super Bowl trophies. The participants will finish their journey with a tailgate and trip to the Raiders first regular season home game vs. the St. Louis Rams.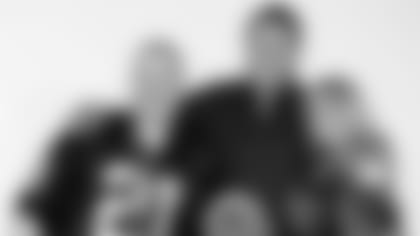 Two-time Super Bowl champ and Super Bowl XV MVP Jim Plunkett poses for a photo with Raider Mecca participants.
Doug and Roxanne travel from Spokane, Washington every year to enjoy the Mecca weekend. "We've been doing Raider Mecca for 13 or 14 years," said Doug. "It's our annual trip to come here and catch a game and do all these things at one time. It's a weekend of all Raiders. It's the one weekend, my weekend, all year. It's why I work all year, so I can get away for one Raider weekend. It's a great time. We get to meet people and every year we meet somebody different." Doug and Roxanne's favorite part of the weekend is having the opportunity to meet and listen to the Raider Legends.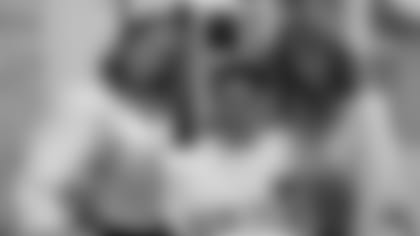 Raiderettes Jennifer and Itza (right) pose for a photo with a fan at the Hegenberger Raider Image store.
Meeting the legends is long-time Raiders fan Arterlia's favorite part as well. "I love seeing the legends," said Arterlia. "They are so kind, they're full of life, and they just make it a joy. I really had a great time and it was nice to see Jim Plunkett." Arterlia has been attending Raider Mecca since its inception 14 years ago and loves coming out to the event to see the fans from all over and the different outfits people wear.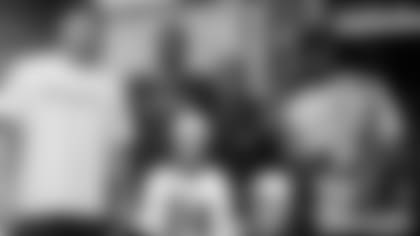 Rookies Jared Veldheer, Bruce Campbell, Jacoby Ford and Lamarr Houston pose for a photo with fans at the Hegenberger Raider Image store.
It was Terrence Roker's first Raider Mecca experience. "I found out about it online and just said I have to do it," said Roker. "Just knowing everything they were offering in the weekend is something I just wanted to be a part of. I've been a fan all my life, but this will be my first Raider game. Living in New York and coming from New York I got here Thursday and it's been a blast ever since."
The weekend was also a new experience for father and son Tom and Devon Kover from British Columbia, Canada. Having only attended a preseason Raider game before, the two are excited to root on the Silver and Black against the Rams.
Seeing the excitement on the new attendees' faces is what has made Raider Mecca co-coordinator Jeff Payne so happy to be part of the organizing committee. "We get them from every state, from multiple countries," said Payne. "You talk to them and they've never been to a Raider game but they've been Raider fans all their lives. They've never met any of the players and I'm watching them and their mouths are open. It's just a wonderful thing to be able to put that into people and watch them be happy."
Ben Longo, Raider fan and part of the Mecca organizing group, echoed Payne's sentiments. "We do Raider Mecca because of the looks we see on the faces of the people who come for the first time," said Longo. "The party we had with the legends with Coach [Flores], Ted Hendricks and Ray Guy and people who've never been just to see the look on their faces when they come to Raider headquarters, when we have the [tailgating in the] parking lot, it's just a great thing. We just have a lot of fun. It's like 200-300 of your best friends down for the weekend."
Raider Mecca kicks off the Raiders season with excitement. After 14 years, the program continues to bring smiles to fans from across the globe. Roker, traveling from New York was thrilled to see Raiders fans everywhere he went in Oakland. "Just walking around and seeing all the Silver and Black everywhere, I don't see that in New York," Roker said. Spokane fans Doug and Roxanne agreed. "It's pretty amazing to see that parking lot just full of Silver and Black as far as you can see and everybody barbecuing and everyone getting along really good," said Doug.
Raider Mecca brought together fans from all walks of life with one thing in common – passion for the Oakland Raiders. Meeting current and former players, interacting with other fans, touring the facility, and attending the game, the participants had the opportunity to enjoy a weekend full of Silver and Black.