The Oakland Raiders travel to St. Louis to face the Rams in a Week 13 match-up. The Silver and Black are coming off a Thursday Night Football primetime game against their division rival Kansas City Chiefs, where they notched their first win of the season.
That first victory was a huge relief for the players, particularly rookie QB Derek Carr. "It meant so much. It did," said Carr. "Especially being the first one."
Now the young quarterback and his squad are looking to string two wins together for the first time since 2012. They will have to beat a Rams team that, despite a 4-7 record, has managed to defeat the 49ers, Seahawks and Broncos – all teams who have gone deep into the playoffs over the past few seasons.
Like the Rams, the Raiders are a more talented team than their record indicates. St. Louis Head Coach Jeff Fisher is aware of the challenges his team will face against Oakland. "To have a chance to beat the Chargers at San Diego and then beat Kansas City – this is a well-coached football team that's just hasn't gotten the breaks," said Coach Fisher. "The quarterback [Derek Carr], you can tell they have a franchise quarterback now. He's developing. It looks like each week he's getting better, making good decisions, obviously has a strong arm. There are good players. There are good players in all the positions, so this is not the team that the rest of the league was somewhat making fun of at one point. This is a good football team."
Rams safety T.J. McDonald also isn't taking the Raiders lightly. "I feel like they're an underrated team. Their record doesn't necessarily speak for what they've put on tape," said McDonald. "Of course I've watched their film. They've got a good defense. Offensively, they have a quarterback who can move around pretty well in the pocket and has a good arm. Their tight end, who has a lot of targets, they are throwing the ball to. A running back that has gotten hot in the last couple of weeks in [Latavius] Murray, who is rushing for a lot of yards and whatnot. They have some weapons and I don't think that their record necessarily speaks for the type of team they are."
The Raiders hope to prove McDonald and Coach Fisher right when they take the field at the Edward Jones Dome. Interim Head Coach Tony Sparano believes he has the right men in the locker room to get this thing going the right way. "The men in that locker room are of the highest character and we just want to be able to put wins together," said Coach Sparano. "At this point in time, good teams play good. At this point in time, late in November, in December, you start to play better. You start to play some of your better football and we just want to play our better football and continue to get better and better."
The Rams offense has several receivers making plays, and the Raiders secondary is preparing to limit their effectiveness.  "We have to make sure we keep the ball in front of us at all times and make them earn everything they get," said S Brandian Ross.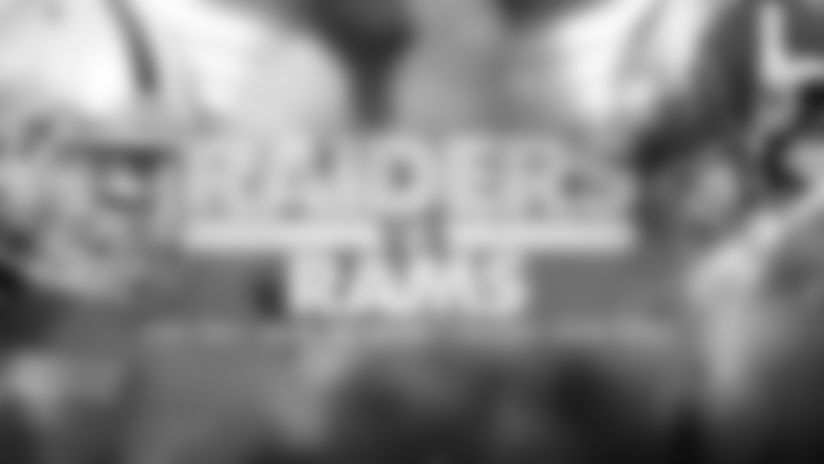 The Rams also have running backs that are receiving threats out of the backfield. RBs Zac Stacy and Benny Cunningham have tallied up the yards both rushing and receiving.
Their offense is led by QB Shaun Hill, who is in his 13th NFL season. Although recently inserted as the starter after an injury to Sam Bradford and after giving Austin Davis a try, Hill brings a veteran presence and helped lead the Rams to a victory over the Broncos in Week 11.
"I would say veteran leadership is one of the things he brings to the table," said Coach Sparano. "I think he's a really sound guy, makes good decisions with the football. He's a veteran type of a player that handles the game really well that way. I don't think any situational stuff gets to him or any of those type of things. He's seen a lot of stuff, there's no question about that and I think there's huge value to that."
Ross attributes the Rams wins this season to winning the turnover battle. "They do a really good job of getting the ball back and then they do a good job of protecting the ball when they're playing those teams," said Ross. "So when you protect the ball and you win the turnover margin, you have a great chance to beat good teams."
The Raiders defense looks to win that battle this week and they have FS Charles Woodson, named the AFC Defensive Player of the Week for Week 12, to lead the way. "He's still doing it. He'll come out of the post and make a tackle for a 5-yard gain, which is hard to do at 38 years," said Coach Fisher. "His cover skills are there. His ability to match-up with guys is there. He's making a lot of plays, obviously. He's an emotional player and I'll probably venture to guess that he was selected captain." 
Meanwhile, the Raiders offense finally clicked last week and had RB Latavius Murray get the ground game going. His 112 yards on four carries for two touchdowns opened up the offense.
The Rams have a solid defensive front, a challenge for which Murray is ready. "I know they bring a lot of exotic pressures and they definitely have a solid defense," said Murray. "I think we're going to have our work cut out for us, but it's been nothing different for us; we've been facing up against some good defenses all season. We just have to make sure we take advantage of our strengths and play how we know how to play and not beat ourselves."
Coach Sparano has been impressed with DT Aaron Donald and the Rams defensive line. "Aaron is a good player, a really good player," said Coach Sparano. "We watched him a lot as we were getting ready for the draft, really liked him a lot. This guy is a really active player and that's what is hard inside when you get a guy that has speed and power inside, that combination is kind of rare. You either find a guy that's a fast guy that plays inside or a big guy that plays inside, but when you get that combination like that it's really dangerous. It's a challenge; we've got to know where he is. They've got a lot of good, outstanding players up front there and [Robert] Quinn being one of the guys you always have to know where he is and this guy gets to the quarterback quite a bit. But they're an active, active front, something like 21 sacks in the last five games, six games."
As if two phases of a football game aren't enough to worry about, the Rams bring an impressive special teams unit to the table. "In this ball game here it's an area that we have to pay obviously, very, very close attention to," explained Coach Sparano. "They faked a bunch of kicks since Coach Fisher has been there in 2012. I think they've faked seven kicks right now and been successful six times and thrown a bunch of passes and done a bunch of those things, run the ball, so they take chances and do some things that way. We've got to be prepared for all those things in that phase. The return game, their punt return unit is a really solid unit and they do a great job that way and our punt team will be challenged that way as well."
In search of their second win of the season, the Raiders will take the field against the Rams at 10:00 a.m. PT Sunday. Watch the game on CBS 5, listen on 95.7 The GAME and follow along on Raiders.com, Facebook, Twitter and Instagram.