The Oakland Raiders host the Buffalo Bills in the Silver and Black's final home game of 2014. The Week 16 match-up pits the 8-6 Bills against the 2-12 Raiders at O.co Coliseum.
Buffalo most recently beat the Green Bay Packers in a Week 15 showdown that included two interceptions of Aaron Rodgers. The Bills come to California with the 5th ranked defense and they are No. 1 in the NFL in sacks with 49. Their offense is led by a pair of rookie wide receivers – Sammy Watkins and Robert Woods - who have combined for 1,458 receiving yards and eight touchdowns.
The Raiders are looking to go 2-0 at home for the month of December. "The biggest message I've given them right now is that, 'Hey, we have a chance right now to be 2-0 at home in front of our fans in the month of December. It's the last opportunity to play at home in front of our fans right now,'" Interim Head Coach Tony Sparano explained. "We want to go out there, we want to play well. We want to win a football game against a good team out here. We've been kind of concentrating on winning the month of December. That's what we've been concentrating on."
In order to reach that 2-0 December home record, the Raiders will have to beat a Buffalo team fighting for a playoff spot. "Their defense is really playing well right now," said Coach Sparano. "I mean, they haven't given up more than 24 points, I believe, in a game the entire season right now. They're a tough team to score points on. That front is put together really well, that group is put together really well. It's going to be another great test that way and they have some explosive weapons and I think that Kyle [Orton] has done a good job that way, getting the ball around and doing some of those things to some of those guys. Sammy [Watkins] has been a heck of a player for them. But, they've got good weapons. I've played against Buffalo a lot of times. [Buffalo Bills Head Coach] Doug [Marrone] being there now, Doug's an outstanding coach and has done a good job with that team, but I've played Buffalo several times, so, I know some of the personnel there pretty good."
The Raiders know they will have to put forth their best effort in all three phases in order to be successful. "I think the key thing that we have to go into this game looking forward is to go out there and be our best in all phases of the game, offensively, defensively and special teams and let the chips fall where they fall," said rookie CB TJ Carrie. "If we've come out here and executed all week at practice then we should be able to get successful results."
Buffalo's defensive line has been dominant all season. With Mario Williams, Marcel Dareus and Jerry Hughes, the Bills have 49 sacks. "They're a good defensive front. They all play hard. They all play well," said T Khalif Barnes. "Three guys have over nine sacks and they're a good defense overall. They rely on those guys to get pressure up front and they cover well on the back end, and they've been able to do that to some pretty good quarterbacks the last couple of weeks. It's going to be a good game for us. Up front we just have to win our one-on-one match-ups."
The Bills turnover margin is 10, which can be attributed to their great pass rush working well with the secondary. "When you look at their front, it's as good as any front that we've had to block this year," said Coach Sparano. "There are three guys in there with over nine sacks apiece in that front – are active. They can keep bringing them on in waves at you. But they really just play good team defense, fly around pretty good, keep the ball in front of them. They're good on third down. They allow a lot of third-down conversions that way and they have a ton of takeaways, a bunch of takeaways right now. It's up in the thirties or somewhere around there, so they get the ball out pretty good."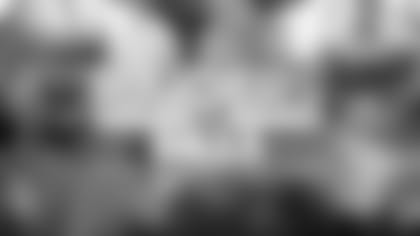 QB Derek Carr feels up to the defensive challenge presented by the Bills. "I think we've played like every really good defense this year, all the top ones, all the top pass rushers, which is great for a first year," said Carr. "You can't really just say those three [pass rushers], those four because the other guy just gets so much good push up the middle that it allows those guys just to rush hard off the edge. They have a really good rush. They have a really good rush plan. Depending on who they play, you can see it, so we have to be ready to go, and I know we will be."
RB Latavius Murray understands that he may have to do more than just run the ball this week when it comes to Buffalo's four-man rush. "We have to handle the guys up front. Like we've been saying each week, we have our work cut out for us so, we have to handle those guys up front and make sure we're competing. Whether we're going to help out on those guys up front, or whether we're getting out so we can get the ball in our hands, just depending on when you're exiting out of the backfield, give a little help to those guys."
Murray is ready to contribute to help his team get the win at home. "I want to do anything I can to help the team win," said Murray. "Just really getting better, doing anything I can to help the team win and running hard."
The running back on the opponent's sideline has been a force for the Bills throughout the first years of his career. C.J. Spiller, who was on the Reserve/Injured, Designated to Return list, went back to work this week. "My experiences with C.J., obviously it presents a number of challenges in the way that they can use him and the way that they can kind of get him involved in some of the pass stuff," said Coach Sparano. "This guy is an explosive, explosive player, but really when he gets the ball in his hands out there in space can be a problem. I don't like comparing players, but like the guy in Kansas City type guy. This guy has had some big games in this league and he's had me up for a long time at night a lot of times, so he's a talented player."
The Bills also have multiple receiving threats in Watkins and Woods. "They're very skillful in what they do and they execute the task at hand," said Carrie. "Our main objective going into this game is just to find little keys to kind of differentiate which one does better with their strengths and what they do with their weaknesses as well. I think that's the biggest thing going into any match-up is trying to figure out how you can put yourself in the best position in order to execute and be successful."
Coach Sparano has been impressed with Watkins since watching him pre-draft. "I thought he was a really talented player and I really like the things that he did on film," said Coach Sparano. "I had a chance to watch him there and then get to watch him just before the draft as well in the final evaluation phase of that process. I was brought in there for that phase and got a chance to see him play. I think he's a talented guy, a talented guy with the ball in his hands and really an explosive player."
Watkins has had three games with over 100 yards receiving in his rookie campaign. The Raiders will try to limit his effectiveness this week at O.co Coliseum.
Although the Raiders playoff hopes have long since passed, the players still want this one. "Regardless of what the record is, this is a pride thing for me," said Barnes. "Every time I go out on the field I put my signature on the game. It's another chance to compete at a high level, so we're going to go out there and get the fans all that they deserve and what they need. It's going to be a good game against a good defense in Buffalo and it's a good opportunity to play in front of our fans. Any time you have a chance to play in front of our fans, it's a great honor for us, so we have to go out there and give them what they want."
The Silver and Black take the field in front of a sold out crowd against the Bills at 1:25 p.m. PT. Watch the game on CBS, listen on 95.7 The GAME, and follow along on Raiders.com, Twitter, Facebook and Instagram.