WR Darrius Heyward-Bey is chased by three Lions defenders. Photo by Tony Gonzales
The Oakland Raiders host the Detroit Lions Saturday, August 25, in their third preseason game of the 2012 campaign. The third preseason game looks most like a regular season game with a majority of the starters getting extensive playing time. The Raiders also switched to a regular-season practice schedule during the last week of training camp to prepare for their match up with the Lions.
Although the game is an opportunity for the starters to get extra reps, it is still an important evaluation tool for the coaches as well as a gauge for both the offense and defense. Defensive coordinator Jason Tarver is looking forward to seeing where his defense stacks up against a powerful Lions offense. "You know what's nice about Detroit is they have the ability to change the tempo of the game on offense," said Coach Tarver. "They can either put bigger guys on and run and take shots to the big receiver or their other guys who are fast. Or they can put three wide receiver personal groups or flex [TE Tony] Scheffler or different guys out, and change the pace of the game. So I'm most interested in our process and how we handle those situations, because we haven't gotten a lot of that yet. That's what I'm excited about Detroit for us; let's see what we can do. Player-wise, group-wise, I'm excited to watch them all."
During the last few days of camp, the coaching staff implemented a game plan for Detroit and have been preparing for players like WR Calvin Johnson and DT Ndamokung Suh. "Well, we were preparing more for Detroit, so we got a lot more Detroit looks," said Head Coach Dennis Allen on this week's practice. "Their defensive scheme has a little bit more of a 4-man front. A lot of 8-man fronts. Our offense got ready for that. Obviously, defensively we have to be prepared for Calvin Johnson is an outstanding player. Obviously, [QB] Matt Stafford is an exceptional quarterback, so we have our hands full on defense. It was just really getting a chance to take a look at the things they like to do and getting ourselves familiar with that."
The Raiders veterans remember the Lions' talent on offense last year. "They have some good threats offensively," said SS Tyvon Branch. "Obviously, with Calvin Johnson. With Nate Burleson in the slot, he's a good player. They have some good young players, Titus Young, so they have a pretty explosive offense. We're going to go out there with a challenge and these are the kind of games you like when you're challenged as a defense."
SS Tyvon Branch faces off against WR Nate Burleson. Photo by Tony Gonzales
Branch knows about their tight end threat too in Scheffler and Brandon Pettigrew. "Definitely, they have two good tight ends, so like I said, they have a pretty good offense, so we're going to try to throw their timing off and do some things to get them out of rhythm and make plays," said Branch. "That's why we're in the National Football League is to make plays."
FS Michael Huff wants to face the Lions offense to see how prepared the Raiders defense is for the regular season. "It's a big challenge," said Huff. "Obviously, they have one of the best offenses in the NFL, one of the best, if not the best, passing offense in the NFL. So it's definitely going to test us and see where we're at as a defense as a whole – d-line, linebackers, secondary as a unit. I think it'll be good for us, especially hard tune up, last home tune up, before we play Monday Night and San Diego so it'll be a big test."
While the defense works on stopping Stafford and Johnson, the Raiders offense will have to contend with the Lions front four. "Their front four are arguably as good a front four as there is in the NFL, so that's a good challenge for us," said veteran G Cooper Carlisle. "They like to get pressure with their front four; they don't do a ton of blitzing generally, but their front four can really generate a lot of pressure in the pass and disrupt the run game."
The offensive line will focus on Detroit's Suh, but can't forget about the rest of their defensive line. "He is a really good football player, but you just have to work within the scheme that we have and the play that's called and try to take away what he can do the best and go from there," said Carlisle. "He's not the only guy, they have all four of their guys and then a couple of their sub guys are really good players."
QB Carson Palmer is counting on his offensive line to give him enough time with the Lions pass rush to make plays. "They rush the passer really well. They rush the passer so well with their front four they don't have to bring a lot of exotic blitzes and bring guys from all over the place," explained Palmer. "They are not a team that brings a ton of different pressure. They rely on their front four to rush the passer. So it's a good defense with a very good offense behind it. Their defense is kind of bend-don't-break style where they are going to play a lot of zone coverages and sit back and hope their offense puts up a lot of points and try and contain you, and not give up a lot of points on defense."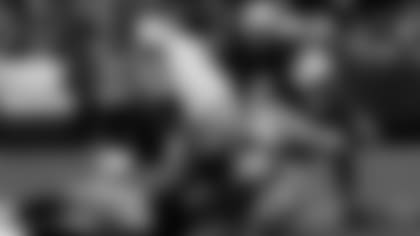 LB Rolando McClain sacks QB Matt Stafford. Photo by Tony Gonzales
TE Brandon Myers, who is returning from a shoulder injury that kept him sidelined against Arizona, is keenly aware of the Lions good pass rush from the game last year and watching them on film.  "Obviously their front four are pretty good," said Myers. "They're fast, they're relentless, they're up the field. After playing them last year, you kind of know how they are and after watching them on tape from last year, kind of know what to expect."
The players want to show the new Raiders coaching staff that they can transfer what they've done in training camp practices into a real-game situation. "Definitely, they're important, especially with a new coaching staff and new general manager, so to be able to put stuff on tape during a game, not just in practice, is important," said Myers on making plays.
The Raiders also want to prove to the rest of the league that this is a new era of excellence. "We want to show everybody that this is the new Raiders," said Huff. "We're going to put that on film every Sunday…we play Saturday this week, but every day we step between those white lines, we want to show that we're the new Raiders and we're going to show up and play, and play well every week."