The Raiders last faced the Steelers in 2010 in Pittsburgh. Photo by Tony Gonzales

The Oakland Raiders host the Pittsburgh Steelers at O.co Coliseum in Regular Season Week 3 action. After a 0-2 start, the Silver and Black are looking to shift the momentum back in their favor and away from a disappointing loss to the Miami Dolphins in Week 2. "You've got to forget about it," said TE David Ausberry. "A lot more people are worried about it than us. It's in the back of our minds, but we've got to forget about that game and keep playing. We've got another game this week. We need to get focused for this weekend, get prepared, and be ready on Sunday."
The two teams first met in 1970 and will face each other for the 20th time in the regular season. The Raiders currently hold the edge with 10 wins and 9 losses. The Raiders have also faced Pittsburgh and won twice in AFC Divisional Playoff games (1973 and 1983). The teams have split the last two match ups with the Steelers winning by a large margin in 2010 and the Raiders beating Pittsburgh in 2009.
The Raiders head into Sunday's game knowing they will be facing a tough Steelers team. In 2011, Pittsburgh ranked first in total defense and pass defense. Although the Steelers may be without SS Troy Polamalu and LB James Harrison due to injury, the Raiders do not expect much drop off on the Pittsburgh defense. "They still possess a lot of great players, and obviously the coaching is good," said Ausberry. "They've had top 10, top five defenses in the past 10 years or so. We're not expecting any drop off with some players not playing. Our job is to be ready to go on Sunday, and play to the best of our abilities."
Raiders Head Coach Dennis Allen knows his team will have to do a better job executing to be successful against the AFC North team. "We've got to be able to come out and play with energy, play with passion," said Coach Allen. "We've got to execute. They're obviously a well-coached team. Mike Tomlin does an outstanding job, he and his coaching staff. It'll be a huge challenge for us. We're going to have to be ready to go on Sunday."
Part of the challenge the Steelers present is that they have a lot of experience on defense in a scheme that has remained the same for years. "If you look at the years of experience, there's 60-70 years of experience," said QB Carson Palmer. "There's three or four guys that are 10-year guys, a couple guys that are eight, couple guys that are nine. There's a lot of experience in the same system for all of those years together. When those guys go in the off-season [and] they study film, they're not studying a new defensive scheme; they're studying the same scheme."
Veteran guard Cooper Carlisle recognizes how the cohesiveness of a defensive line can make a unit tough to play. "They're a really good front and they've been in that system for gosh, years and years and years, and they know how to play it," said Carlisle. "They're a perennial top-five defense so they know what they're doing."
The offense understands that they need to execute better. "They're a good defense. They're a physical team, and we've got a challenge," said WR Darrius Heyward-Bey. "We've got to go out there and try to execute. We've got to make plays. In the passing game, when the ball is in the air, we've got to make plays. That's what the game is about, and that's what we've got to go out there and do."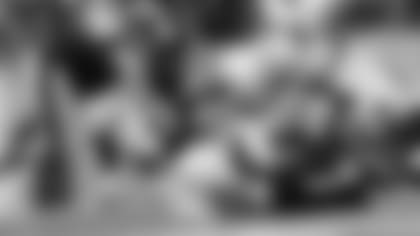 DT Richard Seymour teams up for a sack of QB Ben Roethlisberger. Photo by Tony Gonzales
Although the Steelers are often known for their highly-ranked defense, their offense, led by QB Ben Roethlisberger, was a top-10 passing offense and in the top half of the NFL in rushing and total yards in 2011. "I think they've got one of the top quarterbacks in the league, and any time you've got a top quarterback it makes it hard on your defense," said Coach Allen. "Roethlisberger's a good quarterback. I don't care what the stats say; I still think they're a good rushing football team. They've got the fastest group of wide receivers that we'll see probably this whole year. They're a tough challenge for us."
Roethlisberger, who was drafted by the Steelers in the first round of the 2004 NFL Draft, is surrounded by young, fast wide receivers. "Obviously, they've got speed at wide receiver," said defensive coordinator Jason Tarver. "You've got a good offensive line. You have running backs that go where they're supposed to go, and they're patient and run hard. You've got Ben Roethlisberger – all he does is make plays. He could throw it the length of the field. They've got playmakers at all positions, and they find when you break down defensively. So we have to make sure that we're set and we're using our rules."
The Raiders defensive backs are expecting to be tested by the Steelers offense. ""They're got some great young receivers," said DB Joselio Hanson. "Ben Roethlisberger, he's a winner. It's going to be a tough game. He's going to try to keep plays alive, and hold onto the ball and give his guys a chance to make plays. They're a very talented receiving corps. There's a lot of speed over there. We're going to have to be on our A-game, mess up their timing at the line, and play ball."
The Raiders defense, who struggled to stop the run in the second half of the Miami game, has been correcting their mistakes this week in practice. "I think it just starts in practice," said LB Philip Wheeler, who led the team in tackles against the Dolphins. "We need to practice our gap control and being a little bit more physical. They are a good opponent and we just have to step our game up and do better than we did last week."
The Steelers veteran quarterback is expecting to be challenged by the Raiders in front of a loud Oakland crowd. "They're a very good football team," said Roethlisberger. "We've got to get ready for them. Obviously, at home, they're a different team, and they're ready to go. They feed off that crowd. I've got respect for the Raiders and the fans. Being here in Pittsburgh we've got some great fans and I think Oakland's got some as well. It's a different place to play. It's going to be tough for us."
The game will be played in front of a sold-out crowd at O.co Coliseum. "That will be nice," said Coach Allen. "It's our job to keep the crowd in the game. We've got to come out and play with passion and energy the way we expect our guys to come out and play, and we've got to execute."