Organized Team Activities (OTAs) are in full swing at the Raiders Alameda, Calif., practice facility as the team prepares for the 2015 campaign.
However, that's not all that's going on, so let's get you caught up on the week that was.
Sir Charles Cracks the Top 100
---
The Silver and Black continued the second week of OTAs.
---
Wyche Talks Silver and Black
NFL Network's Steve Wyche was at the Raiders facility this week to watch the Silver and Black at work, and spoke afterwards on an array of subjects including Head Coach Jack Del Rio and rookie WR Amari Cooper.
---
The Raiders Oakland neighbors, the Golden State Warriors advanced to the NBA Finals this week and are set to square off with LeBron James and the Cleveland Cavaliers for a chance to win it all.
---
LB Ray-Ray Armstrong and RB Roy Helu, Jr. are both looking forward to big years in the Silver and Black.
---
McGloin Receives Hometown Honor
Penn State Worthington Scranton dedicated the Baseball Field and the UGI Utilities Softball Field to Matt McGloin at a ribbon cutting ceremony last week at the campus.
The two new fields, along with an improved soccer field, are the completed first phase of a three-phase, multi-million dollar campus Athletic Facilities Renovation. The area also has new scoreboards, dugouts, bleachers, a field house, concession stand and sports information center.
McGloin, who is originally from Scranton, Penn., appeared in 35 games for the Nittany Lions, throwing for 6,390 yards and 46 touchdowns.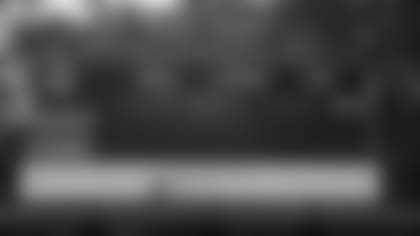 The scoreboard at Matt McGloin Baseball Field
---
The Silver and Black were active once again in the community this week as RB Taiwan Jones attended the Oakland Athletic League ESPYs, and Raiderettes Leilani and Monica headed to the Play 60 Challenge at Delaine Eastin Elementary School in Union City.