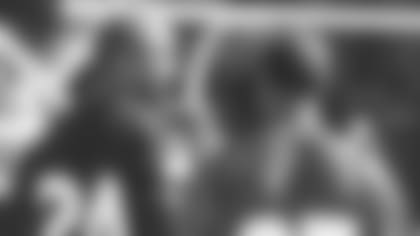 CB DJ Hayden learns from veteran Charles Woodson.Photo by Tony Gonzales
Raiders CB DJ Hayden survived a scary injury in his final year of college football at the University of Houston. A collision with his teammate during practice ruptured his inferior vena cava, which carries de-oxygenated blood from the lower half of the body to the right atrium of the heart. The injury is one often seen in car accidents and does not have a good survival rate. But Hayden survived, after extensive surgery, and he was selected by the Raiders with the 12th overall pick in the 2013 NFL Draft.
Prior to his injury, Hayden played in two seasons (22 games) at Houston and totaled 127 tackles (90 solo), six forced fumbles, three fumble recoveries, nine passes defensed and six interceptions returned for 229 yards. He was named to the 2012 First Team All-Conference USA, the 2011 Conference USA Defensive Newcomer of the Year and the 2011 Second Team All-Conference USA.
The rookie joined the Raiders in April, but was sidelined again after a minor surgery. His comeback from injury, and more than one surgery, is noteworthy, but Hayden wants to put the experience behind him and move forward in his career.
The 23-year old has been through a lot, but he's finally back on the practice field for Raiders training camp and is excited to be playing football again.
"It feels wonderful," said Hayden. "It doesn't feel weird, but I'm just so happy to be out there.  I've been out of commission for a while and for me to be back there just normal again, it feels good."
Hayden wasn't expecting to be selected so high in the draft, but when he was, he looked forward to the opportunity. He arrived at the Raiders facility draft weekend to see his new home and to accept his Silver and Black jersey.
"It felt good. It felt like another chapter in my life had just begun," said Hayden. "I was ready to start writing it."
Now, several months later, Hayden is grinding through his first NFL training camp with his teammates. He is taking advantage of having seasoned veterans by his side. "I usually go to Mike Jenkins. I'll call to Wood," said Hayden. "Sometimes I'll go to PA too, Phillip Adams. Really all the DBs, whoever is right by me when I have a question, I ask them. They'll give me advice."
Hayden is studying 16-year veteran Charles Woodson on the field and on film. "It's good because I watch him play and he's so instinctive and I watch him on film and I see how he reads stuff," said Hayden. "He's real patient. He plays like a real 16-17 year veteran. I'm trying to mock whatever he does and pattern my game by him. I'm trying to learn from him and get better."
The rookie also has Hall of Fame CB Willie Brown close by to help guide him along.
Hayden visited the Pro Football Hall of Fame during the NFL Rookie Symposium and had the opportunity to see the kind of player Brown was as a Raider. "It motivated me a little bit like, 'man…'" said Hayden. "I saw Willie Brown, I saw his video, and I was like, 'man, I see this dude every day. He wants me to talk to him. And he's just a regular dude, so if he can do it, I can do it.'"
Now Hayden has the chance to start his own Raiders legacy as he heads into his first professional season.
Despite all he has been through, Hayden still remains the same guy off the field that he always has been. "Outside of football I'm kind of silly," said Hayden. "I like to have fun a lot. I like to laugh. Outside of football, I can't really take anything serious. I'm just a real fun, silly guy."
His fun demeanor has helped him build bonds with his teammates despite not being on the field with them during off-season practices. Being on the field with them now is making those relationships even stronger. "The more we play and the more we get to communicating on the field and just talking about everything, the bond gets stronger and stronger each day," said Hayden. "The more we come out here and practice and work together and be together, we're really together all day, so as we keep going on, the bonds are getting stronger."
Hayden wants to start building a bond with Raider Nation. He's letting them in on a little secret to kick off the relationship. "What don't they know? I'm going to come out with a one-hit wonder," said Hayden. "And the song is coming out soon. I can't tell you what it's called. I can't tell you what it's about, but just know it's coming."
Get ready Raider Nation – Hayden is expecting to do big things on and off the field.