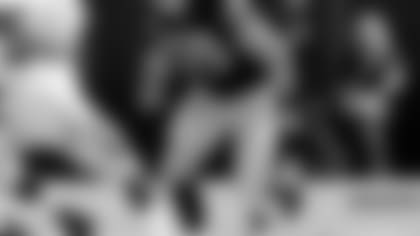 LS Jon Condo rushes ahead after snapping the ball to P Marquette King. Photo by Tony Gonzales
In 2006, the Oakland Raiders signed LS Jon Condo to the practice squad. Condo, an undrafted free agent in his second year out of the University of Maryland, spent the year preparing for what has become a successful and productive career with the Silver and Black. Now in his seventh season with Oakland, and recently signed to a three-year extension, Condo has been instrumental in K Sebastian Janikowski and former Raiders P Shane Lechler's success.
Having established himself as a Raider, Condo was selected as a captain by his teammates this season. "It's a tremendous honor to be selected by your peers to represent the team, to be a leader, to be a role model," said Condo. "It's a great feeling. It's hard to describe it. Being elected by your peers, there's no better feeling than to have the respect of your teammates."
Condo's captaincy is not the first time his teammates have recognized his work ethic and dedication to the Raiders. At the conclusion of the 2012 season, Condo earned the Commitment to Excellence Award, presented to the player that exemplifies the pride, poise and spirit of the Oakland Raiders.
Now Condo is in an official leadership role and he is embracing the opportunity. "I try to lead any way possible, out on the field, in the locker room, in the weight room," said Condo. "My role on the team, obviously, is being a long snapper so I'm not getting as many reps out there on the field as a majority of the guys, but I try to get guys up in between plays. I talk to them, lead, try to get them going vocally, try to keep their spirits up, and by example on the field trying to hustle. Every play I'm out there, I'm trying to give 100 percent and just make it obvious to the other guys on the team that I want to win bad."
The veteran specialist is a vocal kind of guy, getting guys amped up in the tunnel before taking the field on game day. "I've always been that way since junior high, since I've started to put on the pads," explained Condo. "I've always, for whatever reason, I try to vocally get guys into the game, to be energetic. I'm a true believer of energizing a team through enthusiasm. It's a game; we're having fun out there, so why not have fun?"
Condo is more comfortable having the vocal impact now that he is one of the captains. "Being elected captain, knowing I have the respect of my teammates, it makes me more comfortable to be more vocal at times during the game, pre-game, halftime, whenever," Condo said. "I'm definitely feeling a lot more comfortable coming up and speaking."
The two-time Pro Bowl long snapper has been most comfortable in the presence of the Raiders kicker and punter. For five years, it was Condo, Janikowski and Lechler. Now, it's Condo, Janikowski and Marquette King. Condo and Janikowski have had a good relationship from the beginning, and now they are working on bringing King into the mix.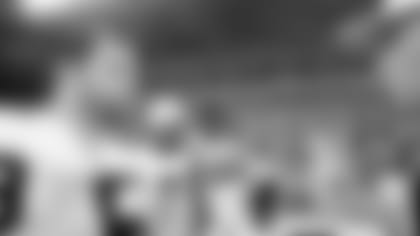 LS Jon Condo calls the coin toss with the other captains before the Raiders Week 1 match-up with the Colts. Photo by Tony Gonzales
"Since I got out here, [Janikowski] and Shane they were both the specialists and they accepted me. They made me feel welcome, make me feel comfortable," said Condo. "Off the field, [Janikowski and I] have a great relationship. We golf together. We hang out together. Our families like each other. Even on the field, you'll see us, because we spend a lot of time. We're in the same meetings. When the offense and defense are meeting, we're in the locker room together, in the weight room together, so we spend a lot of time together. That's building a bond."
King is only two weeks into the regular season and the specialists are working hard to build the bond they had with Lechler for so long. "With Marquette coming in here, he's on the same schedule as us and he's starting to spend more time with us and that builds a special bond amongst the three of us," explained Condo. "Over time, I can easily see Marquette being one of the guys. It's a work in progress and it's building. It's just getting that comfort level and building that trust with one another. "
They are building that bond with the help of special teams coordinator Bobby April, in his first season with the Silver and Black. "He's been there and done that. He's been around the league, I want to say, 24 or 25 years in the NFL ranks, so he's seen a lot," said Condo. "His experience, he teaches it. He's a teacher of the game. He knows what to see. He sees a lot of schemes. He has fun doing it. He knows the game. He knows his X's and his O's. He knows how to game plan and putting people in the right position to make plays and that's what special teams is all about. He's able to motivate us to play hard and play fast. "
Through two regular season games, Condo's field goal unit has gone 5-for-7 and punted six times with a 48.8 average. As the team gets more time together and Janikowski, Condo and King build the comfort level, Condo expects to see improvement. "The more reps we get, the more comfortable we're going to get with one another," said Condo.
Condo has had the necessary comfort level with Raider Nation since day one. "The fans are so loyal. I can't see myself playing for another organization," said Condo. "The Raider Nation makes me feel at home, being in this facility, playing in Oakland, playing at O.co, Black Hole, everything. I've been with a couple other organizations and this is the most I've ever felt being comfortable. Even when I first got here in 2006, I was on the practice squad; I was like, 'man look at this support.'"
The Raider Nation makes it easy for Condo to want to be great and give full effort every single day. "As long as you have passionate fans, for me it's easy to put the pads on and go out and play. I know every week going out there we're going to have a fan base that wants to support us and are excited about us," he said. "That just gets me going. It's an honor to put on the Silver and Black, to put on that helmet and to represent such a storied and historic organization and just to keep that tradition going. It's a great feeling."
Make sure watch the special teams develop as the season progresses.