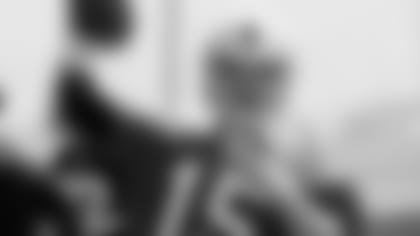 QB Matt Flynn throws a pass during OTAs.
Photo by Tony Gonzales
The Oakland Raiders acquired QB Matt Flynn via trade with the Seattle Seahawks on April 1, 2013. As a Raider, Flynn wants to make the most of his opportunity and compete for the starting job. The fifth-year quarterback spent one season in Seattle and the four seasons prior with the Green Bay Packers.
Flynn had the opportunity to learn from QB Aaron Rodgers during his time in Green Bay. "It was great. That was probably the biggest blessing I could have had for my football career was being able to spend time with him. We were really close when I was there," said Flynn. "He kind of took me under his wing and I was there as his backup the first year he was a starter. I was with him in his rise to his being one of the top quarterbacks in the league. He's taught me a lot from physical stuff to the mental part of the game. The opportunity I had to sit behind him and watch and really fine-tune my game and see things day-in and day-out that I could try to emulate and try to bring into my game as well. It was a huge blessing for me."
His time with Rodgers helped prepare him for his leadership role with the Raiders. He is using the off-season to create relationships, develop chemistry and work on timing with his offense. "It's repetitions. We talk about it," said Flynn. "We watch the film every day. We talk about routes. We talk about the practice we just had. We just watch film in general and we talk what we need to do to execute to be able to get that timing down. It's just repetitions, getting out there, getting comfortable with the guys, them getting used to my throws. Me getting used to seeing each of them coming out of their breaks, their speed, are they a short strider or a long strider? Just little things like that. That's definitely going to come and I'm excited about the fact that we do have a lot of talented guys out there at receiver."
Flynn considers himself easy-going outside of football. "I love to spend time with my soon-to-be wife," said the quarterback. "I love to spend time with my friends, family, my three dogs. Love to play golf, fish. I'm just easy-going. I don't do anything crazy. I'm not like an adrenaline junkie or anything like that. Just be around good people doing fun things."
When it comes to football, however, Flynn is extremely competitive. "I'm going to do everything in my power and everything I can control to make this a successful organization and make this a successful season and really try to bring the attitude of not to accept losing," said Flynn.
The LSU-grad is glad he won't have to compete against former college opponent Darren McFadden. "I'd much rather be wearing the same jersey as him for sure," said Flynn. "He's been great. Everybody knows what kind of player he is and I'm excited to be able to have that guy beside me and during games and be able to count on him to make plays in the running game and also make plays in the passing game and be able to pick up defenses and blitzes and pressures. He's a fun guy to have on your side."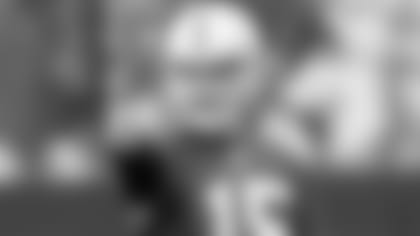 QB Matt Flynn takes control during an OTA session. Photo by Tony Gonzales
Flynn has been acclimating to his new environment and new teammates throughout the off-season. "First few months have been really good," Flynn said. "I feel like I have a feel for the area now. I feel like I have a feel for the facility, the organization, the teammates, everything like that. I feel like I've made a lot of strides football-wise on the field and really starting to develop a good chemistry with everybody, everyone on the team. Everyone is starting to feel each other out and understand what everyone does well. I couldn't be happier with where we're at and where I'm at."
Heading into the mandatory mini-camp, the Raiders new quarterback is happy with where the team is going. "It's been good," said Flynn. "There's a lot of young guys and a lot of guys that are fun to watch because they're very athletic, very talented. Seeing them kind of develop over these couple of months since we've been here has been fun to watch. Everything is going good. Everyone is getting along. There's a good vibe in the locker room, coaching staff and there's a good vibe of people wanting to change things and wanting to make things right around here and start competing and winning some games."
Tune in to coverage of the Raiders mandatory mini-camp throughout the week for photos and quotes from the Raiders QB. And, in just over a month, check back in for full coverage of the team's daily progress during training camp.