LB Sio Moore during Raiders Organized Team Activities. Photo by Tony Gonzales
LB Sio Moore, selected in the third round of the 2013 NFL Draft out of UConn, is acclimating to professional football and the Oakland Raiders. The rookie has spent the first few weeks of Organized Team Activities processing all of the information and doing his best to execute on the field. Moore is also taking advantage of his time with the team's veterans, consuming as much knowledge as possible.
"It's been a lot of work trying to just make the right impression with the coaches and the guys in the locker room," said Moore. "Show them that I want to work and I want to be good and I want to contribute however I can. It's been fun too. A lot of learning especially from a lot of old guys and as more guys a come along, it's good to be around them. I told C. Wood [Charles Woodson], I was like, 'I'm bringing a whole notebook and you have to give me the entire cheat sheet.'"
Prior to the Draft, Moore got to know the Raiders coaching staff during the Senior Bowl on the North squad. That relationship has helped him settle in to his new environment at Raiders headquarters. "Things just fell into place," said Moore on being selected by the Raiders. "It was a really cool experience because I already know the people who I'm going to be working with. We already had a good relationship. And it's good because they know me. They know the type of player I am and it was a comfortable situation."
Moore is still trying to get used to the idea that he's an NFL player. Putting on the jersey for the first time was an experience. "It was unreal. It was unreal because I was like, 'Yo, there's an NFL logo on my shirt,'" said Moore. "I don't put it all together. I was telling C.Wood yesterday when we walked in, I was like, 'Yo, I was like seven years old when you got drafted.' He was like, 'Dang, you're going to age me like that?' It was just crazy that this is where I'm at now. This is an unreal blessing. Thank God for it."
The linebacker is serious about his career and his contribution to the team on and off the field. "On the field, I'm going to give 110 percent," said Moore. "Off the field, I'm going to be involved. I love working with kids. I love working in the community. I want to be a universal guy and try to do it in everything I do with my life and the people around me."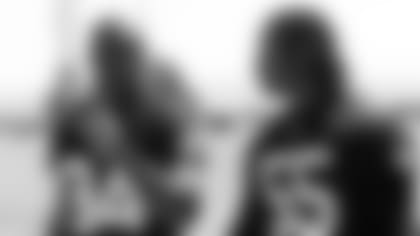 LB Sio Moore learns from veteran linebacker Kevin Burnett. Photo by Tony Gonzales
Besides football, Moore is passionate about music.  "I collect music," said Moore. "I love music. I really want to DJ. I want to get some turntables whenever the time has me to. I love listening to music. That's my top thing."
Moore's music taste is eclectic. In fact, his go-to pre-game song is Phil Collins "In the Air Tonight."  "What is on my iPod now? A little bit of everything," said Moore. "If you listen to music, you have to listen to all music to really appreciate it. The biggest thing to me, especially with hip hop, you don't really know hip hop unless you really dig deep and learn and listen to old stuff. Then you see how music has evolved throughout time."
The rookie is a self-admitted goofball too. For example, he has an unusual obsession with pajama pants. "I'm fun. I like to have a good time," said Moore. "It started in college. I got sick of wearing sweatpants. I never really liked to get dressed. I like to be comfortable and I really don't care if people look at me, like whatever. I like what I like. After awhile, it started with one or two, but then I would try to get new ones and then try to get shoes to match them and everything. That was cool. I just bought two more pairs. I got some ninja turtle ones and I got some SpongeBob ones."
His favorite pair? "Would have to be my Avengers ones with all the super heroes on them," said Moore.
Moore also enjoys interacting with Raider Nation. "They're so passionate. I've never seen it before," said Moore. "I can tweet something – like I tweeted the other day about hip hop – and I had at least 500 or 600 [responses]. It was the deepest conversation with Raider Nation. Like they support everything. It doesn't matter what it is. I can put a picture on Instagram – it could be of a cat – and they'll just be like, 'Raider Nation.' It's really cool to see how passionate fans are because not all teams have this fan base. Coming into this and seeing how much people are rooting for us and how many people are excited for me to be here, you get excited and you want to do the right thing."
With all of the excitement from Raider Nation just on social media, Moore can only imagine what it will be like to take the field for the first time. "It's going to be dope because you're going to want to do something to make them go crazy," said Moore.
Until then, Moore will be collecting new PJ pants, new music…oh, and preparing for his NFL debut. "I'm here and I'm trying to do everything possible to put myself in the best position to help Raider Nation and the Raiders so that we can get back to the glory days," said Moore.