Starting QB Terrelle Pryor, in his third year with the Raiders, is finally getting his time to shine. Pryor was Al Davis' final draft pick, when he was selected in the 3rd round of the 2011 Supplemental Draft. As the third quarterback for much of his first two years, except for one start in the final game of the 2012 season, Pryor now leads the Silver and Black's offense.
Pryor has dealt with adversity in his football career, but his drive and competitiveness has never dwindled. "I think just having the thought waking up of being a part of a tribe, a team, and myself individually, of being successful, I think [drives me]," said Pryor. "I'd rather be successful than not being successful. So I think, getting up every day, doing my part to make the team look good by doing my part, that's what drives me."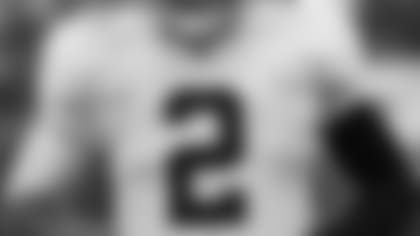 Photo by Tony Gonzales
The Jeannette, Penn., native is a competitive player and person. "I still talk a lot of noise and I definitely enjoy it," said Pryor. "I think it brings out the best of me and I also think just competing, I think that's what makes football special."
In his first start of the 2013 season, Pryor completed 19 passes for 217 yards and a touchdown and rushed for an additional 112 yards. By the end of Sunday's slate of NFL games, Pryor led the NFL in rushing.
Pryor was able to outrun and get around the Colts defenders consistently. "When you go and watch film or you watch me run, it looks like I'm not running because my strides, I think every two steps I'm picking up five yards," explained Pryor. "If you just watch how other guys' strides are pretty small…I don't know. I just think it's hard to get an angle on me."
Running that much and maintaining his energy through four quarters of football is no small task. "I think God has blessed me with a physique and he's blessed me with strong legs, a strong arm, strong body, so I definitely give thanks to that," said Pryor.
But the young quarterback is diligent about maintaining his body so he is able to contribute with both his arm and legs. "I get sore just like everybody else, but it's just a desire to keep on maintaining your body," said Pryor. "I get in the cold tub twice a day. I get three massages a week, ice my arm a lot after throwing in practice. So really it's just doing maintenance and understanding that you have to take care of your body; eating well too."
Few have questioned Pryor's athletic ability. Many have questioned his quarterback capability. Pryor has been improving his mechanics in order to become a quarterback that runs, rather than a runner who plays quarterback.
"I think the biggest part was just getting the mechanics down, throwing the ball, and understanding that every single time I have to be in the same position and get into that position," explained Pryor. "It's like a home position. It's like sitting at home. You're at home; you're comfortable in that position. That's the position I have to get in every single time whether I'm throwing to the right, throwing to the left, to the middle, 90 degrees, whatever the degree is. I have to get in the position. When I do, I can throw any ball."
Pryor's development of proper mechanics helped him complete 19 passes in Indianapolis, of which 10 were split between starting wide receivers Rod Streater and Denarius Moore, and earned him the start in Week 2.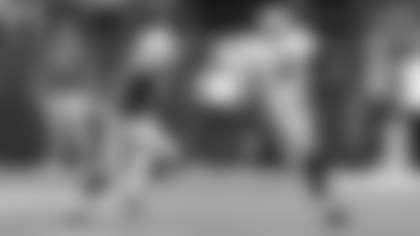 Pryor's focus is solely on football now. "Right now, I'm just trying to be my own coach," said Pryor. "I'm trying to gain knowledge on my opponent that we're going to play against this Sunday. By the time I step on the field, I want to feel like I've played them already the day before. Whatever the case may be, I already played them because I've studied them and I understand the techniques and the way the guys move. Right now, I don't really have a life outside of football because I'm trying to prepare. I'm trying to give Raider Nation success."
Putting on the Silver and Black jersey and representing for Raider Nation has significant meaning to Pryor. "If you think about the Silver and Black jersey, you think of Al Davis. You think about all of the accomplishments he has gotten done and what he's been involved in with the Raiders. It just makes you want to be great and nothing less," said Pryor.
Mr. Davis' mindset is what drives the Raiders starting quarterback. "I believe [Davis'] train of thought and the way he thought of Silver and Black was just amazing," Pryor said. "All he thought about was winning. When it comes down to it, when you think about this organization, and you go back to the years before us, is a lot of wins. That's what I think of. Tough organization and that's what we are."
Pryor is embracing that mindset and his new role as a leader of the Raiders offense. "I embrace it because that's who I am," said Pryor. "I like to have that type of responsibility because the ball is in your court and you have to drive the team. You have to make smart decisions. You have to be the smartest on the team. You have to be the smartest on the field. So that role I definitely embrace because there's nothing like it. The other guys are counting on you whether you're down or you're up, to control the game. It's definitely a blessing and it's only going to get better."
Pryor hears and appreciates the support from Raider Nation. "It feels great. It feels phenomenal to have that type of support. It's a blessing," he said.
He is looking forward to taking the field for the home opener at O.co Coliseum. "It's going to feel amazing. I can't wait," said Pryor. "It's going to be an exciting time for me and an exciting time for everybody else. At the end of the day, we have one goal and one thing set for that day and that's to beat Jacksonville. And that's what I'll be taking the field to do."
Raider Nation, make sure to follow all of Pryor's progress leading up to and on game day on Raiders.com. And make sure to follow Pryor on Twitter (@TerrellePryor) and Instagram (@terrellepryor).