Ann Weeby takes the field with the Raiders captains - LS Jon Condo, FB Marcel Reece, DT Vance Walker and DE Lamarr Houston. Photo by Tony Gonzales
Ann Weeby, former Specialist in the Army National Guard and current veterans' advocate, was selected as the GovX Hero of the Game for the Raiders match-up with the Titans in Week 12.
Weeby works in multiple roles throughout the Bay Area helping veterans find their way after serving their country. "My work is with Goodwill of Silicon Valley as their business developer helping veterans find employment and I'm an IAVA Iraq and Afghanistan Veterans of America Leadership Fellow and I also serve on the San Francisco Veterans Affairs Commission to advocate for veterans in the city and county of San Francisco," explained Weeby.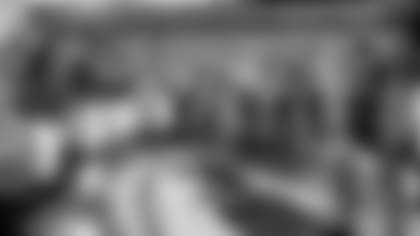 The National Guard veteran, on the field during the Raiders Salute to Service game, enjoyed her experience on the sideline pre-game and during the coin toss with the captains. "This is very cool," said Weeby. "This is actually my first pro football game and to be on the field is incredible so thank you so much for this."
Weeby was honored to represent current and former service men and women during the coin toss. "I get to represent a lot of Iraq and Afghanistan veterans who are coming home and are working to move on, just to transition from the war," said Weeby. "So as an advocate, I help a lot of people do that. For me, it's employment, helping people find employment, people to find their voice and just find their comfort back at home. I'm part of this incredible community and it's an honor to be recognized here today."