Q: You're coming in on the heels of a guy that took a lot of heat for what he did, right or wrong. Is it as easy to say that it's the coordinator, the players, everything?
Olson:I think it's somewhat the nature of the position as an offensive coordinator in the National Football League. People want to be entertained and people want to see an explosive offense. You kind of know that going in when you assume the position as an offensive coordinator. You know there are going to be people that are going to be very critical of you and what you're trying to accomplish. To me, I go into it knowing that. I know the situation coming in here. I am not naïve enough to think it was all Greg Knapp's fault. I think the fans probably know that as well. Certainly there are some things that I hope I can bring to the table that allow us to have success.
Q: How much different will your offense look than that offense that was on the field last year?
Olson:I think, to say how much different, to put a percentage on it, I don't know how you put a percentage on something like that. I can tell you this, your job as a coach, your job as a coordinator is to identify the skill set of the players that you have; to try to acquire a skill set if you're lacking a skill set in certain areas. The bottom line in the National Football League when you've got players in and out, it's different now than it was 10 years ago in terms of how free agency works now. You may not be able to, in the old days with Bill Walsh or even Al Davis with the Raiders, to collect players and keep them on your team for an extended period of time. Those days are somewhat over. You've got to be able to be flexible and to adapt to the personnel you have on that team in any given year. Our job as a coaching staff will be to identify the skill set of our players. Who are our best players? What do they do best? How can we put them in a position to be successful and use the things that they do best? I think coming in a year ago, they made the switch to a zone system. I don't know that you want to pigeon-hole yourself that way and say, 'This is what we do.' We may not be able to do that with the set of players we have. Our job as a staff is to identify the skills that they have and what they do best and then tailor our offense to those players' skills. Who are those best players? Marcel Reece is a different kind of fullback, so what does he do well and how can we get him involved in some of the matchups that will cause problems for the defenses? Darren McFadden, initially, maybe they weren't sure about that zone scheme. Now, after a year of looking at it, maybe he is a downhill runner, so we'll get back to some of the gap schemes and some of the things he does well. What does he do and how do we fit our players' skills? It's no different with the wide receivers. What do they do well? Our tight ends, we'll have to know whether or not Brandon Myers is re-signing or not. What does a tight end do well? We'll try to tailor our offense based on the skill set of the players we have acquired.
Q: How closely did you look at the offense from two years ago?
Olson:We've been watching a lot of it since I've gotten here. To be honest with you, not until I got here. We went through and watched last year's offense and then went back and watched, not the entire season, but all of Darren McFadden's carries. We wanted to get a feel for Darren McFadden. I think we're fortunate to have Kelly Skipper here. He's a guy that's been through a number of different coordinators. That helps me in evaluating Darren and getting a feel for what his position coach thinks he does well.
Q: Have you been able to talk to the players?
Olson:They've dropped by. Contacted a few when we got the job. I've had a chance to talk to them. Terrelle Pryor has stopped by, Carson Palmer and I, I had Jordan Palmer this last year, but a couple of players have been in for workouts so I had a chance to meet with some of the players.
Q: Are they able to see the playbook yet?
Q: You saw this year how the league has changed with the quarterbacks that do more read-option stuff. How do you look at a guy like Terrelle Pryor? What do you think that type of quarterback does for an offense?
Olson:Obviously watching the 49ers across the Bay and the Seahawks, and the Panthers are the three teams that come to mind with those types of quarterbacks. Certainly, if that player is the starter it's going to create a number of issues. If he's just a role player and there's a package, that creates issues as well. Right now, where we stand at the quarterback position, certainly we've got a veteran player in Carson Palmer that really has a unique set of skills himself. Much different than Terrelle Pryor's. We'll go through and let those two compete. Obviously we like the ceiling of Terrelle Pryor and where we think he can get to, but his skill set is completely different than Carson's. We know what Carson has; he's played in the league a number of years. We don't yet know about Terrelle Pryor and what he can do at this level, but we have a pretty good idea of what he can do athletically. There'll be packages for both of them and we'll allow them to compete. We'll be ready in either direction because, again, with this league, and in terms of injuries and different scenarios that can happen in the league, you've just got to be ready to tailor your offense to whomever your player might be that's pulling the trigger. We'll certainly have a package for Terrelle Pryor. We'll be ready to go in the direction that we see fit.
Q: So is the quarterback position open?
Olson:In visiting with Dennis and Reggie, I know Reggie has made statements. There will always be competition. I think there has to be competition at every position. I don't think you can ever hand someone a position from season to season or year to year. Excited about Carson Palmer. Certainly, he's a guy that's got experience, and experience playing at a high level in the National Football League. We'll go forward with the direction that the organization sees fit. If they want competition, we'll have competition. At this point, I think they want us to have a real good feel. You never know what's going to happen in the upcoming month, in terms of contracts and whatnot, so we'll just be ready. I'll let you know the day we can get on the field and start practicing.
Q: Are you open to using two quarterbacks?
Olson:I think you just have to have a package. My feeling is, when you have someone on your roster, and he's got a unique set of skills that are unique or different or better than some of the other 10 players that you have on the field, does he have a set of skills that might be better? I just think once we get out and get a chance to see Terrelle, and I've certainly seen him in college – he was an explosive player in college – it's important as a coach that you're willing to adapt and be flexible to put a player like him that may be an explosive player on the field for you.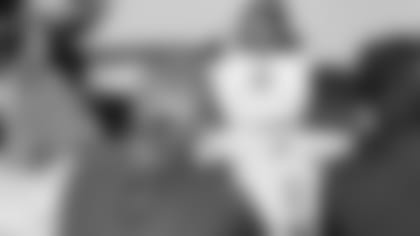 Q: Who would you count as your influences in terms of offensive football and philosophy?
Olson:I've been fortunate, I think. The guy really that opened my eyes to the passing game and specifically the spread passing game, was Dennis Erickson, the first coach that I was a graduate assistant for. Then, I went from him to Mike Price. Those were two guys where my learning curve went up tremendously. Joe Tiller coached under Price and Joe hired me at Purdue. At that point, we were throwing the ball all over the field. We threw the ball 85 times in one game at Purdue. In terms of the passing game, those would be the biggest influences. Once I got in the National Football League, to me, Steve Mariucci brought me into the league in San Francisco. Coached with him in Detroit. When I got the opportunity to work for Jon Gruden, it was an eye-opening experience for me. I really took to that and took to him and still remain very close. He's probably influenced me more than anyone in my years in the NFL.
Q: How much of being open to the quarterbacks is a result of what happened to a Kaepernick? When he gets the opportunity and runs with it, do you feel like you need to make sure and see if you have your own Kaepernick?
Olson:Yeah, you'd like to find that out. What's different about Kaepernick is that they feel great about him in all areas of the game. They feel great about him as a passer, so he's a guy that plays full-time. It's not as if they bring him in for a package or a play or two. That's the difference between a (Tim) Tebow or a Wildcat and some of the other packages that have hit the National Football League. If you have a guy that can stay there and play 65 plays a game and do those things and also be able to throw the ball from Point A to Point B accurately, if he posses those skills as well, then you certainly have something.  That's what we'll have to find out from Terrelle Pryor. We know what kind of an athlete he is. We need to find out what kind of decision-maker he is, and is he the kind of guy that can also sit in the pocket and deliver the ball accurately and on-time with his decisions? That, above all else, becomes important. Can he make good decisions and is he accurate as a passer?
Q: Can you figure that out in OTAs and mini-camps or is it something you have to wait for exhibition games?
Olson:I'd like to believe it's always an ongoing evaluation process. You get a feel for a player throughout the OTAs, throughout the June mini-camps and training camp. Obviously the bottom line, even to me preseason, it's an evaluation tool. You should have a pretty good idea about what he can and can't do.
Q: What did you see from him when he got the start in the final game?
Olson:I saw some good things. We saw some good things there. I think it's too early to say what he's going to be based on that limited playing time that he's had. You can see the athletic ability. I'd still say he's raw. I'd still say he's developing.
Q: Did you look back at his Ohio State film?
Olson:I remember when he came out. Obviously as a quarterbacks coach, you're always involved in the evaluation of those players. He did a lot in college at Ohio State. Again, it's a different game. There are a lot of players who played very well in college who haven't been able to make the transition to the professional game"
Q: You mentioned the transition and the unpredictability of the league in terms of contracts, etc. Do you have to be prepared for the fact that someone other than Carson Palmer will be the quarterback?
Olson:I think always. That's the nature of the beast and that's the nature of the National Football League. I understand that and I think Carson Palmer understands that. To me, that's the importance of being flexible and be willing to adapt your philosophy as a coach in what you're going to do and how you're going to attack people.
Q: Early in your evaluation process, what do you see from your wide receivers? There were a lot of dropped passes last year and a lot of miscommunication between the quarterback and some of the guys.
Olson:One, I can say it's not a perfect scenario in the NFL. When you're turning over systems, with every year a new system, there will be. To me as a coach, you're trying to eliminate any miscommunication that's happening. That's my job, to eliminate the miscommunication. I do see a young group of wide receivers that are talented, and yet they're still developing. As an overall group of players, I see a good skill set overall. They're kind of different when you look at them. There's not one that really jumps out or sticks out, they all have their unique skill set. The one thing that they do do, they do look tough. They are good blockers and that's important. That'll be important to us as a coaching staff in developing the physical and mental position at every position. I like the group overall because they're young and still developing. They're not the finished product. I see a high ceiling for them, much like I do in Terrelle Pryor.
Q: Do you need a No. 1 receiver?
Olson:Certainly you'd like to have someone like that, someone that stands out above the rest. If not, I see a solid group overall. Those touches may get spread out throughout the group if you don't have one. Again, that's part of the adaptability of you as an offensive play-caller or offensive coordinator. If you don't have that guy, let's spread out the touches if we don't have a guy that's significantly better than anybody else. Let's spread the ball around, which makes it significantly harder to defend, as well. Certainly, you'd love to have a Calvin Johnson-type guy, but if you don't, you have to find a different way to move the football.
Q: How long will it take for the guys to grasp this system?
Olson:Hopefully about four months. That's what you're hoping. It's got to be player-friendly because you don't have a lot of time. You aren't given a lot of time in the National Football League. So whatever that system is, let's make sure it's something the players can assimilate and learn very quickly. If they're thinking too much, they're going to play slow and that creates problems. If there's indecision or miscommunication type of things, you try to eliminate those as a coaching staff. It's a system that will be player-friendly to make it easier on those players.
Q: You were with the Rams at a time when they were putting up the ball quite a bit. You were with the Jags where they liked to run the ball a lot. How do you see this offense looking?
Olson:We really don't know who we're going to have yet. There are certain positions where we still have unrestricted free agents. To me, right now at this point, there's too much uncertainty. Knowing the type of tailback and quarterback, if you're talking about Carson Palmer and Darren McFadden, then Carson is a pocket passer. You're looking at heavy passing and push the ball down the field that way. You're looking at tailoring the gap-scheme stuff for Darren McFadden where he's able to hit it going downhill. Those things go hand in hand, the downhill gap scheme and the play-action. If those are the players you're looking at.
Q: As on offensive coordinator, what kind of weapon do you think Marcel Reece can be?
Olson:He's got such a unique set of skills for a fullback. As a college wide receiver, he'll present some matchup issues. I was presently surprised when watching the tape. A lot of those downhill-lead plays, where you need a fullback to go in there, would you characterize him as a big fullback thumper? No, but he did willingly go in and block some of those linebackers in those downhill leads. To me, I was pleasantly surprised in seeing that. I was excited, to be honest with you. To see him get out of the backfield and look at the matchups you can get with him was exciting as well. He does have tremendous speed. He has very good hands. He's got loose hips. He can run some of those option, choice routes that are matchup nightmares for defensive players.
Q: Would you be open to using him as a third-down back?
Olson:No question. That's the other thing to me that I was excited about, to see him in that role. He obviously had some carries as a fullback in the fullback position. It's nice to know, that you have somebody like that where he's built the way he's built and who's also intelligent enough to be that third-down back, to understand the blitz packages the other teams are doing and then to have the tremendous hands coming out of the backfield. I was pleasantly surprised of that part of his game, that he could go in as a third-down back and not as a plug-in type guy, but do it well. It was exciting to see that."
Q: You mentioned 85 passes in one game, was that with Drew Brees, I'm assuming? What was it like coaching him for a few years?
Olson:Just a special player. I knew he was special right away, accuracy-wise. I'll never forget, it was the second week of two-a-days when we elevated him to the No. 2 spot as a freshman because of his accuracy. The intelligence, the total package from him. The overachiever in everything he does in the game of football but also outside. He's just a special guy and I was fortunate to have a chance to coach him.
Q: How are you and Tony Sparano going to work together?
Olson:We've kind of shut the door this first couple of weeks here. We've talked through philosophies and how we're going to call things and his brain as opposed to mine. Everyone might be running the same plays, but calling it differently. We want to be on the same page in terms of terminology and language. Philosophically speaking, I think we're on the same page in what we want to do and how we want to attack people in offense. I don't want the defense to set the tempo of the game; I want us, offensively, to set the tempo. He's all about that. I like his mindset and I think we'll work very well together.