Quarantine is subjecting everyone to new levels of boredom; however, it's also inspiring people to get creative with how they discover new forms of entertainment.
Personally, I've never been much of a wilderness man — I imagine I have about as much luck of surviving alone in a forest as Michael Scott from The Office — but I've found myself living in a desolate location chopping wood with an axe. And I'm not alone; other Raiders have found themselves learning new skills because of quarantine.
Alec Ingold, for instance, recently purchased a home in Las Vegas — Congrats on becoming a homeowner at 23, Alec — and originally took a trip out to the desert to enjoy some time in the sun, but quarantine has imposed an extended stay. For the most part, Ingold has been staying active and training for the upcoming season (check out his workout here), but his time lately has been consumed by a litany of HGTV projects.
Of all times to jump head first into becoming fully domesticated, Ingold and his girlfriend, Alexa, are on the expedited home-makeover plan, and there has been a big learning curve.
"Hanging up TV mounts and everything is a huge struggle, putting together any pieces of furniture, putting anything on the wall, hanging everything up," Ingold said with a slight sound of fatigue. "I got a little step ladder now, so now I can get to elevated surfaces, which has been good. I'm learning how to put a room together with… you need greenery in the house; even though it's not real, you still need it to look good. So, I'm learning those things and I'm learning how important throw pillows are on beds.
"Lamps — lamps are important. I also didn't realize how hard it would be to put up blinds, so that was brutal measuring all of that."
And it sounds like Alexa is helping to carry that load.
"We should start a do-it-yourself show I think because she's a lot more handy than I am," he said. "So, I think it would be pretty funny because I can't really do much."
While Ingold has spent some of his time doing his best Fixer Upper impersonation, he's also found time for the country's biggest current topic of TV discussion: Tiger King: Murder, Mayhem and Madness — if you haven't watched it already, you need to.
On the opposite side of the country, 1,820 miles away from Ingold, Cole is in quarantine in Birmingham, Ala., where he's been training with a specialists coach and other punters. He too watched the popular documentary — but he hasn't been doing any home improvement renovations.
While Cole has been exercising proper social distancing, he's been getting out of the house and found ways to go outside without getting close to others. Nearby, Cole and his fellow punters stumbled across an abandoned golf course with a driving range. Conveniently, Cole has his clubs with him and the group have taken advantage of the open tee times.
"There's this golf course in Birmingham that's between ownership right now and the people who owned it went bankrupt, so they basically left it exactly how it is," he explained. "So, we'll go out there, and the driving range has balls, so we'll put the balls in buckets and just go hit them on the driving range and then go pick them back up."
In addition to some renegade golfing, Cole has picked up a new hobby.
"We've been fishing a little bit too," Cole said. "I learned how to fish — that's a new hobby I have. It's pretty good [fishing in Alabama], we've got some bass, some bluegill. I never learned how to fish until a month ago and I'm pretty into that now, it's a good way to kill some time."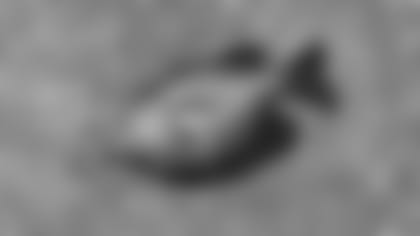 I've always wondered whether it would be better to learn how to fish as a kid or as an adult, given the amount of patience it requires and teaches; however, it's not the patience that Cole has struggled with.
"Casting, bro," he said when asked what's been the most frustrating part about fishing. "Definitely casting. I've been getting caught up in trees, rocks, other people's lines. You have to sit there for 20 minutes and figure out how to untangle everything, that's definitely the worst part. The easy part is to catch it, the hard part is the fishing."
Some people learn to fish in streams, or the ocean, but Cole learned on a lake and right next to it there's a dam, which he's been using with his friends to stock with fish. To ensure they'll be able to continue fishing, the group has taken a fun approach to catch and release by naming each fish they catch and seeing if they can catch the same one again.
"We got Chester, we got Timmy, Gerald, Gary, Pete, and Jerome," he said. "I caught a Michael, and basically the rule is you have to name it the first thing that pops in your head."
Like fishing, quarantine is teaching each of us a bit of patience, but also introducing us to new things we never had the time for before. While these are unfortunate circumstances, it's good to see people still finding ways to have fun.