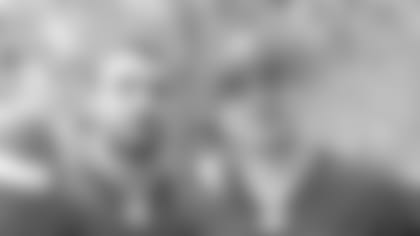 Fabio (right) and his brother show off their Raiders jerseys.
My name is Fabio and I come from Italy. I live in Sardinia, a little island in the Mediterranean Sea. I'm 21 years old and I started watching football about three years ago. I fell in love with the Raiders when I found a movie on YouTube of Marcus Allen running for 74 yards during Super Bowl XVIII. I thought, "OMG, He's amazing! I've never seen anyone running like this!" -- And then everything began.
I started watching the games, suffering with every loss and being happy with every win, but I was all alone, because on a little island like mine, American football isn't very popular.
I think I'm the only one in my town who knows who Darren McFadden or Rolando McClain is, but I don't care! Thanks to Raiders.com and thanks to forums like raiderfans.net, I'm able to share my happiness with all the other fans around the world, people like me who love their team and are ready to support the Silver and Black every time!
Thanks to the Raiders I found some friends in the U.S.A. Thanks to the Raiders I feel like I'm part of one big family, and I really love it!
I like buying Raiders' apparel and merchandise. During these years I have bought jerseys, caps, watches, autographed cards, autographed mini-helmets and many other things because I want to show my love for the Raiders in order to make people fall in love with them too.
If the 2011-2012 NFL season is going to start, I'll do everything I can to come to the U.S. and watch my first game in the Coliseum. I'm just a student, but thanks to the scholarship the University gave me, I'll be able to do it!
Raider Nation baby, I bleed Silver and Black!
(Anyway, thanks for everything! You guys do an amazing job! I love watching your videos and interviews... they make me feel more American!)
P.S. In the picture I'm the one with the #20 McFadden jersey... The other one is my twin brother, the first person I transformed into a Raider Fan!