Courtesy of the College Football Hall of Fame's Official Website
IRVING, Texas (Jan. 9, 2015) – The National Football Foundation (NFF) & College Hall of Fame announced today the 2015 College Football Hall of Fame Class, which includes the names of 15 First Team All-America players and two legendary coaches. The inductees were selected from the national ballot of 75 All-America players and six elite coaches from the Football Bowl Subdivision and the 87 players and 25 coaches from the divisional ranks.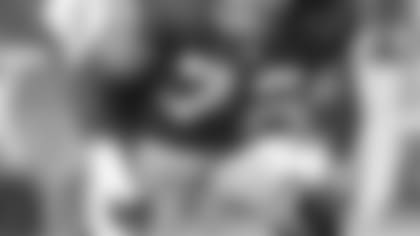 University of WashingtonOffensive Tackle, 1989-92
One of the most dominant offensive linemen of his era, Lincoln Kennedy led the Washington Huskies to a perfect 12-0 national championship season in 1991. He becomes the 11th Husky to be inducted into the College Football Hall of Fame.
A unanimous First Team All-American in 1992, Kennedy led Washington to bowls all four seasons of his career, including three consecutive Rose Bowls. The 1992 First Team All-Pac-10 selection led the Huskies to three consecutive conference titles, and he is one of only three two-time recipients of the Morris Trophy as the best offensive lineman in the Pac-10. A captain his senior year, Kennedy twice received Washington's lineman of the year award, and he allowed only two sacks in his four-year career. A 2004 inductee into the University of Washington Husky Hall of Fame, he played for College Football Hall of Fame coach Don Jamesand alongside Hall of Famer Steve Emtman during his time in Seattle.
The ninth overall selection by the Atlanta Falcons in the 1993 NFL Draft, Kennedy spent two seasons in Atlanta and nine seasons with the Oakland Raiders. The San Diego native was a two-time All-Pro selection and three-time Pro Bowler, and he helped lead the Raiders to Super Bowl XXXVII.
Kennedy has previously served as an analyst on the NFL Network, and he owned and operated an insurance agency. He currently hosts a show on FOX Sports Radio every Saturday, and he is a member of the Oakland Raiders radio broadcast team.