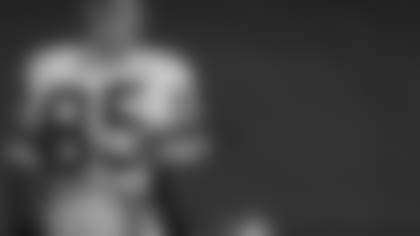 Usually slathered in "stickum," Hayes' signature crouch at the line of scrimmage usually spelled doom for any quarterback who thought to throw his way. He finished his career, played entirely in Silver and Black, tied with Hall of Famer Willie Brown for the franchise lead with 39 interceptions.
His 1980 season is considered one of the greatest single campaigns for any player at any position. That season ended with a championship as the Raiders defeated the Philadelphia Eagles 27-10 in Super Bowl XV.  He intercepted 13 passes during the regular season that year and returned them 273 yards with 1 touchdown. He also recovered 2 fumbles.
Listed as a safety on various online resources and described as a safety who converted to cornerback upon entry into the NFL, Hayes once told me he played linebacker at Texas A&M and he did not want to play corner. But, Raiders Owner Al Davis and Head Coach John Madden asked Hayes to make the switch. The rest is, as they say, history.
Does one season make a career? Does one season make a Hall of Fame career? Absolutely not. However, it is widely thought and widely known that man-to-man corners don't accumulate many interceptions. Corners who play in predominantly zone defenses and safeties get the bulk of the picks. Hayes still grabbed 39.
P Ray Guy waited an interminable amount of time to be selected for the Hall of Fame. His detractors questioned his career average and the position he played. Ultimately it was impact on the game, his defining of the position, his impact on his team, that finally put him in the Hall where he belongs.
If Willie Brown and the Soul Patrol defined playing defensive back in the National Football League, Hayes was an apt pupil who made the cornerback position his own. Before Deion Sanders (an iconic Hall of Famer in his own right), Hayes took away half the field. When the Raiders added Mike Haynes in 1983, quarterbacks had nowhere to throw. The Raiders 1983 defense was one of the best the NFL has ever seen thanks in part to Hayes and Haynes.
Hayes needs to be inducted into the Pro Football Hall of Fame. And when it happens, they should add extra security for the bust because Hayes will just pick it off and take it to the house.
Take a look back at the career of iconic CB Lester Hayes.