Q: Critics are saying that Schaub, Tuck, yourself are impact players.  I'm assuming that's the role you want to play, to impact this team?**
Jones-Drew:"*Yeah, I think everyone's going to impact this team, even the players from last year. We kind of set a standard at OTA's: with the way we practice, the way we got better every day, the way we challenged each other. The challenge was from that month off to come back and step right back into it and keep going. We knew we were going to have some bumps in the road, but a lot of guys worked their butts off this offseason and we came back ready to play. So you see in today's practice, in yesterday's practice, that each practice we're getting better, guys are making more plays, we're not making the same mistakes twice. We hold each other accountable.  We're competing our butts off. We's going to have a period where the offense wins, a period where the defense wins. We'll continue that trade back and forth and that will get us ready for where we need to be come week one." *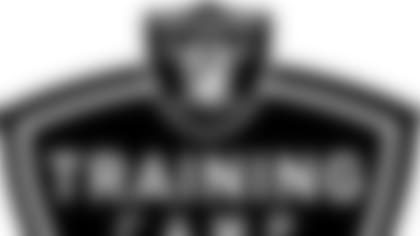 ](http://www.raiders.com/news/training-camp.html)Q: Why did you come to the Raiders, but you could have gone where you wanted to.
Jones-Drew:" I can't say everywhere I wanted. I didn't want to go anywhere else, that's why I came. Nah, for me, I grew up a Raiders fan. That was number one. Two, I was tired of leaving my kids in the offseason. I trained out here in the offseason…they would stay in Jacksonville. Or vice-versa, I would train in Miami, and they would come out here. It was a tough time. I wanted to have my family stable. Now, I'm not going anywhere else. I don't plan on playing anywhere else. From now on, we'll be here. That was a big factor then, to be able to play in front of my grandparents, my grandmother, and my grandfather's family, was something that I hadn't had a chance to do. It was more family-oriented, and then just being a Raiders fan. Obviously before I got here, there were some huge moves, acquiring [Matt] Schaub, bringing in [Justin] Tuck and James Jones, and the other guys they brought in. It was exciting to see that. So just being a part of this is* *really exciting."
Q: You have a lot of new people in your offensive line. How is that going for you?
Jones-Drew:"I think it's going well. Those guys are doing a great job. You saw today that we were able to run the ball pretty well. Obviously, we want to be able to do that tomorrow when the pads come on but there were some big holes today. Those guys were fighting their butts off, they're going against what I feel like could be one of the top defensive lines in the game. As long as they continue to compete that way, and help each other, we feel like we'll be able to gel, and do some of the things we want to do, and accomplish some of our goals come this season."
Q: What do you want to prove this year?
Jones-Drew:"I personally don't want to prove anything. I just like being at home. I just enjoy having fun and playing football. A long time ago, I was an angry person. Now, I went to this positive side, and I like a little bit better. But you do have certain people that say you can't do certain things, and that does give you a little bit of fuel. But that doesn't matter when you're carrying the ball, or you're out there blocking or trying to catch the ball. It's really about the guys around you. And I think that's something when I first got here, I tried to show those guys we're here to compete and try to bring that attitude here. And they've done a great job, it was here before I got here. That's kind of the main thing I think for me is to just come out here and just have fun and play with my teammates and enjoy this thing while we have it." ](http://www.pntra.com/t/R0BKRkpMSEBKTERGSEBISEtERw)Q: Returning punts, what do you think? There seems to be some injury risk with it but you've done it before.
Jones-Drew:"There's no injury risk with it. I haven't done it in a while so I have to get back to the old drawing board. But it's fun. I think it's exciting to go back there and compete. We always talk trash to each other, it's good. But those guys are fighting their butts off. I had a mishap today, and everyone got on me. So I will try not to have any more of those. It's just another way to get out there and get on the field and play and that's something you always want to do."
*Q: So it's nothing that you're against? *
Jones-Drew:"No, it's just another way to get the ball in your hands."
Q: In terms of what you see from Darren in practice, obviously we haven't had pads yet, but do you see that kind of slashing burst that he was always known for?
Jones-Drew:"Oh yeah. Darren's done a great job. Like I said before in OTAs, as a running back, we wanted to create a standard, and that was to be the best running backfield in the league.  It started when we were working out, running sprints 10, 20 yards, racing. When we do those things, you continue to build that attitude of wanting to be the best. It's just translated over and over again, which helps me when he breaks a big run obviously your competitive juice flows and you want to go, and vice versa. And its going to continue to make us better as a group and as individuals and I think looking at the younger guys like Latavius Murray and everyone else, getting out there and touching the ball, it's exciting to see guys compete."