Second-year RB Latavius Murray saw his first game action last year's preseason opener and contributed to the running game and the kick return game.
Q: How'd it feel to get some carries this past game?
Murray: It felt great. Being out last year, definitely it was exciting to get back on the field and get the ball in my hands again.
Q: Were you healthy at all, Coach Allen says you look much different this year, were you healthy before you hurt the ankle in the first preseason game last year or were you nursing that?
Murray: No, I still was having some issues there, some soreness, and stuff like that. I definitely feel 100 percent better compared to last year, where I was then to where I am now. I'm just excited now being healthy, going forward this year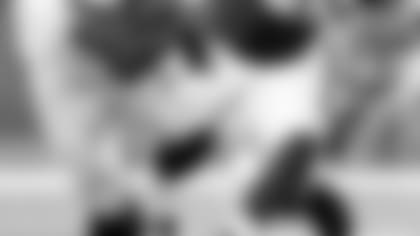 Q: What was it like just sitting and watching last year?
Murray: It was tough. I think anybody in that locker room if you have to sit out and watch your teammates play it hurts. I took that mentality in the offseason just to get better, work hard so it doesn't happen again this year.
Q: Revamped offensive line, what was it like to run behind those guys the other night?
Murray: It was great, they did a good job opening up some holes for me, I made sure I headed downhill for them and gained the yards that were there.
Q: You also got an opportunity in the kick return game…how was that?
Murray: Yeah, it was fun, it was different, new to me, but it's another way to get the ball in my hands. I just made sure I did my part back there as well.
Q: Did you do a little of that in college?
Murray: No, I was actually like a front-line guy. So, the only kick I did return was a pooch kick they kicked to me.
Q: You scored a touchdown on that…
Murray: It was a touchdown, so for a while there I was the leading returner in college, touchdown every catch. It's fun, like I said, another opportunity to help the team out, whether it's special teams or not.
Q: A lot of people would describe it as a crowded backfield, what's the dynamic like with you guys?
Murray: It's great. I think when you've got a group of backs like you can do nothing but get better every day in practice. In drills, everything. When they're in there getting reps they're making the most of it. You have to make sure you're doing the same when you get in there and just get better. Two guys like Maurice [Jones-Drew] and Darren [McFadden], just make sure you're learning from them because they have a lot of experience.
Q: They talked about it in the offseason that they root for each other. You see Darren rip off a run like he did the other night, do you say you're going to go out there and get yours…
Murray: Without a doubt. Give them props, I'm excited, happy for them. At the end of the day we're all on the same team and we all want the same things. I think it's a great, healthy competition back there. ](http://www.pntra.com/t/R0BKRkpMSEBKTERGSEBISEtERw)Q: What are certain things you've learned from both those veterans?
Murray: In the meeting rooms just being in tune, protections, learning your assignments. On the field, just going out there and working hard in drills and going 100 miles per hour.
Q: How much of the mental part did you get out of last year, learning the playbook, learning what it's like to be in the NFL, were you able to take a lot of that stuff?
Murray: For sure. I think that also helped me this year. I was able to be in the meeting rooms when they were game planning for games as if I was going to be playing. I definitely was in tune with the game plan each week. It helped me a lot. I guess I'm able to slow things down a little bit this year, because it's not as fast thrown at me so I think it was a big help for me.
Q: How do you feel you're doing in pass protection? Is it coming along pretty quickly? Murray: Yeah, I think definitely it's coming along good for me. I've always kind of picked up that as far as assignment-wise, who I have, adjustments or anything like that. For me I think as long as I get better on my technique blocking the guys, you can always get better, I think everything else is good.