Students of Brookfield Elementary School stand with the team for the National Anthem. Photo by Tony Gonzales.

In what's become an annual tradition, the NFL encouraged children and families to be active during NFL PLAY 60 themed games throughout Thanksgiving weekend. PLAY 60 is a league-wide effort to fight childhood obesity by getting kids active for at least 60 minutes a day. In recognition of NFL PLAY 60, The Oakland Raiders teamed up with Playworks, a national nonprofit organization that partners with low-income elementary schools to provide a safe, healthy, and inclusive play and physical activities at recess and throughout the entire school day.  Students from Brookfield Elementary School served as the Raiders Play 60 ambassadors, and participated in a pre-game field presentation before the Raiders took on the Dolphins.
"The Oakland Raiders are proud to recognize the young people who demonstrated a commitment to good health and we encourage all young people to Play 60 throughout the year," said Raiders Chief Executive Amy Trask.
"Playworks is proud to partner with the Oakland Raiders and the NFL for "Play 60," said Playworks East Bay Executive Director Alison Townley. "We commend them for recognizing the importance of play for kid's healthy development."
Playworks shared its expertise in play and physical activity in Raiderville's Play 60 Zone through fun games that were easy to teach, easy to learn, and fun. "We try to make recess a fun, safe inclusive place for kids to come out so they can get their energy out and go back into the classroom focused and ready to learn," said Playworks East Bay Program Director Jamie Hemann. "We do that by designating play areas, making sure all the kids understand the rules, and making sure it's physically safe and emotionally safe for the kids to come out as well."
Designed to tackle childhood obesity, NFL PLAY 60 brings together the NFL's long-standing commitment to health and fitness with partner organizations like Playworks.  Since the program was launched in 2007, the NFL has committed more than $200 million to youth health and fitness through programming, grants, and media time for PSAs.
Playworks received a grant to improve the playground at a local public elementary school, used by more than 400 students daily. The $35,000 Youth Fitness Zone Grant will enable Playworks to organize and run two flag football leagues for students from 37 elementary schools throughout Oakland.
The Youth Fitness Zone Grant, awarded by The Oakland Raiders and NFL Charities, is part of the NFL's commitment to health and fitness.  Since its inception, NFL Charities has granted more than $200 million to youth health and fitness through the PLAY 60 program.
The Raiders Play 60 ambassador, Brookfield Elementary School, brought a handful of students who are part of the junior coach program, "[The junior coach program is] helping other kids play and learn games and work with each other, cooperative games," explained Cokes. "These kids are most of our junior coaches out here. That's why they've been chosen for this because they've done such a good job. This is a great reward for them."
The students had the opportunity to watch pregame warm ups and stand with the team for the national anthem. "They've had a great time," said Cokes. "They're like, I've done everything coach has asked me, I haven't been in trouble, all my homework is done, I've done good on the playground, I didn't use bad language, I'm just a good person all the way around, and this is how you get rewarded. This will show other kids on the playground too, oh if you do good things something good may happen for you, maybe not the same thing, but we might get something else."
Principal Taylor has seen the benefits of having Playworks at Brookfield Elementary. "It's an awesome experience," said Taylor. "It's a great opportunity for our kids to learn non-competitive games through Playworks, to be involved and physically active."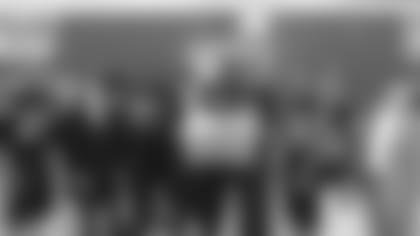 CB Nnamdi Asomugha and his teammates, with Raiders Chief Executive Amy Trask and Comcast's Kate Longworth and Johnnie Giles, present a $25,000 check to Roosevelt Middle School and its principal Cliff Hong. Photo by Tony Gonzales.

Also part of the pregame ceremonies was Roosevelt Middle School, who benefitted from the NFL Network's Keep Gym in School program. Falling under the umbrella of NFL's Play 60 campaign, Keep Gym in School is a program designed to keep P.E. programs in middle schools. The Oakland Raiders and Comcast teamed up with the NFL Network to Keep Gym in School at Roosevelt Middle School in Oakland, Calif. Representatives from Roosevelt included Principal Cliff Hong and Assistant Principals Edith Jordan and Aubrey Lane.
"The Keep Gym in School's grant has been really great for us because it helped us buy the equipment we just didn't have and it also kick started a new year and a brand new administration because there's a new principal, myself," said Hong. "We want to show the staff, community, and students that we're serious about both exercise, and about building a really great school. We're really excited that we're a part of this grant."
Keep Gym in School is designed to boost health and fitness in schools for the long-term. "We don't want to just go in with a big check and buy equipment, we actually want to have a sustainable program," explained Joel Chiodi, Vice-President of Marketing and Promotions for the NFL Network. "To that end we created a program that's sort of modeled on the NFL Combine and the kids are put on a four-month program. Whoever has the most improvement in those four months is flown to New York City where they get an award from Commissioner Goodell at the Draft. We do retention programs every year so that we're not just leaving. We've been doing this for about three years and we've given away over $600,000 in money towards middle school P.E. programs."
Children and families can join the PLAY 60 movement by pledging to be active every day. Those children who submit their PLAY 60 story have the chance to be named an NFL PLAY 60 Super Kid, with one child and family receiving the opportunity to represent NFL PLAY 60 on-field at this year's Super Bowl to help kick off the game.  Fans can visit **www.NFLRUSH.com/Play60** to learn more.