Former Raiders LB Sam Williams with Professor George Foster. Photo courtesy of Sam Williams

Recently, current and former NFL players, including Raiders DE Lamarr Houston, LS Jon Condo and former Raiders LB Sam Williams, participated in the NFL Business Management and Entrepreneurial Program at Stanford Graduate School of Business. According to the NFL Player Engagement website, the program is intended to "improve players' ability to evaluate business opportunities through interactive workshops, stimulating discussions and practical knowledge."
| | |
| --- | --- |
| | |
| Photo courtesy of Jon Condo | |
The program, facilitated by Stanford Professor George Foster, was one of many learning opportunities organized by NFL Player Engagement throughout the off-season. Because a player's NFL career is generally short, it is important for the athletes to set themselves up for their post-football lives. Condo chose to participate in the Stanford program because he wanted to build a foundation for his life after football. "It was a great, great learning experience," said Condo. "It was a good way to get my feet wet or lay a foundation to the business world."
Houston wanted to get a better understanding of investments and business early on is career. "I feel like it's important to know a little bit of the business aspect of money besides just the one we play in," explained Houston. "There's a lot of things out there that are growing that you can get involved in for life after football. I feel like you have to have some type of knowledge."
Williams, who played with the Raiders through 2010, has been establishing himself in the business world, but wanted to gather even more information. "I wanted to participate because it was a great opportunity that the NFL offered to players," said Williams. "Entrepreneurship and business management is something that I'm currently involved in and it's a great opportunity to learn from the best in the world."
Professor Foster brought in industry leaders to speak to the participants about anything from pitching a business idea to doing the research to establish a business. Many of the athletes had not been in a classroom setting outside of football for quite some time. "I was a little nervous at first because I haven't been in class in over 10 years, but the quality of the professors was unbelievable," said Williams. "We were in class for maybe eight or nine hours, but it didn't seem like it because the way the teaching methods were unbelievable. They kept you locked in. Everything we learning about was so fascinating."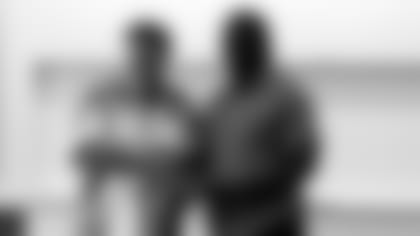 DE Lamarr Houston accepts his certificate of participation from Professor Foster. Photo courtesy of Sam Williams
"It was definitely different," added Condo. "I graduated college in 2004 so it was probably nine years ago. It felt weird. I was excited about it. It was definitely an exciting opportunity. It was definitely a good feeling and I was definitely anxious the week of it. Then when I got there, there was a little nerves because you're sitting in the classroom with a notebook and pen and it's like, you're not used to that kind of setting outside the football world, especially being away from college so long."
| | |
| --- | --- |
| | |
| | Photo courtesy of Sam Williams |
Despite the initial nerves, all three Raiders took away important lessons that they hope to apply now or in the future in their business endeavors. "The whole class was important to me, but the main thing that stuck out to me was you have the knowledge and resources to make good choices," said Houston. "You just have to do your due diligence and make sure that you research every aspect of something that someone hands you or when you go to start a business make sure that you're always constantly working and communicating with the people that work with you."
Williams, who has various business ventures in the works or already established, took away some of the smaller details taught during the program." I feel like I got something from each professor," said Williams. "One of the things that really fascinated me was Professor Baba Shiv [Stanford Professor of Marketing]. He was talking about the different types of people's brain functions, like Type 1 personality and Type 2. He gave us advice on how to approach Type 1 personalities with business , the time of day to do it and if you don't do it in the morning, you want to do it in the evening over a drink. I thought that was kind of fascinating."
The nine-year NFL alumnus is already implementing the lessons he learned at Stanford. "I felt like just the little I learned from this weekend was valuable, especially when it comes to team building, learning how to relate to the other members of your team and also for future ventures, making sure you're in a situation that's right for you," said Williams. "I think it was definitely a great teaching tool and I'm already using a lot of things that I've learned."
The Raiders players recognized the importance of taking advantage of the opportunity presented to them by the NFL. "A lot of people just think going into [the NFL], 'I'm going to play for 10 years. I can make enough money to maybe retire and not have to work again,'" said Condo. "The reality is, that's just not the case. There are only a select handful of people that after playing football, they can retire with the money they made. But the vast majority of people who played the game are out and then they have to come up with another source of income to feed their families and provide a life for themselves. But it's definitely a great opportunity just to get out there and to learn. I don't want to sound corny, but the more you know, the better you're going to be off."
DE Lamarr Houston with an Australian rugby player. Photo courtesy of Lamarr Houston
Houston is also participating in two other NFL business programs during the off-season, Business Management Evaluation and Investment for Impact at Notre Dame and Franchising at the Ross School of Business at the University of Michigan. "I figure they all tie in and right now I have the free time and availability to take the classes," said Houston. "I figure the sooner the better and not to put them off. I think all the classes are complimentary to one another and they'll show some strength to me eventually at some point. It might not be now, but maybe somewhere down the road."
The current and former players left Stanford with a greater understanding of what it takes to own, run, invest, and participate in a business venture, knowledge that could greatly benefit them when their time in the NFL is complete.