Thanks to Raiders middle linebacker Nick Roach for checking in during Training Camp 2013. Here is his fourth and final training camp blog entry.
It's crazy to think we're getting toward the last half of it. We leave next week. The light at the end of the tunnel is getting brighter. Feeling good with the progress we've made. As linebackers, we've made some really good strides playing a lot faster, communicating a lot better, getting lined up, and not thinking as much.
I learned through my experience with the Bears one characteristic of a good defense or a good team is not panicking.  Things are going to get hectic sometimes, things aren't going to always go your way, when you can maintain your ability to not panic in hectic situations throughout a game. when the momentum is going back and forth, to be able to, as much as you can, apply pressure instead of feeling it is a big deal.
Things can get out of control immediately, in one second. You could make a good play and on the next play you could get your block knocked off, and end up not knowing what happened, miss a gap and they score a touchdown. It doesn't take much in football to cost your team.
It is important to put the fire out when things go wrong. The only way you do that is maintain poise. Things are going to go up and down, it's about what you do after the fact, a good play of a bad play. You still have to flush it.
New Orleans will be great. They're obviously a good offense. It'll be a really good test of our basic rules, especially with their pass game. I think the run game is underrated because people talk about the receivers and Drew Brees a lot. They're a physical team. It'll be good.
The bowling event started off a little rocky. If the defense had won, it wasn't going to be because of our lane. I ended up rallying the second game, rolled a 137, which is probably my lifetime average. It was an event to get away from the grind. We've been at it for a couple of weeks now and it gets a little monotonous, even for the coaches. It was a cool little bone DA threw to us to get away for a little bit and still find a way to compete.
I really enjoy a great meal, quality family time and hanging out at the house. If I have those things going for me I don't complain about too much.
Thank you for following along and reading. This year hopefully we'll be able to give you a lot to cheer about.
---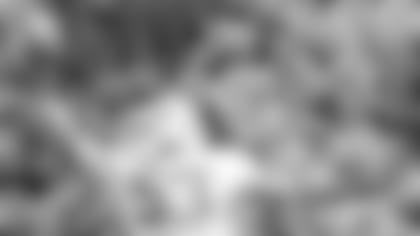 MLB Nick Roach had his first opportunity to play in front of the Raider Nation in Silver and Black Friday night. It was also his first chance to play alongside Charles Woodson.
It was sweet, it was real cool coming out of the tunnel and having the chance to get hyped with all the guys for the first time before the game. It was especially cool to do it at home for the first time. We're just looking forward to more of it.
The fans were excited to see Charles Woodson, as they should be. I'm excited to see him. He was the enemy for a bunch of years for me. Now being able to play with him is really good.
It's great because linebackers get most of the credit for communicating. Secondaries do quite a bit of communication too. Having a guy that's obviously been in every situation you can see, know what offenses are going to try to do, having somebody like that behind you is great.
Dallas was good because obviously we'll play them again. Teams don't really change too much in terms of the basics from preseason to regular season. New Orleans will be good because they're such a successful offense. I'm sure they'll stress our fundamentals, which is always good.
We had Bible study this morning. It was about counting trials as joy because it builds perseverance. Most people get discouraged when things aren't going right. If you are on the right track when you come to trials, it could be just to build you up.  It's like lifting heavy weights - you have to tear your muscles before you get stronger.
Keep reading, keep following. I appreciate it.
---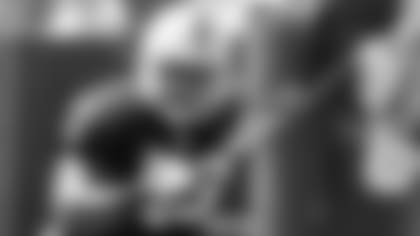 This week is the second week of camp, getting ready to play a real opponent and get a chance to see what we look like against somebody else besides our own offense.
I appreciate the fact that defensive coordinator Jason Tarver really tries to include me, really everybody, in why we do things. So he doesn't just put up a bunch of calls and say 'hey, this is what's going in.' He'll let us know what certain things are going in, what situations we're going to use them in, what looks like what, so that we know if we can disguise our defense in a certain way. He does a good job of letting us know those types of things so when we're out there we can think on our feet.
It'll be simple. Both teams usually keep it simple, especially the first couple of games in the preseason. That makes it easier when your calls are so basic and you have to go out and play – mano a mano type of thing. Obviously you're competing against the other team but everybody knows that in preseason you're more worried about yourself.
It's going to be exciting. It's cool to be on another storied franchise with so much history. It's also a great thing to be on another franchise that has such a loud fan base.
We love it. There's nothing more exciting than when the fans get into it. That really helps to keep the momentum on your side when you get it. If the fans are doing their job against the other team to get it back for you. We appreciate it.
I think today I'm thankful. I think you have to be honest with yourself about how good you probably have it. We're all blessed to be in this situation. I think about, during training camp when it gets hard, people who are overseas. One of my wife's cousins is in Afghanistan right now. We could easily complain about having to lift before practice or how long practice is. These guys are in 120-degree desert riding through landmine fields and not knowing when they'll be sent back home. I'm just thankful for what they do for us, and getting to do something that's not life or death.
I appreciate all of you for following the blog.
---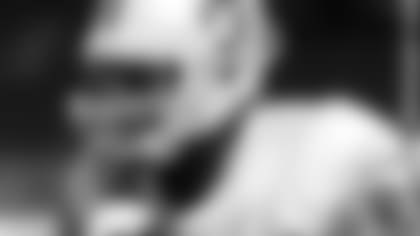 I love the weather, Napa is great. I am used to high temperatures and high humidity in the Midwest. It's just a really different situation than what I've been used to coming from Chicago with a group of guys and coaches that had been there for so long. Now, it's pretty much the opposite of that where coaches and players are all kind of new. In general, I think it's going well. For the limited amount of time that we've been together I think you're seeing a lot of progress. That's exciting.
I would say I look good in Silver and Black. It is cool to be able to go to another team with so much history. With the history, you know you're going to get a strong fan base.
My time filling in for Brian Urlacher gave me familiarity with being in the middle and making those calls, but more valuable was the time when I got to play alongside him. Most of the time I was there he was in the middle calling it. I was having to listen to how he did things. That's when I learned the most from him. When you're in at the same time you see the way he goes about communicating, making sure the guys get it, make sure it's clear, on time and make it effective for everybody to be able to benefit from it.
Training camp for me is sort of like fasting from life. You get a chance to spend a lot of time with your teammates, but spending time away from the comforts of home and family and things you like to do outside of football. It's a good time to reflect and read a lot. I make sure to try to get some daily scripture in. The hitting can get monotonous. But if you don't have a foundation, make it fun, make it have a purpose, training camp will wear you down.