Q: How did you occupy your time? Did you have a hunch that this was going to happen, that it was just a matter of time? 
Omar Gaither: I don't know, you just stay in shape and try to stay ready. Whenever you get the call, you get on the plane and try to see what you can do. I was just trying to stay ready, stay fit, and I think today was pretty good. 
Q: And boy today they didn't give you a lot of lead time. They said get out there, we need you right now. 
Gaither: Right. I think the rules have changed now. It used to be three days before you could put pads on. I got here last night and I had pads on today. I think it went well for the first day. 
Q: So did you feel cold at all when you came in? I was talking to [Coach Dennis] Allen, and he said they didn't even have the luxury of easing you in today. 
Gaither: I don't know if cold is the right word. You play for so long, it's almost like riding a bike. I feel like I never left, to be honest with you. There is some period of time where you need to get back into the swing of things, but I pretty much got over that after the first two periods because these guys and the coaches don't care what I've been doing so it's up to me to get up to speed. 
Q: Last year you played mostly in the middle here, but you are a guy that can play on the outside as well. Are going to do both here, do you know that? Or are you just going to work in the middle? 
Gaither: I'm playing everything by ear, so whatever they tell me to do. I've started at Mike, I've started at Will, and I've started at Sam. Obviously, the more versatile you are, the more valuable you are, especially at a position like linebacker. Linebackers for the most part have to do a little bit of everything. I'm prepared for that. 
Q: Uniform maybe the same, but boy the defensive turnover was incredible. When you look around and you just think it was last year that you were here. Miles [Burris] is the only linebacker who is back, and he is hurt. Do you look around and say wow? 
Gaither: That is true. Good thing for me, Kevin Burnett, Kaelin [Burnett], Keenan [Clayton]; I've played with Keenan before. I played with K.B. in college, so I'm familiar with the guys. They said they were going to do it, and they did it. It makes me feel better about myself I guess that they decided to bring me back. They feel good about me and about the kind of guy, the kind of player I was. I'm just happy to be back.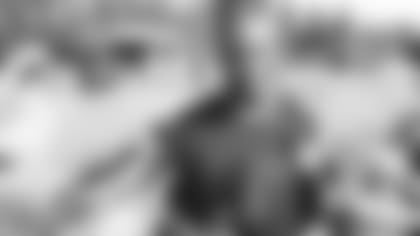 LB Omar Gaither spoke to the media after his practice. Gaither re-joined the team earlier today. Photo by Tony Gonzales.
Q: You guys were hitting the sled. You got kind of a big hit on Kevin [Burnett] there. Tarver said to unlock that Tennessee spirit. How did that feel to get that first hit in? 
Gaither: You know, I got a little headache, a little ringer, but it is always good to put the pads on after so long. You run around in jerseys and pants, and all offseason you are working out in a gym and that's not really football. It's good to finally get out here. I don't think Kevin [Burnett] liked it too much, but you know we have a good history so he was able to let me slide on it. 
Q: Looks like you and [Jamize] Olawale got into it a couple times too. 
Gaither: Yeah, I mean it's putting the pads on. I was in Charlotte, N.C. yesterday afternoon working out, watching TV. Today I'm doing full pads drills with an NFL fullback. That's just the way it is. 
Q: It must have been hard, basically sitting there waiting for that call basically all this offseason watching everyone go to training camps.
Gaither: It's difficult. You just have to stay disciplined. Have the mindset that sooner or later a call is going to happen. I felt like I played good enough last year to feel like I would be on some teams rosters. I was getting some feelers out there, but I finally got a call from Oakland. I was ready to go.
Q: Is it nice to come to a place where you sort of know the system?
Gaither: Yeah. It's just one less thing you have to think about. I got here last year, and I didn't know anything as far as the system is concerned, so it took a few weeks to learn the system. Now, you feel like OK, well I have to have a learning curve because I haven't been here but it's always in the back of your brain somewhere. So, it's definitely good to be back on the same team.