Raiders SS Tyvon Branch puts the hit on San Diego's Darren Sproles during Branch's rookie season in 2008. Photo by Tony Gonzales.

The University of Connecticut (UCONN) is known for its men's and women's basketball programs with the men's team winning two national championships, and the women's squad capturing six titles. However, the school's football program is becoming a force in the Big East conference. Raiders' safety Tyvon Branch was a big part of his alma mater's ascension and he is becoming a force for the Silver and Black.
The Raiders selected Branch in the fourth round of the 2008 NFL Draft. During his collegiate playing days, he helped UCONN win their first Big East Conference football championship. As a senior, Branch started all 13 games, 12 at cornerback, with one start at safety. He was named second team All-Big East, and led the Big East in kickoff returns, running back 27 for 780 yards (28.9 avg.) with two touchdowns.
Ironically, it was an injury during a kickoff return that ended Branch's rookie season early. The 6', 205-pound speedster overcame a hand injury during the off-season to make 10 tackles in eight games and intercept a pass. That interception sparked a Raiders victory at Kansas City. He returned six kickoffs for 89 yards and was injured on the sixth when his shoulder was driven into the ground during the tackle.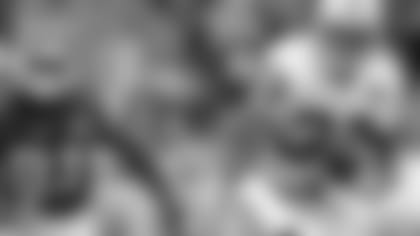 Raiders SS Tyvon Branch returns his first career interception setting up a score during the Raiders 2008 win at Kansas City. AP Photo.
In 2009, the Cicero, N.Y.,-native was installed as the team's starting strong safety and he responded with an amazing season. Branch's 124 total tackles (98 solo) were second only to LB Kirk Morrison's 133 (109 solo). He forced two fumbles and broke up eight pass attempts. Branch was the NFL's 10th leading tackler and led all defensive backs in tackles in 2009. He has also become a valuable member of the Raiders' special teams and is one of the top gunners on punt coverage in the league.
Branch's teammates rewarded his dedication and determination by voting him the 2009 Ed Block Courage Award winner. "It's a great honor. I feel privileged. I work hard every day and I'm glad to see that it pays off," Branch said.
According to the Ed Block Courage Award's official web site, "Each year, the Ed Block Courage Awards honor those National Football League players who exemplify commitments to the principles of sportsmanship and courage. Recipients are selected by their teammates for team effort, as well as individual performance."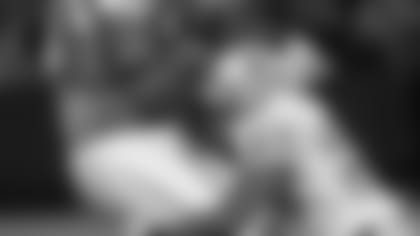 SS Tyvon Branch (33) introduces himself to Chargers TE Brandon Manumaleuna during the 2009 regular season opener in Oakland. Branch made eight tackles in his first career start. AP Photo.
Although he is often tasked with taking on much larger blockers and receivers, Branch's confidence and faith in his teammates allow him to meet the challenge.
"You can't doubt yourself when you're out there on the field," Branch said. "I was always taught 'the bigger they are, the harder they fall.' It's a team; everybody makes the next person better."
The formal presentation of the Ed Block Courage Awards is set for March 9 in Baltimore, Md. If Tyvon Branch continues along his current path, it won't be the last award he earns as a professional football player.