The Silver and Black are starting to get back healthy at the right time, because they have another undefeated team they need to get through Sunday.
Coming off a loss to the 4-0 Buffalo Bills, the Las Vegas Raiders will be traveling to face the reigning Super Bowl Champion Chiefs who have the same record.
The Raiders have dealt with various injuries that past few weeks, however they have seen the return of linebacker Nick Kwiatkoski and tackle Sam Young last week. They are expecting a couple of more key pieces to return against the Chiefs this Sunday.
Jon Gruden will have his hands full game planning against the Super Bowl MVP Patrick Mahomes and his coach Andy Reid. Gruden has yet to defeat the Chiefs since he has returned to team in 2018.
Here are six things to watch out for this Sunday and the Raiders head into Kansas City.
The Curious Case of Trent Brown
Derek Carr and Josh Jacobs probably caught the holy ghost when they saw Trent Brown return to practice Wednesday.
The Pro Bowl right tackle has been out of action since Week 1 after suffering a calf injury in the first quarter against the Panthers. He has now returned to practice this week with a full practice appearance Friday.
Trent Brown's return will be vital for the offensive line who has been doing their best to cope with injuries throughout the season. Brown will also help improve the run game of the Raiders which will be productive for star running back Josh Jacobs.
"I didn't get this far by listening to all the naysay and doubters. I just come to work and do my job every day." Trent Brown
Brown's absence has been met by some criticism considering he has missed considerable action the past two seasons. Brown is just ready to get back on the field and quite frankly, doesn't give a damn about the criticism.
"I can tell you straight off the bat, I don't live for anybody's compliments and I'm not going to die by their criticisms," said Trent Brown. "I'm a man, first and foremost. I didn't get this far by listening to all the naysayers and doubters. I just come to work and do my job every day. I'm not the only one around the league that's injured."
To go along with the other bizarre events we've experienced this year, the Raiders will be playing their first game in front of fans this season. Five games into the season.
Arrowhead Stadium is known for being one of the loudest, rambunctious places to play in, however due to COVID restrictions there will be limited capacity for the game.
Despite it only being at 10 percent capacity, fans being there will give the Chiefs a more legitimate home-field advantage. Coach Gruden will be very excited to see fans in the stand this Sunday, even while in enemy territory.
"I can't wait to get fans back in football. I miss the fans, the away games and certainly the home games. My son is going to be at the game in the stands. He goes to the University of Kansas. He still can't explain why he goes to Kansas to me, but he's at the University of Kansas. He'll be out there with his mom and his girlfriend. I'm anxious to see them."
Another great Clemson Tiger battle
Since Dabo Swinney has taken over the Clemson University football team in 2008, he has sent a lot of guys to league. Two of those guys will line up against each other with Trayvon Mullen vs. Sammy Watkins.
Mullen is currently having an impressive sophomore campaign and has stepped up even more with rookie cornerback Damon Arnette missing time. Mullen will have another great challenge ahead of him as he will face another Clemson alum in Sammy Watkins.
Watkins has been able to find success since joining the Chiefs becoming one of Patrick Mahomes' biggest targets. Mullen will definitely see some time covering All-Pro receiver Tyreek Hill as well, but the Clemson battle will be a fun matchup to look out for on Sunday.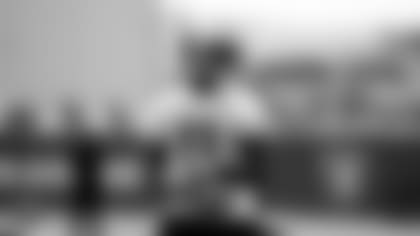 The Silver and Black are poised to see the first pick in Las Vegas Raiders franchise history return to the field.
Henry Ruggs III has missed two straight games due to hamstring and knee injuries. He was a full participant in practice Thursday and Friday with the opportunity to potentially suit up Sunday.
Ruggs gave Raider Nation a glance of what he can do on the field Week 1, leading the team in receiving yards in the win against the Panthers.
"Ruggs is moving around better," said Coach Jon Gruden. "I'm hopeful he can play."
If Ruggs is able to play on Sunday, expect to see Derek Carr take his shots with Ruggs down the field.
Beware of the National Champion
With the Raiders run defense still having their issues, they have an intriguing running back they have to look out for who just left LSU with a national championship ring.
Chiefs rookie running back Clyde Edwards-Helaire has been proving his worth as their 2020 first-round pick and has been heavily integrated into their offense this season. Edwards-Helaire came out the gate running with a 138 yards on 25 carries and a touchdown in their season opener against the Houston Texans.
The rookie might not have as high of a profile as other running backs the Raiders defense has faced this year, but Edwards-Helaire will be a challenge the struggling Raiders run defense will have to go along with the other offensive weapons the Chiefs obtain.
Derek Carr must be prepared for Chiefs defense
The Chiefs get a lot of attention for their highlight making offense that can put points up on anybody, but their defense is just as dangerous. 
So far this season the Chiefs have been a top-5 defense in the league coming off their Super Bowl victory. Their defense has given up the second lowest touchdown total, fifth least amount of yardage and fifth in team interceptions this season.
The Chiefs defense has been overrated in the past, but their track record shows that they are just as responsible for the team's success as anyone. Coach Jon Gruden and Derek Carr is very aware of that.
"They're No. 2 in scoring defense. They're No. 5 in total defense," said Coach Gruden. "They take the ball away. They blitz you. They come from everywhere. They have two great players on their front. They have a very good linebacker core. They play aggressive cover in the secondary. I give [Steve] Spagnuolo, the defensive coordinator, a lot of credit. You have no idea what he's going to come up with next. It's a great scheme, it's very diverse. Tyrann Mathieu is one of the guys that really makes it go. They've been real stingy with everything I've seen them play."
"They have a great scheme," said Derek Carr. "You can tell they plan on scoring a lot of points with the way they play defense. They go after it and they play hard. What a challenge that is for us. We better step up to the plate and be ready to play. I know our guys are excited about it and excited for the challenge."
"This defense, everybody talks about their offense and rightfully so, they're Super Bowl Champs, they have the MVP at quarterback, speed everywhere, great players, [Travis] Kelce, all these guys, running back, O-line, but their defense can play as well. They're really good."