Recently, the Oakland Raiders rode the NFL Play 60 school bus to Super School winner Aspire Millsmont Academy in Oakland. Hall of Famer Willie Brown, FS Charles Woodson, CBs Tracy Porter and Phillip Adams, DE Lamarr Houston, safeties Tyvon Branch and Shelton Johnson, FB Marcel Reece, WR Brice Butler, TE Mychal Rivera, LS Jon Condo, Raiderettes Sarah Marie and Wendy and Raider Rusher spent time with the students of the local elementary school.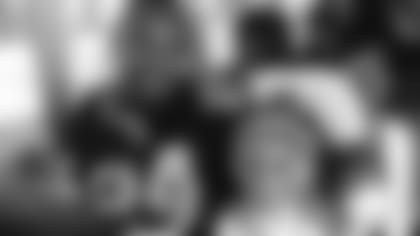 FS Charles Woodson spends time with Julio, a student from Millsmont Academy, on the Play 60 bus. Photo by Tony Gonzales
Julia Bonin, a Millsmont Academy third grade teacher, submitted the NFL Play 60 Super School application. A lifetime Raiders fan, Bonin explained in her application the importance of football for her ability to connect with students. "I grew up a diehard Raiders fan and I know a lot of these kids are growing up diehard Raiders fans and so I talked about how we don't really share a lot in terms of demographics, but we do share is our love for football," said Bonin. That's how I've been able to build really strong positive relationships with them so I'm really grateful."
The day started with nine students arriving at Raiders headquarters for breakfast and a meet and greet with Head Coach Dennis Allen. The kids were greeted by Raider Rusher and then listened to Coach Allen speak about the importance of staying active, eating well and getting good grades.
Those select students then boarded the Play 60 bus with the Raiders players and Raiderettes. Each student had the opportunity to sit with a player and spend quality time on the ride over to Millsmont Academy. "It was good. I got to talk to a young kid named Julio and we got to know each other a little bit," said Woodson. "It was good interacting with him and getting to know him a little bit."
Upon arrival at the school, the players entered the auditorium to an excited assembly of students. "This group today at Millsmont Academy is unbelievable," said Condo. "Even when the bus pulled up they started chanting 'Raiders – Raiders - Raiders!' It is incredible. The kids look up to us. If we can come here and promote healthy lifestyle…it might not affect all of them but I am almost positive it will affect a certain amount of them."
The students' reaction made winning the Play 60 Super School contest even more meaningful for Bonin. "I've never seen anything like this," said Bonin. "I've never seen the kids this excited. It's certainly beyond all of our expectations and I know they'll remember this day for a long time."
The cheers pumped the players up too. "That was great. All the guys on the stage were saying we need these kids at the games," said Woodson. "They were incredible. They were loud, a lot of energy, they were into it. I think they were receptive to what we're doing, the message we're trying to get across, so there was a lot of energy in there."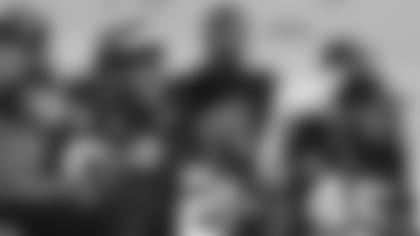 The players have a blast with the students during the assembly. Photo by Tony Gonzales
During the assembly, the players had the opportunity to share the message of NFL Play 60 with the students. "We're out here at Millsmont Academy doing a little Play 60 for the kids, letting them know that exercise is important," explained Houston. "Sixty minutes a day is all it takes and that's a small part of your day to dedicate to working out to having a healthier, longer life."
Reece spoke about getting up and active and outside. "Play 60 is about healthy living, mostly being active and getting outside away from video games, away from TV, and have a fun break basically," said Reece. "Take 60 minutes of your day and just have fun running around with your friends and be safe doing it."
Woodson fully supports the goals of the NFL initiative. "In today's world, the kids spend a lot of time in the house playing video games and whatnot. When we were growing up, we were always outside, always playing around; we were active," said Woodson. "So you try to bring that awareness to the kids as far, as well as trying to eat healthy, put good things in their body. I think it's a great thing."
Millsmont Academy principal Jessica Chacon believes having the Raiders spread the Play 60 message will mean more to the students than just hearing it from the school's faculty. "We just got $10,000 from the Oakland Raiders and the NFL and it's awesome. The exciting Oakland Raiders telling them that they eat healthy, that they work out every day and don't eat junk food, that was huge. That was really huge because that's an initiative we're starting already this year where we're trying to push out the junk food and trying to make sure the kids are eating healthy and starting those habits early. It was wonderful to have the Oakland Raiders telling them that."
Before heading out to the field to actually play for 60 minutes, the Raiders presented Millsmont Academy with the check. "It's awesome. We could definitely use it," said Bonin. "I think we lack a lot in terms of play structures so that money can definitely go towards having so more materials for PE and recess which will be great to keep them active during the day."
The Raiders are committed to giving back to the community and all the players in attendance were happy to be part of the event. "I think it's great. I love kids and I think anything you can give to a kid can help change their lives tremendously," said Houston. "I don't think people realize what impact you have on a child's life no matter who you are – pro athlete, police officer, lawyer, doctor, store manager – everybody has an impact on a child's life to help them determine what they want to do in their future and build their future. I think it's very important to help out our youth."
WR Brice Butler, TE Mychal Rivera and the students put on their Play 60 game faces. Photo by Tony Gonzales
"It was great to get out into the community and get active with these kids, teach them about nutrition and how to get out and exercise," added Raiderette Sarah Marie. "Physical fitness is a big part of what we do as Raiderettes and it's really important that we introduce that to these kids. It's a huge part of what we do on the field for game day and a part of our lifestyles. They get so excited to have us here; they've been a great group to be around."
The school visit had one of the biggest player turnouts of the year. "It's a blessing to us, first of all, just to be in the position to be able to give back and teach kids about things that we learned about growing up," said Reece. "It's definitely a great thing to have not only teammates and work associates, but really friends out here with you to share this time of giving back. It's a testament to the organization to have so many guys here on our day off to be able to come out and share this time with kids and be in the community of Oakland."
Giving back to the youth is important to many of the players on the Raiders. "We've got great guys on the team and across the NFL, great guys. We all care. We all care about the kids," said Woodson. "This was us – for me, many moons ago, but this was us. We would have loved to have athletes come back and do the same for us. I'm sure some of these guys had that but this is just a great time for us to come out here, be a part of the community and have fun and bring a smile to these kids faces."
The Play 60 Super School visit had a major impact on the Millsmont students. "It means so much," said Bonin. "To these kids, these players seem like super heroes and people that they would never meet and just see on TV, so for them to actually come and give high fives to the players, I think they're making their dreams come true."