CB Chimdi Chekwa poses for a photo with Nelson Mandela's grandsons - Ndaba and Kweku.
I was invited to attend a Global Ambassador Summit at the United Nations in New York during Super Bowl week. It was expressed to me that my efforts in the community and the goals I have to serve locally and abroad led me to being nominated as a 2014 Global Ambassador. I anticipated I would meet unfavorable weather in New York but beyond that I wasn't sure what to expect. But I was honored and humbled for the opportunity to go to the United Nations and connect with people that share a passion to impact the lives of others.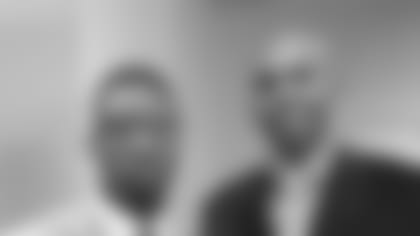 Chekwa with former NBA star Jerry Stackhouse.
That same passion brought out several United Nations Excellencies and distinguished guests from their respective countries. The summit was hosted by Seattle Seahawks WR Sidney Rice, former NFL player Jack Brewer, Malawi Ambassador Charles P Msosa, and Djibril Diallo. It brought out athletes such as Olympic gold medalist Sanya Richards-Ross, Clinton Portis, Jerry Stackhouse, Jermichael Finley, and many more. I was able to have an inspired conversation with long time actor Richard Gant, who by the way is an Oakland-native and Raider fan. I met the grandsons of Nelson Mandela, Ndaba Mandela and Kweku Mandela, both of whom recently experienced the passing of their influential grandfather who has been quoted as saying, "Sports has the power to change the world."
At the summit many different people from many different platforms came together with the common goal of making a positive impact in the lives of individuals. What better way to discuss the power of sport and how it can be used to uplift people globally than at the United Nations, in the host city of the Super Bowl, in the days leading up to the greatest annual sporting event?
The dialogue between us consisted of our visions for using our platforms as athletes for helping others and building community. We discussed how sport is a common language to people all over the world. Many of the initiatives introduced placed sport at the center of major causes, such as the fight against AIDS and HIV, poverty, and other health and social initiatives around the world. The summit showed how effective people can be if they come together. By coming together in N.Y. during Super Bowl week, we were building community. I enjoyed the fellowship with people who achieved a lot but maintained a great sense of humility - a true Commitment to Excellence. I must admit that for a few hours in the Super Bowl host city I forgot that there was a Super Bowl to be played and I was reminded of who and what I could touch if I continued to reach.
Following the summit I enjoyed the rest of my time in N.Y. I met a lot of people, caught up with friends and enjoyed spending time at different events, but none was better than the time I spent at the U.N. It was a truly inspiring visit and I hope that the knowledge gained and relationships created help enhance the desire to make an impact both on and off the field.