In Igbo culture they say that no matter where one takes residence - be it across the waters, or in the most remote foreign land, *home *is the land of your ancestors. This is a message that resonates with Raiders Pro Bowl cornerback Nnamdi Asoumugha on a particularly intimate level.
Asomugha is Igbo, meaning he is a member of an ethnic group of people predominantly located in southeast Nigeria, the country where his parents come from. Though he was brought up in the United States, Nnamdi has always remained cognizant of his Nigerian ancestry and aware of the Igbo heritage that precedes him. "I feel pretty strongly about [my heritage] because that's what I was raised on. That's my culture," Asomugha offers.
Throughout his journey from an aspiring youth to an NFL star, Nnamdi has kept in touch his Igbo roots. It might help that he has had reminders all along the way. "My grandma lived with us when we were very little and all she spoke was Igbo," says the Pro Bowler, "She didn't speak much English so we had to learn the culture and the language so everything is pretty near and dear to us."
Asomugha's recognition of the conditions many people, including those close to him, face back home has served as extra motivation to give back in whatever capacity he can. His greatest contributions in the West African nation have come as an ambassador for his mother's, Dr. Lilian Asomugha, Orphans and Widows in Need (OWIN) foundation, which focuses on assisting widows and orphan children. "We really want to touch as many parts of Nigeria as possible," Asomugha shares of his vision for the OWIN initiative.
Nnamdi understands how privileged he is to be in such an influential position, particularly when he considers the fortunes of so many others who share his Nigerian roots. "I think the reason we started it was just to help out," Nnamdi explained. "We saw what our family was going through back home so there were a lot of things we thought we needed to help them out with."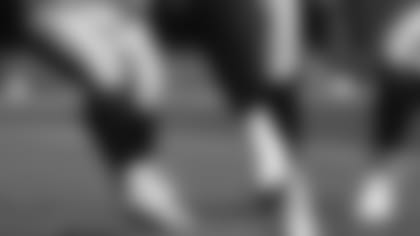 While Nigeria is considered a place of rich cultural tradition, vast resources, and great promise, Africa's most populous has had its share of impediments. Due to numersous socioecomonic obstacles, the nation has yet to get over its proverbial hump since securing its sovereignty some 50 years ago.
Suffice to say, Nigeria is much in need of help. "I've always felt there should be a way to help those that haven't been as fortunate as myself and so that's why I've always been able to give back," says Nnamdi.
Spend time with the veteran defensive back and you get the sense that his production in between the sidelines and his generous acts off the field are inextricably linked to his upbringing and the place he calls home.
Asomugha credits his parents with instilling the invaluable lessons of giving in him. "They were the ones that instilled the giving back nature and everything," says Nnamdi of his parents. "So those are the people that I look up to and try to model my daily activities after." So far, Nnamdi has done an exceptional job of following the path delineated by his parents, and their parents and those that came before them. He has done wonders for people in the local communities as well and offered his services in a myriad of ways.
Elena Valenzuela has been privileged enough to catch a glimpse of some of Nnamdi's efforts first hand. When Valenzuela first started as an employee with the Raiders in 2004 she attended numerous community outreach events. Players and coaches would make appearances and help out in the community, but there was one player who always managed to show up and help out. That player was none other than Asomugha. Valenzuela was pleasantly surprised by the frequency with which the young player made himself available and the sincerity with which he offered his services, particularly when dealing with young people. "Every time I went to an event Nnamdi was the one asking, 'What else can I do?'" Valenzuela recalled. Asomugha continued to show up time and time again, and each time Valenzuela would acknowledge his commitment to the community, telling the young, then-unheralded corner, "Thanks Nnamdi, you're the best."
So when Elena decided to put a poster up on her office wall some two years later, Asomugha was kind enough to sign it. The signature on the poster made in commemoration of the fifth annual Raiders Hispanic Heritage Game in 2006, reads simply, "Elena, Thanks for everything! You're the best!" It is the first and only signature one she has received from a player.
When Valenzuela looks at that poster today she thinks of the evolution of the dynamic player from a practically unknown and inexperienced youngster into the class of the league. For her, his ascendance amongst the league's elite, is just icing on the cake. The true mark of his superstardom, as far as she is concerned, is his penchant for giving back and his tireless efforts to evoke change in communities both near and far. "He would always do what was asked and more," says Valenzuela, "And this is a variety of events. This is not only Nnamdi giving food donations and participating at the food bank. This is Nnamdi going to read books to kids, going to community events for the fight against breast cancer, the fight against AIDS. There are so many things that he is involved with."
"I feel honored that I got to know a good human being who really cares about others in the community," Valenzuela added. "This is a person who you can look up to."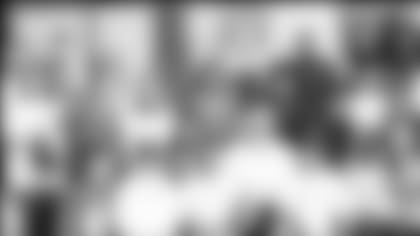 Today, Nnamdi Asomugha is widely recognized as one of the best defensive backs in all the National Football League and is as complete a player as there is. Yet while so many now sing the praises of the six-year veteran, such hasn't always been the case.
In time, people had no choice but to take notice. In 2006, Asomugha tied for the NFL lead with eight interceptions and has since been selected as an AP All-Pro and to the Pro Bowl as a starter.
Asomugha considers the attention an opportunity to shine light elsewhere and serve some very noble causes in the process.
"Football is always an instrument," Asomugha suggests, "Anytime you're successful in one thing it's an opportunity to help out in another area." Asomugha has long developed a reputation for being as giving off the field, as he is stingy on it. Aside from his exploits on the field, Nnamdi has sought to capitalize on another gift: the gift of giving.
And because giving has been such a rewarding experience for him, Asomugha readily embraces the opportunity. "I've never felt obligated to do it. I just have always liked to do it," says Nnamdi of his community service and charitable works.
This partially explains why Asomugha is so keen on helping out in the East Oakland Youth Development Center where he serves as a mentor for kids, teaching them the about the importance of education. It might also explain why he helps out at Narbonne High School in Los Angeles where the alumnus first made a name for himself.
Asomugha is well respected by his coaches and peers for his hard work and dedication to his craft. Even further, Nnamdi has received admiration from others for his efforts away from the gridiron. It is Nnamdi's selfless nature, coupled with his authentic humility that endears him to teammates like fellow teammate and Igbo-Nigerian, Isaiah Ekejiuba.
"I look up to a guy like Nnamdi," says the Raiders special teams ace, "Just the work he does off the field, in the communities and back home and the way he carries himself." Ekejiuba does plenty of good work off the field himself and intends to build an organization of his own in Nigeria one day. Ekejiuba recognizes that the breadth of Nnamdi's influence extends far beyond the reach of the long arms on the 6'2" frame he uses to excel in the game of football on Sundays.
It's good to know that there are people out there who really care about others and who understand that there is so much more to life. "You always want to give back based on what you've been given," Asomugha said.
It's why *home *can never be too far away.